Gone are those days when mothers were totally accountable for household chores and 24*7 childcare. The current era has transformed traditional mothers into outgoing and professional working mothers. In order to take care of their infants while being out on their jobs or shopping, they have resorted to breast milk storage which gives them the benefit of flexibility along with personal space.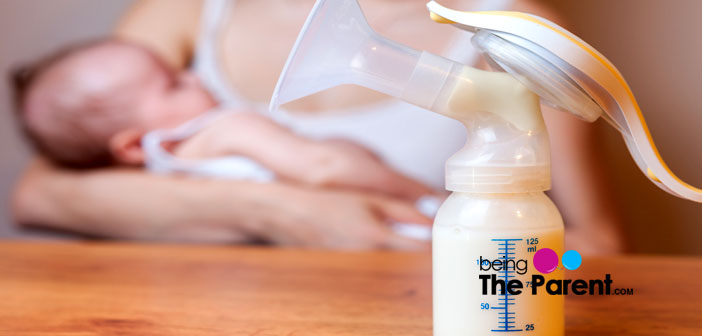 How To Keep Stored Breast-milk Fresh?
Breast milk remains fresh even after a tenure of 3-5 days – but only if it is stored in a cooler area. In hot areas, even after refrigerating milk, it has the tendency to lose its freshness, as the fridge constantly gets opened and closed. Breast milk must always be stored at the back of the freezer behind other items, and never near the door. When you consistently open your freezer for some reason or the other, breast milk will not get receptive to the changing temperature conditions. The below pointers can help in keeping stored breast milk fresh for longer periods:
If you have to use it within 4-5 hours of expressing your breast milk, then you may store it at room temperature not beyond 25 degrees C
Beyond 4-5 hours, up until 24 hours, you can refrigerate it at 4 degrees C
You can store it in a cool box with ice-packs for upto 24 hours
Breast milk storage can go up to months also if it is stored in freezer with -18 temperatures
How Should I Thaw Refrigerated Breast-milk?
To thaw breast milk that has been kept in the freezer, you can move it in the freezer and it should be alright to consume. Some babies prefer cold milk, while some may like it warmed up. Run some warm water over the bad or bottle to warm the milk up. You need to use this thawed milk within 24 hours, after which it should be discarded and not refrigerated again. Once the baby has started to drink it from the bottle, use it within 1 hour of time. Because temperatures can vary at different places, it would be wise to discuss this with your doctor once.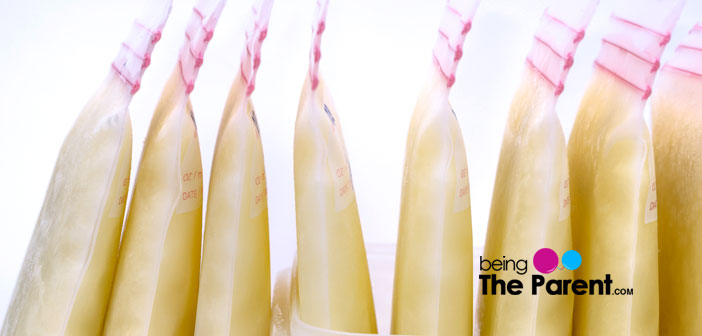 How Much Breast-milk Can I Store In The Freezer?
A baby generally has about 2 ounces of milk at a given time, hence it is advisable to store breast milk in containers or pouches with a 2 ounce to 4 ounce capacity. You can label the containers or the bags with the date and time so that the earlier ones are used first. A covered ice tray can also be used to store small quantities of breast milk if you may need it for adding to your baby's food once solids start. Or you can use some cubes to make one full bottle and do the math accordingly. If you opt for freezing the milk, do it as soon as you express and leave the bag or bottle somewhat empty at the top because breast milk expands when frozen.
What Precautions Should I Take When Storing Breast-milk?
If you are a working mother and plan to resume your job, you may try to get into the routine of expressing and storing breast milk before you go back. This will ensure that your baby gets all the benefits of breast milk even when you are not around. You need to follow some precautions so that bacteria does not develop and spoil the milk.
Keep your hands clean prior to pumping out your milk for storage to escape the bacteria from infecting in the milk
Wash your breast pumping materials with warm and foamy water and tap your breast with clean towel
Cover your breast milk with a lid while storing.
Leave a small room at the top of each bottle, as your milk will expand during freezing and this may cause your bottles or bags to burst
Store in small proportions for efficient thawing of breast milk
Label your bottles or bags and make use of the early ones first
Never put your stored breast milk onto a stove or microwave – if you need to warm it, hold the container under warm running water
Never thaw your breast milk at room temperature, this will cause bacteria to multiply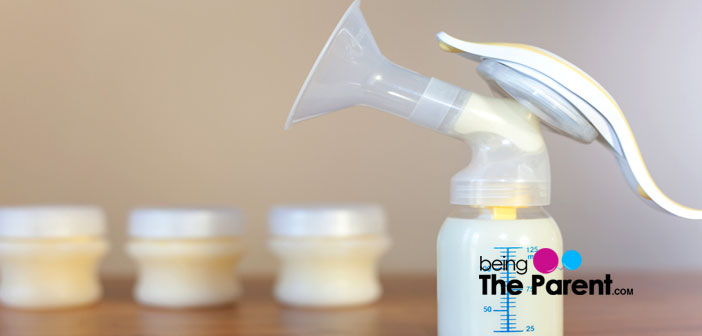 Can I Add Freshly Expressed Milk To Already Stored Breast Milk?
If the milk has been expressed the same day, you may store it with milk that has already been refrigerated. However, never add more quantity than what is there already in the bag. This can be stored only till the earlier expressed milk is 5 days old.
Can I Microwave My Stored Breast-milk Bottles?
It is not recommended to microwave stored breast milk ever, as it can render the milk unsafe for the baby's consumption. Always run warm water over your baby's bottle and check the temperature of the milk by pouring a few drops on the under-side of your wrist. Bottle warmers can be used to warm milk in the car or home. Your baby will sure enjoy the taste and the benefits of your efforts.
Most of the mothers find it favorable to collect their breast milk and store it for future purpose. If you have to use it within a short span, say in a day, you may refrigerate it rather than freezing. It is imperative to check the cleanliness of materials you are storing the milk in. Clean bottles with screw caps or hard plastic cups with tight fitted caps or pre sterilized nursing bags exclusively designed for storing breast milk is advisable.There is nothing bad about storing your breast milk to be put to use later if you follow the do's and the don'ts diligently. Remember, frozen or refrigerated breast milk is still better than formula for your baby.
More on breastfeeding and formula feeding in our section here.