Pregnancy hormones usually make your hair and skin luscious, glowing and well-nourished. However, post-delivery, the disappearing pregnancy hormones take away all their goodness with them, leaving you with a dry scalp and dull skin. The greys become visible and you start losing your hair as well. That's when many of us think of indulging in some self-pampering activities such as dyeing our hair or getting them permed. These treatments entail the use of chemicals, per common knowledge. But as a breastfeeding mom can you dye or perm your hair? Read on to know the answer to this question.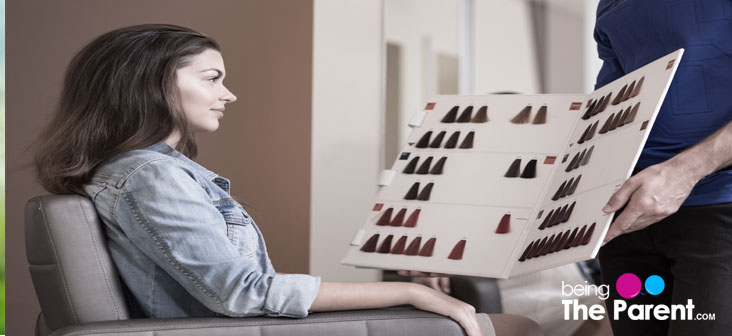 Can A Breastfeeding Mom Dye Or Perm Her Hair?
Are Chemicals Used In Hair Treatments Safe For Use On Breastfeeding Mothers?
Side Effects Of coloring Or Perming Hair On Breastfed Baby
Alternative Methods Of Hair Treatments That Breastfeeding Mothers Could Consider?
Can A Breastfeeding Mom Dye Or Perm Her Hair?
The question is not exactly if you can, it is more about whether you should? Ask your pediatrician, and you will get a stern no for an answer or that incredulous look on their faces that will make you mince words and never look them in the eye. Ask a hairdresser and you will receive conflicting answers. To know the real reason behind these responses, it is important to understand what hair dyeing and perming entail, in their entirety.
Hair dyeing: Using permanent, semi-permanent and temporary dyes to change the color of your hair. Too many grays could possibly be one the reasons women would want to get this done despite breastfeeding the child
Hair perming: This treatment is performed when women would either like to curl their hair or get them straightened. The chemicals used in the process are sodium hydroxide (commonly known as lye) or solutions of lithium, potassium or guanidine hydroxide
Are Chemicals Used In Hair Treatments Safe For Use On Breastfeeding Mothers?
The above mentioned chemicals, if applied directly on the skin, do get absorbed into the bloodstream, but only in minuscule quantities. However, if these chemicals only applied on your hair, there is a negligible chance of them getting absorbed into the bloodstream. Hence, their penetration into the milk that is produced is absolutely nil. This means that when chemicals are not applied on the skin or scalp, they are safe for use by breastfeeding mothers.
In case dyeing or perming products do get applied on the scalp (although accidentally) their absorption is minimal and does not pose a danger to the breastfed baby.
Side Effects Of coloring Or Perming Hair On Breastfed Baby
Several permanent hair dyes contain ammonia. During application of the hair dye, there is a real possibility of inhaling ammonia fumes. In this case, dyeing your hair could prove to be hazardous to the baby if you are a breastfeeding mother
Having evaluated the process of hair dyeing and perming from the perspective of a breastfeeding mother, here is a curious and tangible concern from the perspective of the baby. The baby might not really like the smell of the chemical after your hair treatment, and might refuse to take to your breast or come close to you as you try to nurse him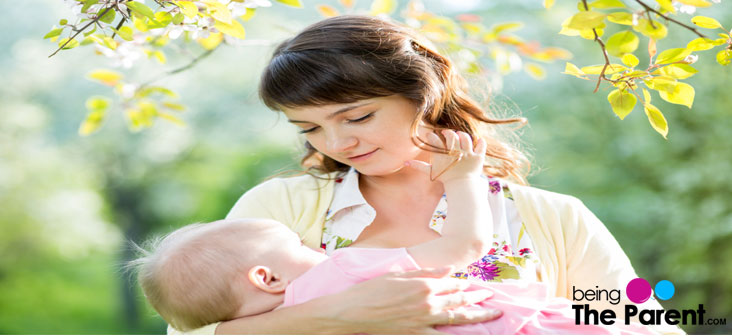 Alternative Methods Of Hair Treatments That Breastfeeding Mothers Could Consider?
The use of chemicals in hair treatments such as hair dyeing and perming could possibly lead to many breastfeeding women shying away from them completely. However, there are several methods that you can deploy to undergo these treatments, and yet keep your breast milk uncontaminated from chemicals. Let's look at these alternative and safe methods of hair treatments for breastfeeding mothers:
Highlight your hair: Instead of using permanent or temporary dyes that color all the hair (known as global hair dyeing or coloring), you may want to consider only highlighting your hair. The highlighting will cover only some parts or streaks of your hair, leaving out the scalp. This will automatically cut the risk of the dye being absorbed into the skin through the scalp, providing you with much relief
Use vegetable dyes: Apart from being absorbed into the bloodstream through the skin, chemicals such as hydrogen peroxide and ammonia could also react unfavorably with your skin, causing it to itch or develop a rash. Natural vegetable dyes such as henna are safe to use and do not react violently with your skin. What's more, these natural vegetable dyes make your hair appear voluminous, strengthen their roots and gives them the much sought-after bounce and sheen!
Perform temporary hair-treatments or procedures: The quintessential flat iron (hair straightener, as some call it) and hair curling tongs are a fantastic way to ensure the trendy look envisaged by you, without having to undergo a chemical hair treatment while breastfeeding your baby. Yes, you may certainly have to go through the trouble of ironing or curling your hair often, given that these are temporary treatments, your heart and mind can remain at peace from the worry of harming your breastfed child with the use of chemicals
Your pediatrician and hairdresser might or might not give you a straight-jacketed response or an answer. But as a mother, you know what's best for your child. More so, during pregnancy and nursing, you proactively put your baby before you! In any case, before you embark on commencing any chemical treatment on your skin or hair, ask questions, seek answers and trust your gut! Also read: 5 Harmful Chemicals You Need To Avoid During Pregnancy
So all the new mommies out there, did you dye or perm your hair while breastfeeding your baby? Do share your experiences in the comments section below.