Post pregnancy with the little one to take care of, mothers tend to have very less time for themselves. Their world revolves around their baby. During pregnancy, everything about oneself feels good. There is a natural glow to the skin, hair and one feels very positive. But post pregnancy there is a reversal of the entire process. You may experience a lot of hair fall during this period. Does postpartum hair fall bother you? Do you feel breastfeeding is the cause for your postpartum hair fall? Read on to know more on this and how to deal with this problem effectively.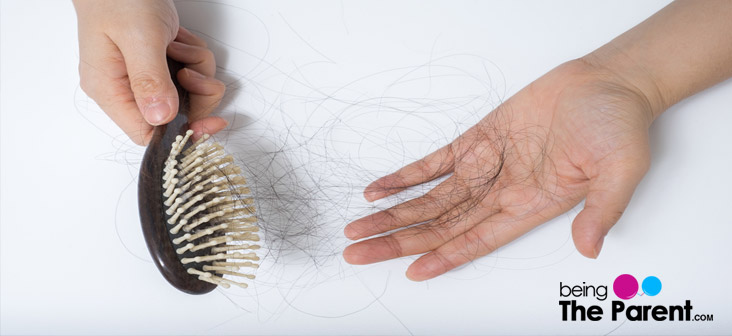 Does Breastfeeding Cause Postpartum Hair Loss?
Postpartum hair loss is basically the loss of hair which is more than the usual (may be in clumps) that many new mothers experience between 3-6 months after they give birth to the baby. The excessive hair fall is called telogen effluvium. During pregnancy, the hair seems to be thick and shiny and you loved the way it looked. But 3 months after your delivery, you experiences excessive hair fall. This is more than the usual 70-100 strands of hair in a day that goes unnoticed. The reason for this is the change in your hormone levels. This phenomenon has nothing to do with breastfeeding. Irrespective of the fact that you are breastfeeding or not post-delivery, you will experiences hair fall between 3-6 months after delivery. Postpartum hair loss is not caused due to breastfeeding although they both happen around the same time
What Causes Postpartum Hair Loss?
During pregnancy, your hair looked abundant and felt thicker than usual. This was because estrogen levels were high during pregnancy. This prolonged the stage where your hair was growing and reduced the time when hair was falling each day. And thus you enjoyed lush and beautiful hair during pregnancy. But then all good things come to an end. So once you delivered your baby, your hormone levels i.e. estrogen took a nosedive. As a result, your hair follicles enter the falling out stage and thus you experience post-partum hair fall.
It is a natural process and it is a way the body adjusts itself to the changing hormone levels. The excess hair that you grow during the pregnancy is lost after delivery. It is just a way by which your hair gets back to its pre-pregnancy fullness. The period of hair fall may stress and worry you a lot but there is nothing un-natural about it. So being patient and calm during this period is one of the best ways to tackle this phase.
10 Tips To Deal With Postpartum Hair Loss
Here are some effective home remedies and methods by which you can get back the original texture of your hair and curb postpartum hair loss:
Intake of vitamins: During this stage since you are breastfeeding, you need to supplement yourself with enough vitamins that are necessary to ensure better recovery after delivery and support milk production. During breastfeeding, your body is designed to put your baby's need before your own. So if you are not getting enough nutrients to support your health, then you will experience a lot of hair loss. It is best to consult your doctor and consume the necessary vitamins under his/her guidance
Healthy and clean hair: To avoid excessive hair loss, one should ensure healthy and clean scalp. Do not wash your hair on daily basis. Twice or thrice a week is more than enough. Excessive washing will make your hair dry and limp and devoid of the moisture needed to keep it frizz free thus keeping hair loss at bay
Good hair style: You can opt to cut your hair short and try a new hair style. Hair loss when the manes are long can be really depressing; however, with short hair, it becomes more manageable. Also with a new baby at home and managing breastfeeding schedules, you can consider a hairstyle that is simpler
Try home remedies: Opt for simple home remedies like applying egg white or curd to your hair at regular intervals. Not only do they help to reduce the hair fall but also act as a very good conditioner. Paste of roasted fenugreek is also known to help in treatment of hair loss

For more home remedies read: Top 12 Home Remedies To Treat Postpartum Hair Fall


Massage your scalp: Massaging the scalp will increase the blood circulation and promote better and faster hair growth. You may use Luke warm oil to massage the scalp and leave it for 15-20 minutes before washing your hair with shampoo
Quality products: Use a good quality shampoo and conditioner to manage the tangles in your hair. Hair type will vary from person to person. Be sure to indulge in products that are suitable for your hair type. Products meant for Curly hair will not suit straight hair. Try and get as much information as possible before you invest in a good hair product
Maintain a healthy diet: Do maintain a healthy diet. Throughout pregnancy your body has supported the development of the growing baby and still continues to do while you nurse your baby. So your levels of nutrients that are needed for healthy hair growth may be low. Also with a newborn to look after, you may be skipping meals and grabbing convenience snacks. But try to have wholesome foods that are easy to grab. Flax seeds are known to be rich in omega-3 and fats which help to improve the health of your hair. Consuming Flax seeds on daily basis is known to help in better hair growth. Roasted flax seeds are ideal to snack on in between meals. Also, consumption of dry fruits rich in iron, magnesium, and calcium works wonders for your hair

Skip or avoid styling products: Try and avoid using styling product during this time. The texture of your hair may not be the same as it used to be due to the changing hormones. Do not use blow dryers and curling or flat irons until shedding of hair stops
Avoid experimenting with hair color: During this phase, the texture of your hair is very delicate and it is best to avoid putting it through hair coloring agents that can drain off its moisture and make it frizzier. Stick to natural products if possible
Talk to your doctor: If you feel that you are losing out excessive hair and you are depressed and anxious about it, then do talk to your doctor about it. She may reassure you that it is a normal phenomenon and if required may prescribe some medication that may help you with hair loss. She may even suggest you some medical treatment to stimulate hair growth that will not harm your baby in any way when you breastfeed. Your doctor may also order blood tests to check your hormone levels which may be causing postpartum hair loss
Postpartum hair loss is a normal and temporary change that occurs in your body after the birth of your baby and is unrelated to breastfeeding. Having said that, it is normal for you to panic when you see heaps of hair in your shower or all over your pillows and hairbrushes. It is downright depressing and absolute pain to deal with hair loss on top of everything having a new baby entails. But the good news is that hair loss does stop once your hormone level starts to normalize which may be somewhere around 6-12 months after delivery. We hope these tips will help you to deal with postpartum hair loss in a better way.
Did you experience hair loss after your baby was born? How did you deal with it? Do share your experiences in the comments section below.