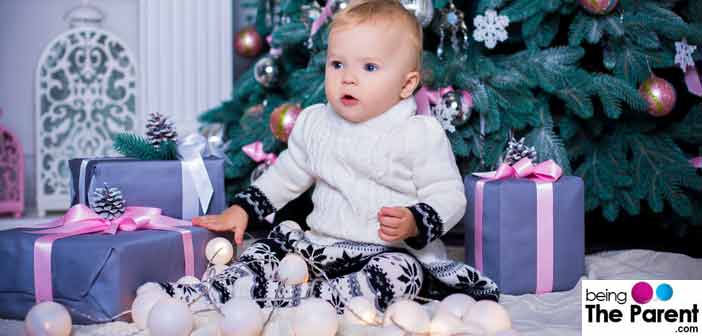 Jingle bells, jingle bells,
Jingle all the way.
Oh! what fun it is to ride
In a one-horse open sleigh
Everything is magical to the eyes of a baby! Really magical! You can easily look at those wonder filled eyes and tell by her purest laughter! To her, everyday is Christmas as she does not know why Christmas is Christmas! She does not know by the books that is, in her natural innocence she can easily understand the purest happiness!
A baby is a miracle to behold! He was created from you, and that was a precious experience by itself! Now, when your little prince or princess charming is ready to find himself on the lap of Mary at the Nativity decorations, as the mother you obviously want to make everything super special. You want to make it memorable and click photos so that they will make up an amazing trip back to time when your child is all grown up! Well, you have many awesome ideas here.
Ho Can I Make My Baby's First Christmas Special?
It is indeed wonderful that you are a parent, but it is more wonderful that you have this once-in-a-lifetime moment when your baby is celebrating her first Christmas. The below tips and tricks will make it even more memorable, and this needs to cherished for life.
The decorations: Christmas is totally nothing without the celebration decorations. Babies are curious! They will love everything from the figurines of the Nativity scene to the swinging tree decorations and the shining star! Babies feel by heart and the happiness of the season shines in their pure joy! Keep your camera ready and you can find numerous moments to cherish.
When the dusk falls, and the sparkling lights begin to glow, things get even more magical. Probably, the little ones feel that their dreamland and this real land are fully same. Maybe, they think they are all the same anytime anyway! Baby thoughts are always magical because no one remembers them when we grow up
Dressing for the occasion: Of course, you would be buying special dresses for the baby. There are numerous options and online sites present amazing deals. The traditional Santa caps and jackets are always there. They are also warm and soft. Do remember to avoid clothes made of synthetic fiber as they are uncomfortable. Cotton or woolen garments are simply the best. There's one dress where they combine a shawl with a Christmas cap in a draped style. It is totally amazing for a toddler photo shoot. They would look like a tiny giggling Moses or Noah or someone from a cute Biblical time!

Personalized Christmas cards: These are so easy to make that it just does not make sense that why you should not make one! All you need is the most beautiful family picture and someone who makes cards professionally. The costs are very meager as all it needs is to digitally decorate your pic and set it on the card. Infact, parents who are constantly clicking their little one can make most of those aww moments now by making photo cards. Do not forget to coin a wonderful inscription of Christmas greetings inside the card. You can write your own holiday poem, or a few lines of your story if you wish! It is very easy. Just recollect the best memory with your baby (there are so many of them), and write it down with rhyme for poems and as lines as stories. Give the card to your guests. It promises to be a wonderful keepsake for all life!
Going for a family trip: Christmas is totally the perfect day to set out for a family trip. The mood is picnic! Plan a little ahead though. In fact, you should start planning right now, because while writing this, 25th December, is exactly a few days away! So, check out online for the closest places where you can go. One year babies are too young to enjoy an amusement park! In fact, it is not a very safe idea as well, to take a toddler on amusement park rides. All that speed and noise and motion can definitely make them nervous. Go for a natural retreat. Nature is never far away! It is just outside the boundaries of the city. Parents in Bangalore can easily plan a trip to Mysore or those in Mumbai can visit the Ajanta caves once again! From Delhi, you can once again set out for Agra, and Kolkatans can also go to any of the many tourist spots around the city. Always have your camera with you. There will be many special moments!
Start a new Family Tradition: It does not matter whether you threw a Christmas dinner party every year or your husband spends the Christmas evening playing board games with his cousins. There is newness, there is a new life. Your baby's first Christmas is a perfect time to start a new family tradition, which will be on for a lifetime now. Make a ritual that is unique to you and your family
Let the holiday season this year bless you with all the happiness of the Universe! You can definitely have other ideas besides the suggestions mentioned above. The main idea is to enjoy the day to its purest fullest! Everyone always has their unique ways of making the day special!
Merry Christmas!!