Every woman dreads being obese and gaining weight. That is her biggest nightmare. The lifestyle we live today and the dependency on junk and processed food has only increased the problem manifold. With the increase in risk of obesity, something called diet pills have been introduced in the market. These pills basically help you lose weight and get back in shape. But are these slimming pills safe during pregnancy? Keep on reading to know if these diet pills pose any risk to pregnant woman's health and the health of her unborn baby.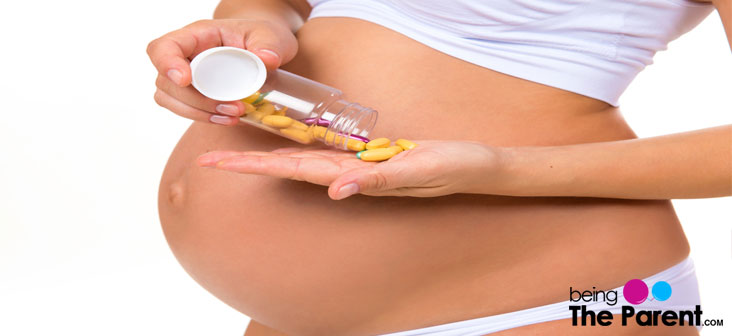 Is It Safe To Take Diet Pills During Pregnancy?
Why Is Weight Gain Important During Pregnancy?
How Can You Ensure You Gain Weight Healthily During Pregnancy?
Is It Safe To Take Diet Pills During Pregnancy?
No, it is not safe to take diet pills during pregnancy. Here are some of the side effects of taking diet pills during pregnancy:
Remember how pregnancy can raise your blood pressure and cause changes to the way your heart works? Diet pills are known to raise the blood pressure even further in pregnant women. Any blood pressure higher than 140/90 mm Hg is known as high blood pressure or hypertension. If a pregnant woman has high blood pressure after 5 months of pregnancy, then complications such as preeclampsia can occur
The stimulants in diet pills are known to burn calories faster. As it enters your blood stream, it will reach the baby too, hence impacting the growth and development of the fetus. In fact, slimming pills can greatly impact the birth weight of the children, i.e. they will be born with lower birth weight
Some of the diet pills also contain caffeine, which causes harmful health impacts to both you and baby, if consumed in excess (remember that our coffee, tea, chocolate and colas already contain caffeine)
Some of the diet pills in the market advertises as "all herbal" and "all organic" and these pills are not any safer than the chemical ones. This is because some of the herbs are known to cause many pregnancy-related complications, including miscarriages
Another key reason to avoid slimming pills is that there has simply been no research done that studied the relationship between the pills and pregnancy. This is mainly because it is an unnecessary risk to put pregnant women through this test
Chances of women giving birth to homosexual baby are high if they took diet pills during pregnancy. This is because the compounds present in these pills tend to effect sexual orientation of the fetus
While all these are good enough reasons for avoiding diet pills, let us take a step back and see why you feel like having diet pills during pregnancy. Healthy weight gain is very important during pregnancy. Read on to know why.
Why Is Weight Gain Important During Pregnancy?
If you leave things to nature, you will gain anywhere between 10 kilograms and 15 kilograms during your pregnancy. While it can be more than 15 kilograms for some, the general healthy gain is supposed to be about 1 kg to 1.5 kg in the first trimester, and 1.5 kg to 2 kg per month in the second and third trimester. Understandably, since a newborn baby weighs only 2.5 kg to 4 kg, all that weight cannot be from the baby! So, where does all these weight come from?
You will gain about 3 kg of fat. But do not worry about this fat gain, it is an essential change in your body during pregnancy. This fat will help your body prepare for birth and store nutrients that will later be transferred to the baby through breast milk
Your breasts will increase in size, and gain at least one kg altogether
Another 3 kg to 4 kg is due to the formation of placenta and amniotic fluid. Your uterus also gets enlarged, contributing to the overall weight gain
So considering that all the above weight gain is very important for your pregnancy, and for the growth and development of the baby, why would you want to inhibit this weight gain.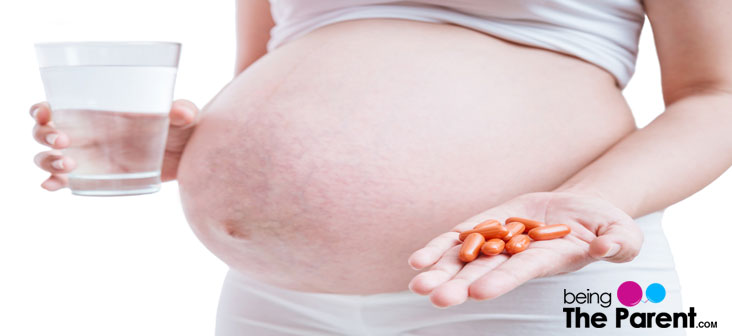 How Can You Ensure You Gain Weight Healthily During Pregnancy?
Just because diet pills are not a good idea, you should not also think about skipping meals and starving to avoid weight gain. Proper nutrition through a balanced diet is absolutely necessary during pregnancy. To get some idea around the things you need to include in your diet to ensure a healthy pregnancy, refer to Healthy Diet during Pregnancy and Have A Balanced, Nutritional Diet During Pregnancy.
If you are already overweight, then talk to your gynecologist and request her to draw up a diet chart for you. She might ask you to focus more on complex carbohydrates like whole grains, proteins-rich food like egg, lentils and lean meat and also fruits and vegetables or increased fibre content. For more on this, read I Am Pregnant And Overweight. How Does It Affect My Baby?
If you are still concerned about the weight gain, please refer to The Inevitable Weight Gain During Pregnancy and Can I Diet During Pregnancy?
Remember that once your baby is born and you cross the mandatory rest time, you can start exercising to lose weight in a healthy manner. Until then, stay away from weight worries and stay away from diet pills.
Hope this article helped you understand why it is a bad idea to consume diet pills during pregnancy. If you have anything to share on this please leave it in the comments section below.