Giving birth to a baby is a phase of new things – a new life, a new routine, a new you and a brand new baby. It is indeed the greatest blessing of God. You might as well say that it is also a phase of "expansion"– both physically and mentally. With your bundle of joy comes various other complexities that you have to face later. Many mothers face the fear of getting back into shape. Though it might appear difficult but through regular exercises and health routine, it is not impossible. Women today have made every impossible really possible. Before you think of any exercise routine or workout regimen do not forget to consult your doctor. It is very important and any laxity in this may cost heavily on your health. Ask your doctor, if you have any medical complications or if you have undergone a C-section. Then proceed further. Every doctor advises you to wait for at least six weeks before starting any exercises.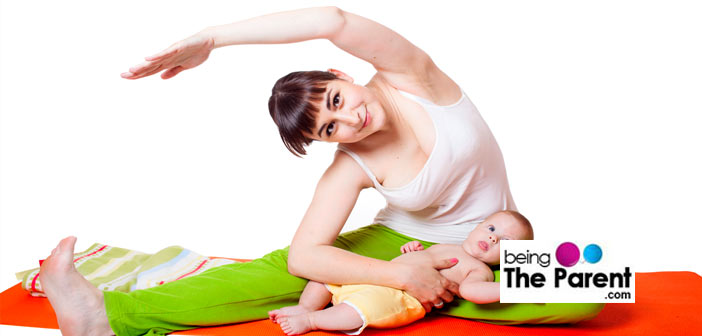 15 Must Do Exercising Tips After Birth
Birthing and labor will not leave you with a stamina or even the will to get on a stringent exercise routine. It will come with time an dedication. It may also not be possible to leave your newborn baby at home and exercise in a gym or a park. So the trick here is to do small things, within the comfort of your home, aligning with the baby's schedules and get results. Here are some tips and a few exercises that you can follow at home with ease and comfort:
Walking: This may sound a little unusual but walking really helps in toning back your body. Do light walking first before you start with power – on walks. Take a small, short walk in the home, in the terrace or your balcony and you are on the way to being fit
Arm and legs movements: This is the simplest exercise to follow. Just lie down straight, bring your leg upward and move your foot in the circular direction. Then repeat the same with the other leg and then both the wrists. This relaxes your muscles and eases the pressure put by holding the new born continuously
Neck movement: Bend your neck down and stretch it for 5 to 10 seconds, then bring it back to the normal and bend it down towards the right shoulder, stretch it and bring it back to the normal. Then bend it left and then backwards gazing upwards. It will help relax the muscles of the neck and shoulder

Pelvic floor exercises: Aim to start these exercises within a few days post your baby's birth. These muscles strain themselves a lot and need to be strengthened again post childbirth. You can help strengthen your pelvic floor muscles even when you sit up to feed your baby. Sit comfortably and squeeze the muscles just the way you would try to stop your urine. Do this for 10-15 times at a time. Keep breathing normally, and do not tighten your stomach. Increase intensity and frequency slowly with time
Swimming: Once the bleeding has ceased, you can try and swim lightly if you have access to a good pool
Develop healthy eating habits: Eat foods that can provide proper nourishment to your body. Avoid getting lured by junk and oily food. You are still a nursing mother and therefore, you need a good balanced diet to make your body strong without putting on further weight. Consult a dietitian and get a diet chart. This can really help
Hydrate yourself well: Before and after every small or major physical activity, have some liquids before, during and after every exercising session. Keep a bottle handy when you exercise
Invest in a supportive bra: Always wear a good quality supportive bra when you begin to exercise
Posture attention: Whenever you stand or walk or sit, make sure that you are maintaining an ideal posture. Stay conscious of your back or spinal area and breathe easily. If you feel uncomfortable, seek the help of your doctor
Abdominal muscles: To tone your stomach would be high on your list! However, remember that your stomach muscles would be stretched a great deal and Relaxin would also be at work several weeks even after childbirth. This means your muscles would be relaxed and hence chances of injury are more. Start with an easy level of abdominal exercises and work your way up. Avoid sit ups and curl ups as they are not very helpful

Be dedicated and patient: You might have lost weight at a fast rate earlier, but post pregnancy your body has changed and it may not behave the way you want it to. Stay dedicated and patient and follow your routine diligently
Diet –Off limits: Postpartum dieting is a huge no-no and that means you need to eat healthy. Make wise choices but also ensuring that the food you eat is highly nutritious
Join gym: After waiting for the period advised by your doctor, join a gym and start with light exercises that do not put pressure on your body. Always remember that your body is still healing from the weakness of labor that you have gone through
Aerobics: You can also start with light aerobics that do not put pressure on your body but increases the blood flow making you feel better and more confident. Low impact water aerobics are a perfect choice
Yoga classes: Join some yoga class as this is the most traditional method of keeping yourself fit. We Indians have been following it for ages now and it has shown amazing results
Remember, exercise should boost you up and nothing should hurt. If you feel uncomfortable at any point stop immediately. Never overdo things and exercise at your own pace. Stop exercising before you start feeling exhausted or tired.
Whatever be your method of losing weight, always remember that nothing is more important than your health and your safety. Don't be in any haste as your baby is completely dependent on you. Always consult a doctor before following any schedule.