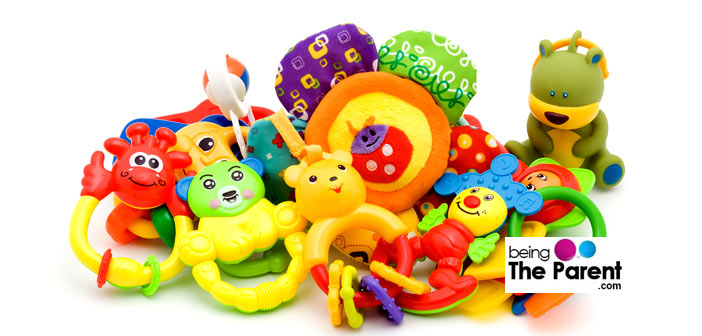 When a baby is born each of us gets enthusiastic about buying all sorts of toys ranging from rattles to stuff toys and moving trains. Variety is what strikes us when purchasing toys, no one wants to present the same toy as the other member, therefore regardless of whether the baby will be actually able to play with it, it is presented!
Why Should You Give Your Baby Age Appropriate Toys?
Toys are an inherent part of children's development. You surely must have noticed a small box at the toy carton specifying it's age-wise suitability such as "For 3 months and above, For 6 – 8 months" etc. This is because toys have been built according to the average motor and cognitive development of babies. Now if you will nicely set up engines and start a moving train for a merely 2 month old baby, he is not going to enjoy it. Chances are he may just glance over it casually and look elsewhere. At this stage, he is unable to concentrate and would rather focus on something that he can hold in his hands or mouth. Play is an inherent part of a child's mental, social and physical development, and also needs to be stimulating and safe for the child. Parents should ensure that their children are given age appropriate toys to play with, to hone their skills and aid in their motor and cognitive skills development.
Why Are Toys Important For Babies?
Toys are an important tool of developing muscle and eye-hand coordination. Children use muscles when playing with different toys and in turn exercise and hone their physical skills. The skill of balancing is developed – such as by placing one block on the other. Toys help baby distinguish between different colors, textures, shapes and size. As the baby grows up, toys become his imaginary friends and he would spend more time conversing and indulging in activities with them. Pretend plays would fascinate him and he will develop his social skills from here.
Guide To Buy Age Appropriate Toys For Newborns Till 1 Year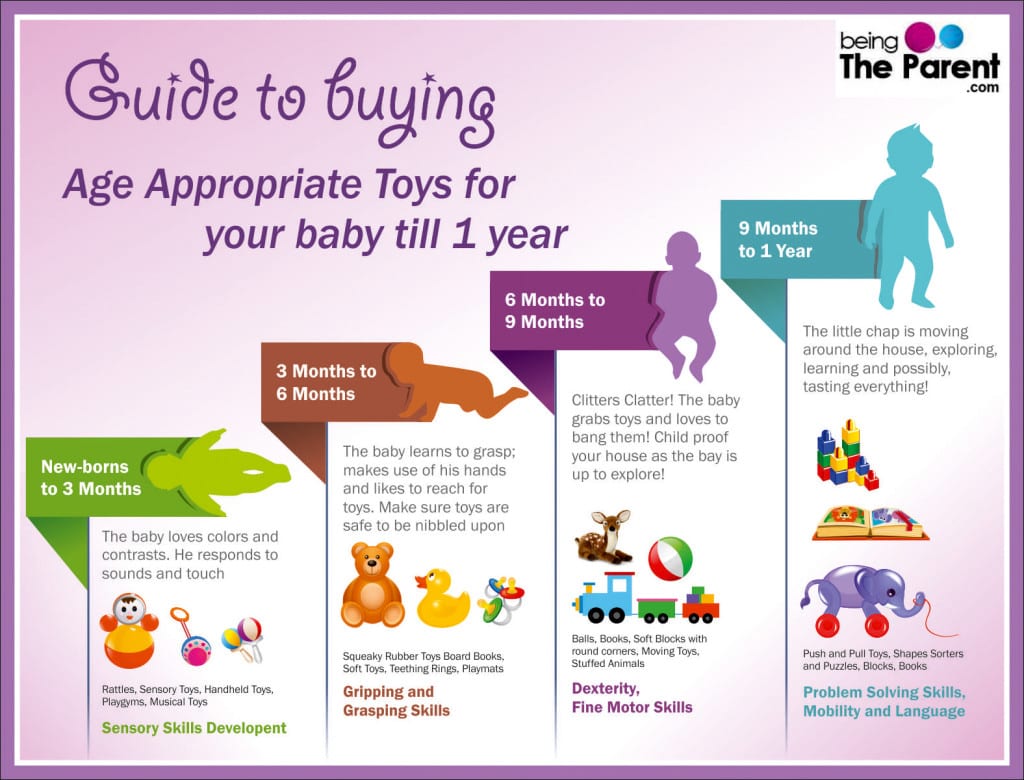 The benefit of toys can be reaped when they are given at right time and at right age. To help you with this, below is an outline of toys recommended depending on age:
Toys For A Newborn to 3 months Old Baby:
The baby is still getting used to the surroundings, and faces and sounds attract him.

Hand held toys: Loved by babies this age, especially those which make noise when pressed. Such as rattles and a soft toy or doll which probably sings a rhyme when pressed
Musical toys: You may want to set up wind chimes in the baby's crib or rooms and the baby loves to listen soft music with movements
Unbreakable mirrors: at this age, babies are fascinated with reflections. They actually love to smile at their own cute faces! A mirror that can be given to her during tummy time or is visible to her when you change her would actually be a great gift
Sensory Toys: Squeaking toys that present a visual thrill as well would also be great for a newborn baby. The baby will press te toy and the squeak or tweet will make the baby realise what her hand is capable of doing

Toys For A 3 months to 6 months Old Baby:
Now your baby has grown more smarter and knows that there are plenty of things that his hands can do. He will try to grasp at anything and everything within his range.

Rubber toys: so that your baby can explore it by pressing and chewing it
Teething rings: they not only provide relief to sore gums but you can clean them easily and hand it over to your baby to gnaw at
Activity bars: A lot of colorful and variety of toys can be hung from this bar, which easily fits the stroller or baby's crib. Your baby will love to pull at the toys and perhaps squeal with happiness on hearing funny squeaks on pressing the toys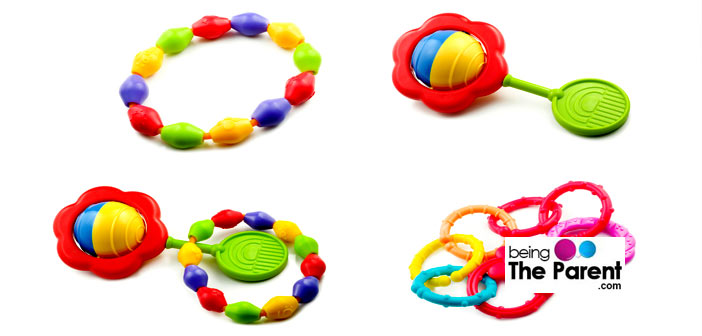 Toys For 6 months to 9 months Old Baby:
Not only the hand movements have become vigorous, your baby might be sitting with help and crawling everywhere. This phase is marked with development of fine motor skills such as dexterity and increased cognitive awareness.

Blocks: these can be of different colors or numbers, yes you can start training your little one! Choose blocks made of fabric or those with soft, round corners. Show your baby how to stack these up, then knock them down and your baby will follow suit
Balls: a number of games can keep you and your baby encouraged. Your baby would love to crawl behind the ball or pass it on to you!
Picture books: There may be story books, 3D story books or just plain books with large pictures. These amuse the child and hone his cognitive skills
Moving toys: Moving cars, trains, dancing dolls, dogs now catch their attention! Watch your baby feel proud when he has found the button that puts these toys in motion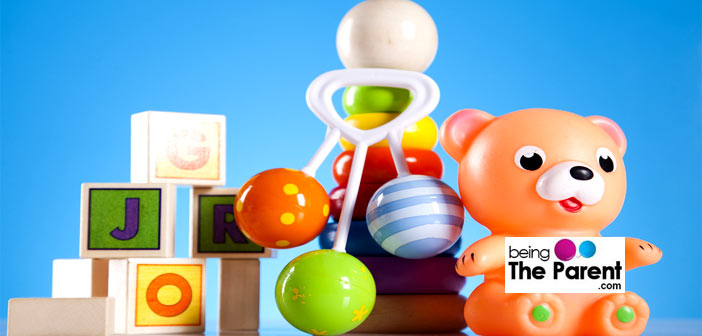 Toys For 9 months to 1 year Old Baby:
Your baby has increased his crawling speed and already yearning to stand up and run on his feet. He can now mimic you, imitate your words and actions.

Push and Pull toys: We usually call them walkers – which come in beautiful shapes loaded with small toys and activities. These provide support to your child as he tries to walk
Shape sorters: They come in a variety of games wherein the child has to fit a shape in a particular slot – it promotes problem solving skills
Blocks: These are universal play accessories. Your child may want to make a tower of the blocks or any other abstract shape
Books : At this age, babies like a lot of action and always seeking novelty. Books containing 3D pictures, different images and textures stimulate their senses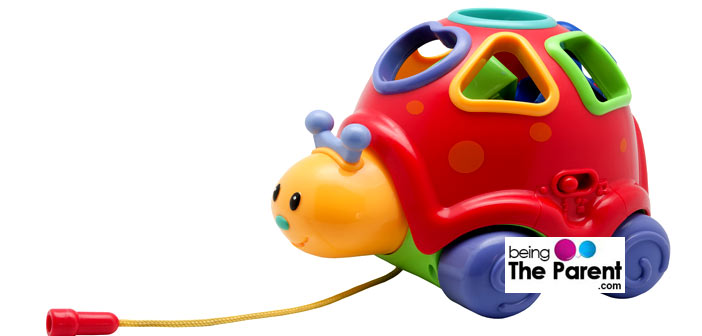 Toys Safety Guidelines
Toys can be fun and boost development if handled carefully and on observing below precautions:
Be safe when handling electronic toys. Make sure there are no live wires or chances of shock
Keep away from toys with sharp edges
Toys should be of reasonably big size so that your baby does not swallows it
Its best to invest in toys which can be easily cleaned/washed off, because it will end up in your baby's mouth one or the other way
Avoid purchasing stuff toys with large hair, as babies may ingest them
Choose toys which have been labelled safe for nibbling. Some toys are made of toxic substances!
Check for any small loose parts, such as buttons or eyes. Your baby may swallow them!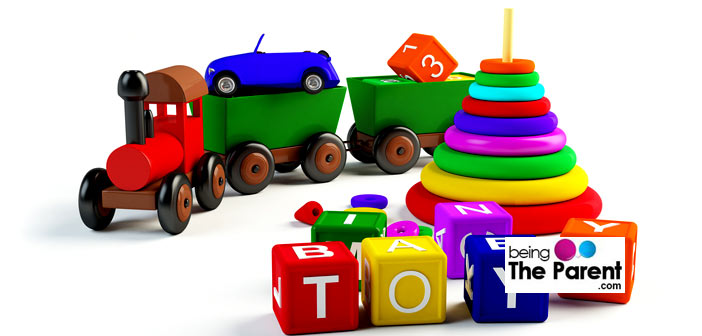 Toys develop the thinking, creativity, problem solving, imagination and sensory skills. The key is to choose age-appropriate toys for your child! You may even advice others bringing a present for your child on this, so that it's used best!