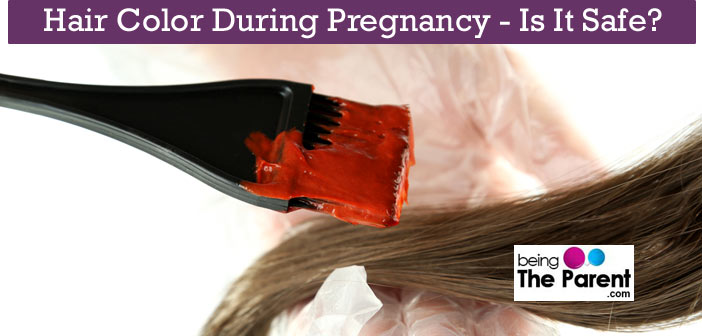 A lot has been said and discussed about using hair colors and hair dyes during pregnancy, and most women get confused whether it is safe or not to opt for hair coloring while expecting. The general verdict is that using hair color, that is ammonia free and is applied with precautions, is safe during pregnancy and women can get their hair colored without giving in to guilt and fear.
Hair Color and Neuroblastoma in Pregnancy
There has not been a lot of research carried on this subject, and has led experts to believe that there is no evidence that these tiny amounts of chemicals pose any threat to your developing baby. Though it is true that whenever you apply dye or any other synthetic hair products, small quantities of chemicals do penetrate in your skin. However, this is very minimal and does not impact the development of the fetus. The only study that has linked the use of hair color during pregnancy childhood cancer neuroblastoma was in 2005. The same conclusion has not been arrived at by other studies though.
It is quite improbable that the application of any synthetic product will enhance the probability of childhood tumors.
Other Hair Treatments During Pregnancy
An expectant mother should feel good during pregnancy and doing makeup, dressing up nicely and coloring are some of the things that can make one feel elated and confident. If hair is your thing, then you may like to change or maintain your look and take some hair treatment. Various kinds of hair treatments are available that include:
Curling: wavy texture is imparted to the hair using chemicals. First a waving solution is applied and then a solution for fixation or neutralization
Coloring: It can be done using temporary, semi-permanent or permanent dyes
Relaxers: They are also called perms. They permanently straighten your-not-so straight hair and contain either no lye (lithium, potassium or guanidine hydroxide) or lye (sodium hydroxide)
Bleaching: The process of bleaching is done using hydrogen peroxide
You must note here that pregnancy naturally changes the hair texture, so the response to any treatment can vary. Also, all these chemicals are absorbed slightly through the skin, so the probability of the same causing harm to the fetus.
If you are wary, consider going for highlights or coloring the length of the hair.
Waiting Till The Second Trimester
If you are feeling uncomfortable about coloring your hair, but yet want to look great in the pregnancy photos and the hospital, you can consider waiting till the second trimester. The sole reason for this is that a pregnancy is fairly stable during the second trimester as all major developments have taken place during the first trimester.
A lot of doctors do advise not to color during the first trimester atleast, that is because you will have hormones racing through your body and they will change the way your hair look and feel. By the time the first trimester ends, your baby's development has crossed the vulnerable stage and you may feel more confident about going glam.
Precautions When Coloring Your Hair During Pregnancy
Following are some important prerequisites that you should keep in mind while dying your hair. These safety tips will protect you from unwanted graying and hair fall:
Do not keep dye in your hair for too long
Wash off the dye properly form your hair. If inadequately washed it can damage your hair
Always wear gloves when you apply dye in hair
Read and follow the instructions given on the dye packet
Avoid mixing together different dye products
Before using the dye make sure you do a strand test for detecting any allergic response to the ingredients
Stay clear of getting the hair in your eyes. Hair color or dyes can damage your eyes and can even result in vision loss
If you feel that dye will affect the health of the newborn, consult your doctor or postpone taking any hair treatment till the baby is born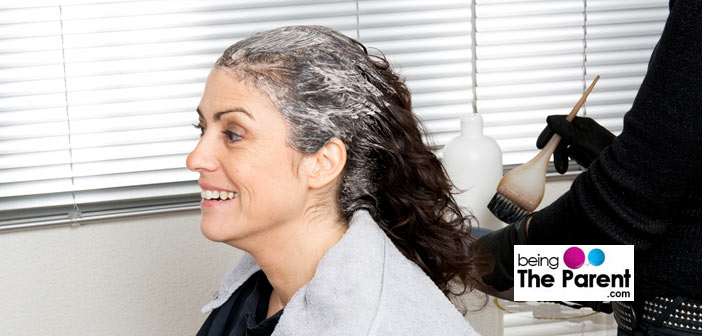 Safe Brands Of Hair Color During Pregnancy
With so many brands flooding the market, settle for the ones that are ammonia free and of reputed brands. Lo'real, Herbal Essences, Naturals etc. are some brands that offer ammonia free color.
Natural Options To Color Hair When Expecting
If you are planning to go natural, be mindful of what you are buying as 'natural'. Some natural products may contain the same synthetic chemical compounds (such as p-phenylenediamine, dihydroxybenzene, and aminophenol) which are actually uses in hair dyes and hair colors. Here are some natural options that you can choose instead of the chemical ones.
Vegetable dyes:
Some people recommend vegetable dye during pregnancy as a safe alternative to synthetic chemicals. But make sure you check the ingredient list while buying these so called herbal or natural preparations. Often they contain some synthetic components such as dihydroxybenzene, aminophenol, etc.
Henna:
Henna is obtained from a plant named Lawsonia inermis. It is a semipermanent dye of the vegetable origin and is regarded as a safe dyeing option. Some people find applying henna a messy and fussy process and give you a typical orange-red hue
Hair coloring or dyeing is quite safe during pregnancy as long as you take proper precautions.
Pregnancy And Working In A Salon
If you are working as a cosmetologist or in a hair salon and are constantly exposed to dye and other chemicals, you must ensure some basic precautions as harm is proportional to exposure to chemicals and the duration of exposure. Some scientists think that the risk of miscarriage is increased in women frequently applying bleaches permanent dyes, working in nail sculpturing salons, etc.
You can incorporate certain things in order to cut short your risk while working.
Wearing safe and protective gloves while dealing with dye
Not drinking or eating in your work zone
Working in well-ventilated area
Avoiding excessive exposure to harmful chemicals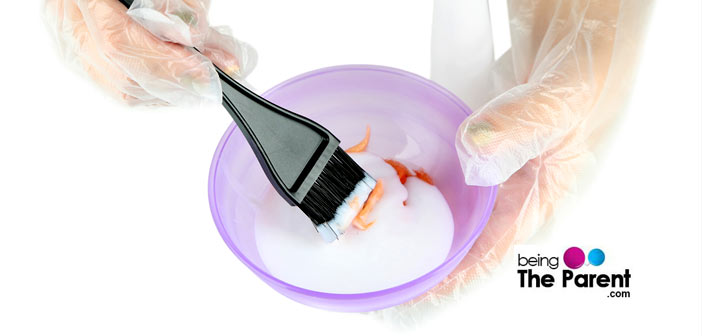 All in all it can be said that hair treatments are not dangerous and can be done during pregnancy. If you are still apprehensive about their safety, you can either use vegetable dyes or wait till the birth of the baby and then get whichever hair treatment you wish to take and flaunt your mane!
Go ahead and color your hair-brown, burgundy, dark brown or coffee brown. You certainly want to break the monotony and feel better while experiencing this wonderful phase of life-pregnancy!