When is the right time to look for a good pediatrician for your child? Before the child is born. Yes, that is right. Since your child needs care from day 1, it is ideal to zero in on the pediatrician sometime along your third trimester. We know what you are thinking. You did so much research just months ago to find a good gynecologist, and here we are asking you to research for a good pediatrician already!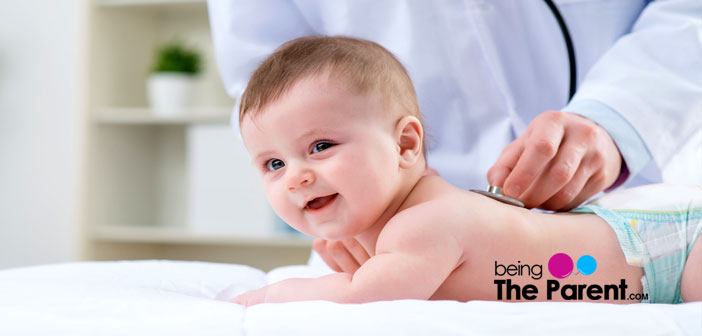 When Should I Start Searching For A Pediatrician?
Choosing a pediatrician for your baby should be a well informed decision, and a one at which you arrive together. Some people already decide the doctor even before they conceive, while some others start looking for one during the course of pregnancy. It is, however, recommended that you zero out on your child's doctor atleast 3 to 4 months before your due date.
What Kind Of Doctor Should I Choose For My Child?
You can opt for a pediatrician who specializes in child care and children's health. Because he will be practicing with children, he will surely be well-versed with all aspects of child care. Some people prefer the family doctor since the doctor is aware of the family history, genetics etc., but you must also ensure that he knows infant health as well. Though degrees and education do matter, they are not the only things that should be considered. Either of these choices is fine, as long as you get along with the doctor just fine, and he is approachable and friendly. Remember, after you have a child, you will have lot of questions, concerns and anxieties. Your child's pediatrician will be your partner-in-arm who will answer all your questions patiently and see you through all your concerns and anxieties. So you need not only a competent pediatrician, but also an approachable one. Meaning, some of the most sought after pediatricians in your city might underwhelm you with how less they talk. Or overwhelm you with chit chat. You as a mother will have a unique set of expectations from your child's pediatrician. Make sure the one you chose is agreeable to you and do not go by who is most popular in town.
8 Tips To Find A Good Pediatrician For Your Child
Here are eight tips to find a good pediatrician for your little one:
Ask your friends and neighbors: A good doctor comes with great referrals. Talk with your friends and neighbors. They will be able to tell you, in detail, what they like and dislike about their kids' pediatricians. By talking to neighbors, you will also know who some of the good doctors livingin your locality are. Remember, what your friend/neighbor likes might not be agreeable to you. So although you ask for their inputs, decide on who you want after much thought and analysis
Ask your gynecologist: You and your gynecologist would have formed a strong bond during the last many months. When you trust her judgment in taking care of you and your unborn child, why not pick her brains on pediatricians as well. Her recommendations should also be thoroughly researched
Decide on what kind of doctor you want: Once you have inputs from your friends and gynecologist, you need to sit and decide the kind of doctor you want. Some parents swear by homeopathy. Some don't. Some do not mind stronger medicines, as long as it works. Some prefer doctors who give very less medicine. Discuss with your spouse and take a call on what kind of doctor you want

Check for credentials: We know, we know – mostly all doctors seem to have a long list of different acronyms as credentials and you do not know what is better or worse. However, depending on which part of the world you live in, you can do some online research to understand these acronyms and zero in on a doctor who has good credentials
Make sure they consult nearby: Traffic is a big problem in all major cities and towns. And trust us when we say this, there would be many occasions (most of them minor) when you would want to rush your child to the ER. Having a doctor near your area is a huge boon especially for emergencies
Check insurance coverage: You would have added your child to your medical insurance cover. Many transactions become cashless if you pick a hospital that falls under your insurance provider's approved list of hospitals. Keep this in mind when you chose the pediatrician
Meet and talk to prospective candidates: You also need to meet the pediatrician face-to-face once. There are few questions you need answers to, such as,

When would you be available for consultation?
If you are not around, who will be your standby?
If I have a minor question that does not require consultation, how do I reach you?
How soon would you respond to mails or text?
Do you have specialized training for infants?

Have plan B ready: After all this research, there is a good chance you or your child just does not click with the pediatrician. He or she might fall short of your earlier expectations. In which case, remember you are not married to the doctor. Have a plan B ready to approach in case of a pediatrician break up!
Here is your baby's first month appointment checklist!
Have we missed out any points? What were the parameters you used to identify your child's pediatrician?