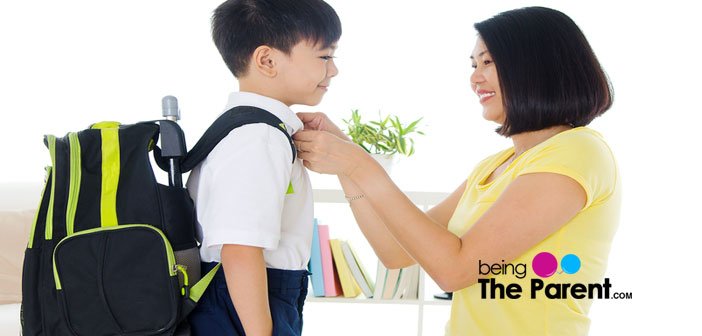 Ask any mom – working or stay at home ones – and they will tell you morning time is madness for them! Waking up, freshening up, getting ready, eating and serving breakfast, drinking milk, packing lunch – the tasks are multiple! And what makes it more complicated is that your child is not always willing and your child is not always the only person who needs attention in the morning. Most women struggle with a husband who needs to leave for office in the morning, a parent or in-law who has to follow a unique diet and finally another child as well! While we cannot promise you a gracious and relaxed morning routine, we can definitely offer you a less-maddening and more efficient one. One that will get you to finish all your tasks on time, and not miss that school bus! So here are:
10 Tips To Get Your Child Ready For School In Time
Start the night before: One way to lessen your morning load is to share it with the previous night! Planning your morning is something you can start with.

Check the child's diary and find out if he needs to take something special to school the next day
Pack the bag according to the next days' time table. If you have an older child, by all means, the responsibility should be his!
If you are working, pack your bag too
Plan the lunch for next day and check to see if there are all ingredients required for it

Get the clothes in order: Remember how you run around frantically searching for the second socks in the morning? Do not let that happen. Keep your child's uniform and your work clothes ready and together the previous night itself. This will also give you a chance to inspect the uniform is pressed and neat. Keep the shoes also polished and close by
Ensure your child sleeps on time: Routine is what works best for children. If the child sleeps late because his favorite cartoon is playing, he will wake up late. Even if you push him to wake up on time, he will be tired and groggy, thus delaying the entire morning routine. One way to ensure your child wakes up on time is to get a good alarm clock! Let this be your child's choice and let it be your child's job to switch it off in the morning
Help your child be independent: Without looking for perfection, encourage your child to get ready alone. Even if it is a small task like washing face, wearing clothes alone, or tying shoe laces, it will be a big help for you to finish the morning errands. For more on how to make your child independent, read When Can You Let Your Baby Take A Bath Alone?, When Will My Toddler Start To Dress And Undress Herself? and How To Teach Your Child To Tie Shoe Laces?
Keep a checklist: Often times, when you walk out of the door to the school bus stop triumphantly thinking you have done it all, you remember you have not packed the child's lunch box! Printout a checklist and paste it on the back of the door so that just before leaving you can be sure you have done all of the important tasks!

Make simple and healthy breakfast: Remember the superwoman in that ad who makes 5 different breakfasts for 5 different people in the house in an hour's time? Yeah, that is not realistic. Keep the breakfast simple and healthy! Even if it is toast, a fruit and milk, it is enough. Do not get into the superhero mode and do not attempt to be one either
Set a strong routine: It will take some time, but ensure you are consistent with the routine. Once it sets in, your child and you will become faster in what you do because there is a pattern and you know what you both have to do next. Everyone knows what's coming next and life gets easier
Find a good bathing time: Some parents insist they need to bathe the child in the morning. If you are not very particular about it, then explore the option of giving the child a bath in the evening, after his play time. This will ensure that your child sleeps well, and more importantly, it will save some time in the morning!
Be positive: No one – not you, not the child, not other people in that family – needs to wake up to a negative and troublesome morning! If there is constant "Do it we are getting late" being shouted out, then there is definitely disturbance in the morning vibe! Try to be positive. If you are late one day, relax. Do not beat yourself up. You are still no less of a superwoman. Be positive in the mornings. Try to hug your child and remember to say you love him!
Break the routine once in a while: Ensure you take breaks during weekends and vacations. However, after a long vacation, do not wait till the first day of school to get the routine back. Slowly bring it back from a week before!
All the best!