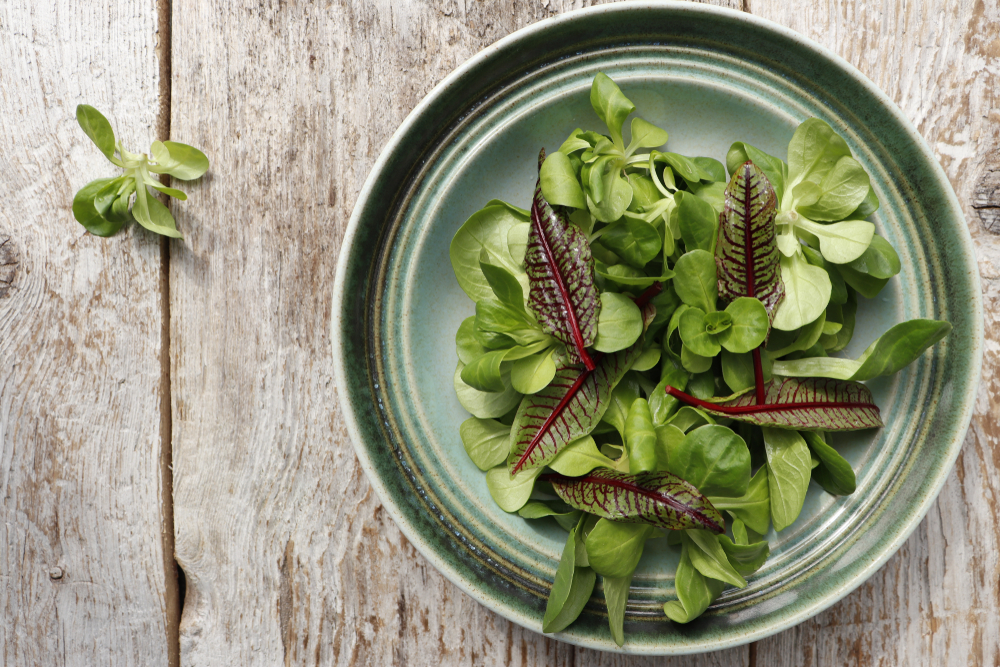 It is important to eat well during the phase of pregnancy as eating and drinking are the main sources of nourishment for both the mother and the baby. It is the direct link between what the mother consumes and how healthy the baby is. It is important to get a full-fledged nourishment so that the baby has a healthy growth and development.
Sorrel offers benefits for the health comprising of a healthy digestive system, regulation of blood pressure levels, good vision, energy supply, boosting the blood circulation, developing in immunity system, enhancing the skin health, enriching the bone development, regulating diabetes, preventing the cancer symptoms etc. Let us have a look at what sorrel is, the nutritional intake, the health benefits, side effects, the right method to use sorrel leaves in pregnancy and precautions to be taken while consuming sorrel etc.
What Is Sorrel?
Sorrel is a bushy plant in appearance and an annual herb that can be found in different weathers, climates, and regions all over the world. Sorrel is also famous for its health as well as medicinal uses. It is widely used for conventional cooking as well. It is more beneficial if consumed in smaller quantities and the leaves are the most significant part of this plant. Sorrel leaves have a sharp, sour taste with a slightly tangy lemon flavor.
What Is The Nutritional Value Of Sorrel?
Sorrel is enriched with fiber and is an ideal antioxidant and quite beneficial for one's well- being. It is the oxalic acid in the leaves that bring about the sour taste. The nutrient composition of sorrel leaves can be seen as under:
Vitamins: Sorrel is an excellent source of vitamin B9, A, and C.
Minerals: Sorrel is a powerhouse of minerals like calcium, iron, potassium, magnesium, and sodium.
Organic Nutrients: Flavonoids, polyphenolic acids etc. are found in surplus in Sorrel as it has very low calories
Other Nutrients: Fibres, proteins, and other nutrients are found in Sorrel that makes it a low- calorie food but with good nutritional value.
What Are The  Advantages Of Eating Sorrel During Pregnancy?
Getting nutrition and being healthy is the best intake that one gets from the green and leafy vegetables. Due to the unique flavor, the sorrel leaves are different in taste. It is also a powerhouse of health benefits. Here are 12 amazing health benefits of eating sorrel during pregnancy:
Enhances Eyesight: During pregnancy, even though temporarily your eyesight can be get affected. In case expecting mother has any vision problems, consuming the sorrel leaves will help as it is rich in vitamin A that helps in improving the eyesight.
It Helps In Reducing Weight: In case one is looking to lose weight, consumption of sorrel leaves is a big help as it is rich with many nutrients as it has almost negligible fat content and low in calorie content.
Helps With Detoxification Of The Body: Intake of sorrel also comprises of flavonoids and antioxidants. Sorrel leaves are diuretic and are a good laxative. Therefore, intake of sorrel leaves help in flushing the toxins from the body.
Helps In Reducing Blood Pressure Levels: Sorrel leaves are rich in potassium and magnesium. It is rich in antioxidants that help in lowering the level of bad cholesterol. Intake of sorrel leaves, therefore, helps in reducing pregnancy induces hypertension and regulating blood pressure.
Helps To Alleviate Common Respiratory Issues: Sorrel leaves are rich in Vitamin A and Vitamin C. It has strong anti-inflammatory property. Taking sorrel leaves soup is excellent in treating nose and throat inflammation during pregnancy.
Helps To Prevent Breast Cancer: The oxalic acid, which gives sore taste to sorrel leaves is well-known for its capacity to prevent cancers and tumors (however, excessive oxalic acid can be harmful). The chlorophyll and carotenoids in sorrel leave together with the vital vitamins and minerals aids in preventing, combat and treat the breast cancer.
Helps To combat Insomnia: Insomnia is another issue faced by many expecting mothers. Many expecting mothers experience a drop in their quality of sleeping during any stage of pregnancy. Including sorrel leaves in your diet will help to solve this issue to some extent.
Combats Constipation And Hemorrhoids: Sorrel leaves have a strong laxative property. They are rich in fibers. Therefore, it is very efficient in combating constipation and hemorrhoids during pregnancy.
Offers Strong Bone Development: The sorrel leaves are enriched with calcium and ideal for pregnancy. This is because maintaining the bone density during this time is very important to bring down the chances of osteoporosis in the future.
Helps In Treating Anaemia: Being anemic during pregnancy is a common issue. Intake of iron is the only way to combat anemia. 100 g of sorrel leaves hold 2.4 g of Iron, which is around 13.3% of the recommended daily intake. Sorrel leaves are blessed with the significant amount of Vitamin C. Vitamin C, helps the body to absorb iron and helps in producing more RBC.
It Helps In The Treatment Of Urinary Tract Infections: Another common problem during pregnancy is that of urinary tract infection also referred to as UTI. Sorrel leaves have a strong diuretic property due to the presence of a significant amount of potassium in it. Therefore including sorrel leaves in pregnancy diet will help to keep UTI at bay for some extent.
Helps To Boost The Energy Levels: Tiredness and fatigue are very common for the pregnant women and consumption of sorrel leaves will help in replenishing the energy lost as it is enriched with iron which increases the production of red blood cells offering more oxygen supply to the body parts.
What Are The Side Effects Of Eating Sorrel During Pregnancy?
Sorrel is a powerhouse of nutrients and offers far-reaching health benefits. Its leaves are sour in taste and even used for medicinal uses. However, it also has some side effects which are stated as under:
Kidney Issues- Consuming excess of sorrel is toxic in nature and has a negative effect on the kidneys as it is enriched with oxalic acid. This can result in kidney stones or even failure.
Blood Clotting- Consumption of sorrel has a good amount of vitamin K that can aggravate the blood clotting.
Chances Of Miscarriage- Due to excess of consumption of sorrel, the pregnant women can experience stomach issues and that can lead to increased chances of miscarriage.
Chances Of Birth Deformities- Since sorrel is high in oxalic acid, it can result in birth deformities as well.
How To Select And Store Sorrel Leaves?
Selecting: Select sorrel with tender, smaller leaves. Avoid discolored (yellowish or brownish) leaves with holes in them.
Storing: It is recommended to consume the sorrel leaves within 1-2 days after harvesting for getting all its benefits. It tastes best when you eat it as soon as after being picked. Anyway, you can store it in the refrigerator for a couple of days.
How To Incorporate Sorrel Leaves In Pregnancy Diet?
In order to incorporate sorrel in the pregnancy diet, it can be used in sandwiches, salads, pasta, rice, beans, and other dishes and even as toppings for pizzas, and pastries as well. These can be stewed well and can be taken in combination with boiled eggs, salads and can be even given in form of juice but this should be always taken in moderation since it is enriched with oxalic acid.
What Are The Points To Remember While Using Sorrel During Pregnancy?
While having sorrel, one can have it in raw form but since it is greatly loaded with oxalic acid which can be dangerous for the kidney, it is ideal to cook it or boil it before having.
Overcooking the leaves can also take the vitamin C content so it is advisable to blanch, stew or fry the same.
Thus, sorrel is an important part of the conventional cooking and it encompasses in it, a plethora of nutrients that vary from vitamins, minerals, organic ingredients, oxalic acid and fibers and proteins which qualify it to the section of not only rich food but medicine as well.