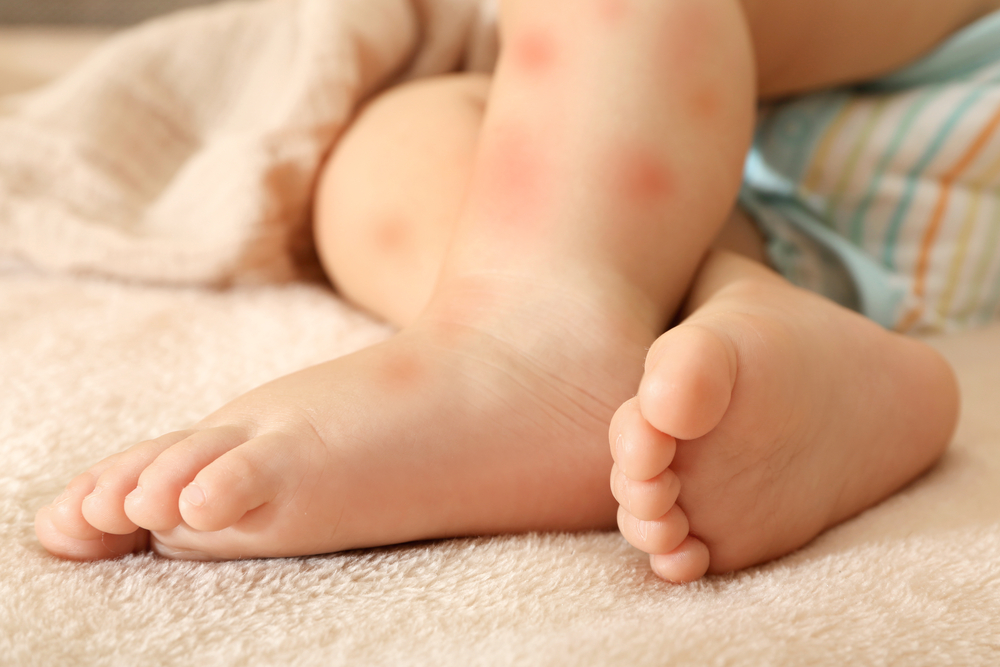 The toddler is the most vulnerable to weather changes and as it starts getting warm, kids must be protected against many seasonal threats especially heat strokes, sunburns, dehydration, cold etc. To add to this list is tick bites, which are gaining popularity because of public alertness. Lyme disease if not treated on time, can be a warning sign for the heart of a toddler. It is a strange kind of disease that happens in the forest and grassy areas, more specifically all areas where one can see the presence of mice and deer. This disease is very commonly found in the north-west and northeast Pacific regions and few of the mid-western states as well.
Let us now get a clear picture of what exactly is the disease, how it gets transmitted, its diagnosis, the suitable time to call the doctor, and its treatment.
What Is Lyme Disease?
This disease happens by the bite of a tick that is afflicted with a set of bacteria. This type of tick even referred to as a "black-legged tick" is generally found on mice with white foot and deer with white tails which live in the woods or high grassy areas. The ticks are most commonly found on Mid-Atlantic States, the north eastern, mid-western and the west coast as well. The ticks that have been feeding on mice and deer transfer it to the humans by what is known as the tick bites.
The ticks are very small in size and one cannot easily see or spot them and due to that one might miss seeing them. Thus, it is important to know its symptoms and its list is a lengthy one since it can affect any part of the body. All the signs indicating a Lyme disease tends to show up between three to thirty days and every toddler can have a different experience altogether. Let us know to study it stage-wise.
Stage 1 (The period from 3 -30 days after the bite)
Most of the kids who suffer from a Lyme disease tend to develop a rash which is pink in the centre and gets reddish all around the skin. It is even known as the "bull's eye rash". Yet there are much confusion regarding the rashes so let us have a sneak peek in the stages and know its symptoms as well.
The rash generally starts showing in between 7-14 days of the infection or may not show at all.
In case the rash is not treated on time, it can look flat and red.
It usually appears within 7 to 14 days of infection but may not appear at all.
It could be very tiny or even very large.
One can get confused with it as a sunburn, eczema, flea bite etc.
It is not necessarily itchy or painful and can be or cannot be felt.
The child can show other signs like a headache, the stiffness of the neck, joint pain, chills, fever, loss of hunger, soreness of throat etc.
Stage 2 (Weeks to months after the bite)
In case a child has been infected with Lyme disease and has not been identified or treated, the bacteria tend to enter the blood and transpose to other tissues in the body as well. I such a situation, the signs that one needs to look out for are as follows:
Several rashes
Losing muscle tone in the face.
Heart inflammation leading to heart blockages
Other symptoms like fever, headache, bodyache, chills, less appetite etc.
Stage 3 (After several months to years)
This is the last stage signs of Lyme disease and is like arthritis. One feels the pain in the joints, especially the knee. The joints tend to become swollen and soft and taking an anti-inflammatory medicine is beneficial. This lasts for few weeks and then starts getting better or reappears on a different joint.
Diagnosing Lyme Disease In Toddlers:
The first and the foremost step towards the treatment of your toddler is thorough diagnosis by a medical practitioner as its symptoms are common to many other diseases. The doctor after a complete diagnosis may then undergo a physical check-up looking for the specific kinds of rashes or have a communication regarding the activities or events that could have him get infected by the tick or even advise to get few lab tests done to be able to conclude.
When Should You Call A Doctor?
It is important to get a complete diagnosis by the doctor if one is suffering from Lyme disease. But before that, it is even more important to keep a watch on the symptoms that have been stated before. The symptoms are quite similar as in other diseases, so it might be really confusing to decipher if one needs to seek medical help or not.
Given below are the situations where one needs to call the doctor. They are as follows:
If one feels that the toddler has been bitten by a tick.
If the parent or caregiver notices red rings of rashes.
If the toddler is persistently ill, suffering from flu, has joint pains etc.
More than protecting the toddler from the disease it is even important to protect the other family members. It is important to tell the other kids to keep themselves covered by wearing boots, full sleeves t-shirts, full pants, and even ensure that the pants are tucked well in the shoe to prevent the ticks to crawl in the upward direction. It is advisable to tell the toddlers to avoid sitting on the ground and keep a regular check on ticks. Change the clothes once they leave the area that has been affected with ticks. Even use an insect repellent which has DEET as it is beneficial.
Treating Lyme Disease In Toddlers
The Lyme disease is mostly treated with antibiotics which are given for a period of two to three weeks in case it has been diagnosed early. The antibiotics must be taken by mouth. Yet many toddlers are given longer courses who get diagnosed at later stages as well.
It is important that the child is only taking the prescribed antibiotics for Lyme disease and it is important that the toddler finishes the whole course even if he is already feeling better and the rashes seem to disappear. This is because having a full dosage assures that the infection has been treated in a proper manner.
In a situation where the child shows no response towards oral antibiotics or if the disease is affecting the nervous system, the doctor can give antibiotics through IV. This can even be done at home where a nurse can administer or teach other family members. The dosage does not exceed more than 30 days as such.
Thus, after getting a bird's eye -view, one can take the required precautions to avoid the occurrence of Lyme disease and if at all one does suffer, symptoms and treatment have been discussed as well. If this disease is diagnosed well in time, it can be treated with good results. It is a non-contagious disease and cannot pass from one to another.