There's gonna be one, two, three…..triplets!! The joy and happiness of being pregnant triples when you discover that you are having triplets!! This implies triple workload, triple confusion and of course, triple names. It becomes much easier getting prepared to welcome triple bundles of joy rather than being totally hassled after they arrive. One of the most interesting duties is choosing names for your triplets well ahead in time so that you do not need to spend time searching for names after they enter your world. Here is a list of some adorable and zealous names for your triplet boys and girls.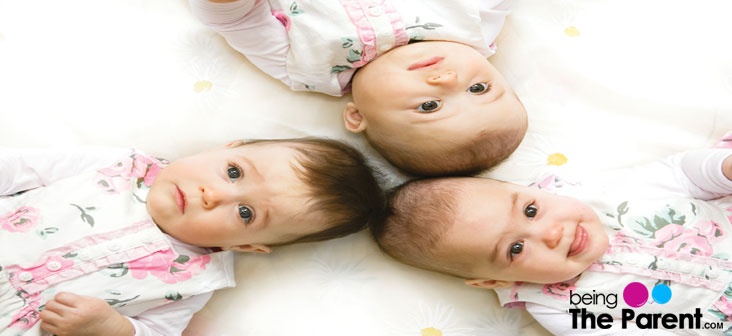 50 Wonderful And Unique Names For Your Triplet Boys And Girls
Which Name To Pick For Which Baby?

50 Wonderful And Unique Names For Your Triplet Boys And Girls
Given below are some wonderful names along with their meanings for your triplet girls and boys that are sure to catch your attention.
Same First Letter Names For Your Triplets
Naming your little darlings with the same first letter is something very common when you have triplets. You want to decide on one alphabet and look for names from that. Some of the best options include:
Samuel- Sebastian- Sophia:

 " God has heard"- "venerable"- "wisdom."

Tabitha- Tess- Tyler:

 " Doe"- "harvester" – "tiler."

Mason- Mia – Mathew:

 " stoneworker" – "bitterness"- "gift of God."

Polly- Parker- Patrick:

 "nobleman" – "humble"-"park keeper."

Zayyan- Zachary- Zara:

 "graceful"- " God has heard" – "princess."

Kalil- Kiaholo- Kaia:

 "close friend" – "moving sea" – "chaste."

Alexander – Amelia –Alfie:

 "defender of men"- "work"- "noble."
Names Inspired By Nature
Names inspired by nature are a wonderful pick for your triplets. Some ideal combinations include
Canyon – Blossom – Branch:

 " a narrow chasm with steep walls"- " to bloom"- "tree branch."

Birch- Basil- Briar:

 " name of a tree"- the name of a herb"-" a thorny patch."

Colt- Coral – Cypress:

 " caretaker of horses" – coral- "strong and muscular."

Glenwood – Ginger- Garland:

 "a forest in the valley"- ginger plant"- "triangular piece of land."

Pembroke- Olive- Oceanus:

 " highland area" – olive plant"- the ocean."

Flint- Fern – Forrest:

 " from the woods"-"flint rock"-"fern plant."

Eaglewood- Fawn- Dagwood:

 "coming from the elder wood"- "little young deer"- "a shining forest."
Names Of Royal Descend For The Triplets
Choosing some royal names would be a good idea for the triplets as they not only spell class but sound conventional too.
Mathilda- Richard- Patricia:

 " noble"- influential leader"- "mighty in battle."

Diana – Laura- Henry:

 "supplier"- Laurel tree"-"ruler of the state."

Victoria- Alastair-Federica:

" victory"- "defender of mankind"- "ruler."

Margaret- Philip- Alexandra:

 " pearl"- "friend"- "defender of men."

Elizabeth- Edward- Eleanor:

 "pledged to God"- wealthy guardian"- "bright."

Maud- Maria – Miguel:

 " battle mighty" –wished for child"- who is like God."

Catherine – Christian – Eloise:

 "healthy"- "follower of Christ"-"pure."
Conventional Names For The Three Darlings
Many parents are returning back to conventional names that were extremely popular years ago. These names do bring a feeling of nostalgia and are quite familiar to everyone too.
Agatha – Andrew- Abigail: 

"good"- " warrior" – "father of exaltation."

Irene- – Barbara- Daniel: 

" peace"- "foreign woman"- "God is my judge."

Julia – Grace- Frederick: 

" youthful"- "grace"-" peaceful ruler."

Mabel- Thomas-Nellie: 

" beautiful"- "twin"- "horn."

Florence- Ethel- Robert: 

" son of Gawain"- "noble"-"bright."

Emily- Eudora- Eric:

 " eager"- " good gift"- "eternal ruler."

Bethany- Beatrix- Barrett: 

" house of figs" –" she who brings happiness"- "bear power."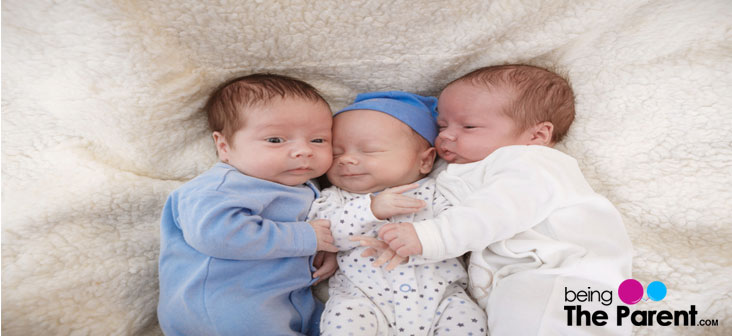 Exotic Names For The Triplets
Suppose you are looking around for some exotic and unique names for the three babies, given below are some lovely choices worth considering.
Darcia- Juan- Chanel:

" Dark"- "God is gracious"-" a brand name."

Naima- Lindel- Saran: 

" tranquillity"- "lime tree"- "joy."

Caressa- Carlos- Kiera: 

"tender touch"- "manly"- "dark-haired."

Akila- Ari- Asta:

 "intelligent"-" eagle"-" tree."

Adel –Einar- Aysel: 

"Noble"- "one warrior"- "moonlight."

Ines- Milagros-Thaddeus: 

"chaste"- " miracle"-" heart."

Elqenna- Marcus-Calithea:

 "superior'- "to harvest"-" beauty."
ABC Combination Names For Your Triplets
Naming them in ABC combination names for your triplet is a good idea. It's both fun and educative too. Here are some of the most popular ABC themed names that are in vogue these days.
Austin- Blithe – Cathia: 

" venerable"- "joy"-"pure."

Ace- Brishen-Carla:

 "one"-"born during rain"- " manly."

Aldrich-Brittany-Corissa: 

" wise ruler"- "from Briton"- "maiden."

Alvin-Braedyn-Cim:

 "wise friend"-"broad hill"-"ruler."

Adam-Belinda-Cleantha 

"to be red"-" very beautiful"-"glory."

Abbot-Betia-Charmaine:

 "priest"-" house of God"-" song."
Names Of Greek Gods For Triplet Boys
Here are few of our favourite Greek gods inspired baby-names for your triplet suitable for your triplet boys:
Hermes- Zeus-Apollo: 

" pile of stones"- God- "manly beauty."

Atlas- Damon- Adonis:

 " to endure"- "to tame"- "handsome."

Poseidon-Proteus-Theseus:

 "God of Sea"-" Sea God"-" to set."

Ares-Ajax-Castor:

" Greek God of War"- "eagle"-"beaver."

Leander- Pan- Dionysus:

 "lion man"- "shepherd"- " of Zeus."
Names For Girl Triplets
If you have triplet girls then here are some of our favourite names for your triplet:
Amaryl- Daffodil-Cheryl:

 " sparkling eyes"- "flower"-"darling."

Adwen-Helen-Gwen:

 "blessed"-"shining light"-"white."

Cayley-Hailey-Blakesley:

 "laurel"-hay's meadow'-"dark wolf's wood."

Rachael- Monica-Phoebe:

 "ewe"- "one"-"bright."
Which Name To Pick For Which Baby?
Once you have zeroed on the baby names, the very first question that will come to your mind as a parent is which name to pick for which baby? To make your life easy, and also go with the birth and alphabetical order of the babies. So the firstborn will be named with the Alphabet A, Baby two with Alphabet B and the third in order with the Alphabet C. Same applies for names with other names like your girls you can name as Monica- Phoebe and Rachael in that order.
So make sure you select names with the same level of popularity to avoid any questions from your child in the near future.
We hope we would have lifted some burden off your shoulders and our list will help you decide on a set of names for your triplet. Do share which names would you be deciding for your triplets in the comments section below. For more baby names, check here.