"Twice the fun, twice the love, two little miracles sent from above" The thrilling news you are expecting twin girls slowly settles down and you start shopping enthusiastically for everything in doubles. Those nine months will soon fly past and you will be rewarded with a double bonanza of sweet hearts that will become your entire world. This article provides 50 Enchanting Names For Twin Baby Girls.
One of the most important jobs awaiting you is searching for some unique and lovely names that will be perfect for your twins. You need to find something that is unique and at the same time harmonious when paired together.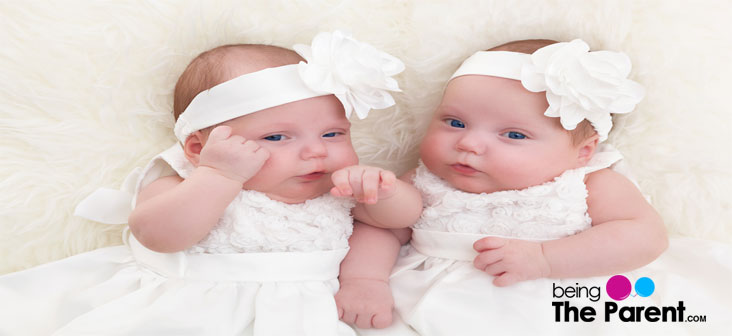 Read ahead and find out 50 Enchanting Names For Twin Baby Girls. We really hope any of these lovely names will be suitable for your baby girls.
50 Enchanting Names For Twin Baby Girls
Aashi and Aashita: These Indian names would be an ideal pick for your little darlings and has similar meaning "happiness"
Sampada and Sampati: Another set of similar meaning names. They both have the meaning "wealth" and so apt for your little angels because they will make your life wealthy by just being in it
Anita and Garima: Both mean "graceful" and would be ideal for your twin girls, after all no one is as graceful as two little girls
Hema and Hemakshi: Another pair of Indian names for your little girls which means "With golden eyes"
Freya and Alice: Both these sweet names mean "noble"
Ahaana and Aarushi: A very popular and meaningful set of Indian names for you little girls. They mean "first rays of the sun"
Rani and Avantika: They would be perfect for your twins as they have the meaning "queen" and that is what they are
Sita and Vaidehi: If you are looking for spiritual sounding names then these are appropriate for your little girls. Both are synonyms of Lord Rama's wife
Anshika and Anwika: A unique set of names that mean "a part" That is just apt for twins who are an integral part of you
Mansi and Madhubala: Yet another pair of Indian names that mean "a sweet girl" and that is what your little angels are going to be
Menaka and Mohini: They mean "beautiful" and that's exactly what your little girls are!
Charvi and Charu: They also mean "beautiful" and there is nothing more beautiful than the little girls
Ananya and Amisha: Yet another pair of names that have the meaning "beautiful"
Penelope and Scarlett: Both mean "red", making them perfect for your little twins
Megha and Meghana: Both these simple names mean "cloud"
Aakansha and Aarzoo: They mean "desire" and are so apt for little girls
Rishima and Diana: These beautiful names both have the meaning "Moon Goddess"
Leonara and Clarissa: These names have the meaning "bright" and suitable for your little princesses who will add brightness to your life
Storm and Salena: These lovely names both have the meaning "moon"
Kashish and Karishma: They mean "attractive", these names are as attractive as your twincess
Esta and Tara: These simple and short names have the meaning "star". These are so apt, after all your twin girls are twinkle of your eye
Luna and Celine: These names are associated with nature and mean "moon"
Devika and Devina: These two names mean "goddess" and are perfect spiritual names
Violet and Daisy: Lovely flower names for your little flowers
Kusum and Aboli: Beautiful Indian names and both mean flower and flowers have a special feminine touch about them
Juhi and Ketki: Another set of lovely Indian names which also mean "flower" and so apt for your little girls who will make your life fragrant
Devangi and Devyanshi: These exclusive names both mean "divine" and your little girls are divine blessings afterall
Aarti and Aaradhana: Both these names mean "worship"
Shanaya and Anaya: Shanaya means "first ray of the sun" while Anaya means "God answers", names with beautiful meaning
Diya and Jiya: Another set of names for your little girls which sound the same. Diya means "light" and Jiya means "sweetheart"
Siddhi and Riddhi: What better set of names to choose from than these? Siddhi has the meaning "perfection' while Riddhi means" fortunate"
Ekanshi and Himanshi: The first means "of one part" while the second name means "part of snow"
Navya and Bhavya: Lovely Hindu names that mean "young and splendid"
Aarushi and Khushi: While the first name means "happy" the other one has the meaning "ray of light"
Manini and Tarini: The first name means "a lady" while the second one is "Goddess Durga or Parvathy", perfect for your little ladies
Smriti and Aditi: Smriti means "memory" while Aditi means "freedom", very popular names that sound the same
Akshara and Antara: The first name means "everlasting" while the second name is "second note in Hindustani music", a set of poetic names for your little angels
Vanya and Tanya: Another pair of similar sounding names in which the first means "gracious gift of God " while Tanya means "fairy queen"
Kaylee and Haylee: The first name means "pure' while Haylee means "hay clearing"
Emma and Ella:Ella means "beautiful fairy while Emma means "universal"
July and Julia: Both of these beautiful names denote the summer season
Amber and Saffron: These are exquisite autumn names befitting your little princesses
Merry and Joy: These names are associated with the Christmas season. So if you are expecting your little girls around Christmas time, these will be apt for them
Frost and Amethyst: They are lovely winter names and appropriate if your twin girls are due in the chilly winter season
Flora and Euria: These are names that denote the beautiful spring season. It will be a good idea to take inspiration from your favorite season or the season they are born in to name your little girls
Neva and Crystal: They symbolize the lovely snow in winter, a favorite with everyone
Juno and June: These names denote the exotic bridal month of the year and naming your girls after this season will denote celebration and joy
Iris and Siri: These are a set of palindrome names. The first name means "rainbow" while the second one has the meaning " fair victory"
May and Amy: Another set of palindrome names with beautiful meanings where first one means "pearl" while the second one has the meaning "dearly loved"
Aidan and Nadia: The first means "little fiery one" and the latter one means "hope". Simply reverse the spelling of one girl's name to get the other one's name. Fun, isn't it ?
Hope these 50 Enchanting Names For Twin Baby Girls were helpful. There's nothing sweeter than little girls and the happiness doubles when two little princesses are on the way. Find out 50 Exquisite Summer Inspired Baby Names For Girls And Boys here
Just keep in mind the fact names play an important role in an individual's life and so make sure you select something exclusive and really apt in every sense of the word for your twins. These above mentioned names are sure to give you an idea about what to name your little princesses when they are born.More on baby names in our section here