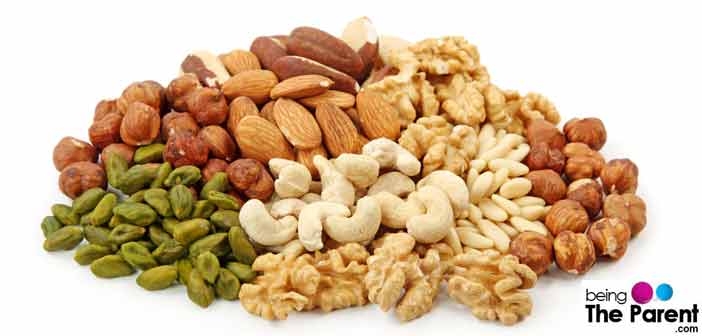 Nuts are vital in pregnancy, and are full of many essential vitamins and minerals. Vitamins B & E and minerals like magnesium, copper, manganese, selenium, zinc, potassium, iron calcium and fibre are found in various nuts. Nuts also have proteins, though they alone cannot provide the requisite protein needs, but when combined with other foods that can be very beneficial during pregnancy.
Nuts and seeds should be consumed in their natural forms, since roasting washes down all essential nutrients. Sugar coating them means packing in unnecessary calories, so avoid going sweet with nuts. A handful of nuts a day is sufficient – they meet the nutritional requirements of your body during pregnancy.
Since constipation is a common problem during pregnancy, nuts and seeds with a brown coating have been specifically found to be helpful in easing the same. Iron and proteins derived from nuts is helpful if you are a vegetarian.
It has also been found that women who consume nuts and seeds during pregnancy are likely to have kids who are not allergic to nuts.
Facts about nuts and seeds during pregnancy
Seeds are rich in EFA's, vitamins, proteins and minerals
Nuts are known to contain many important minerals and vitamins that help in the healthy development of the fetus
Nuts are high in good fat, but never go beyond a handful a day, else you will pack on the pounds
In order to derive maximum benefits, consume raw nuts
Cold pressed oils are a good alternative to nuts and seeds if you do not like them raw
Avoid toasting the nuts – it enhances the flavors but steal away the nutrients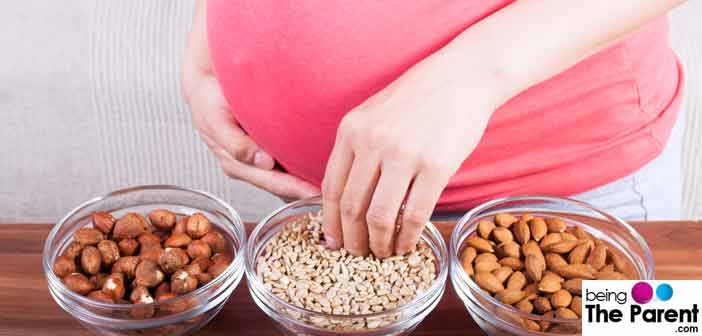 Below are some common nuts and seeds listed with their benefits during pregnancy-
| Type of Nuts | Nutrition Derived | Benefits |
| --- | --- | --- |
| Almonds (Badam) | Calcium, Vitamins B & C, Magnesium, Manganese | Reduced risk of hypertension and pre-eclampsia, helps the baby grow strong bones and teeth |
| Cashews (Kaju) | Vitamin C, Copper, Phosphorus, Manganese | Development of healthy bones and necessary for utilising iron in the body |
| Walnuts (Akhrot) | Omega 3, Proteins, Fibre | Development of the baby's brain and eyes |
| Peanuts | Iron, Proteins, Niacin, Minerals and Vitamin E, Manganese | Helps in weight gain, lowering risk of having a small baby. Also helps in making bones |
| Chestnuts | Low Fat and High Carbohydrates, Phosphorus and Zinc | Stimulates kidneys and reduces fatigue during pregnancy |
| Pinenut (Chilgoze) | Richest source of Proteins | Improves immunity, important for normal blood clotting and helps form baby's organs |
| Raisins (Kishmish) | Potassium | Improves muscle control and blood pressure |
| Pistachio | Vitamin A & B6 , Manganese and lots of Proteins | Prevents anaemia, aids in weight gain and healthy bones |
Word of Caution:
Nuts can be allergic to many people, so be aware of what you are allergic to. If your spouse is allergic to some nuts, there is no medical relevance to the fact that the baby will inherit the same allergies. However, abstain from having those nuts that you are allergic to!