[blockquote style="1″]Want to get Pregnant? Do it Right![/blockquote]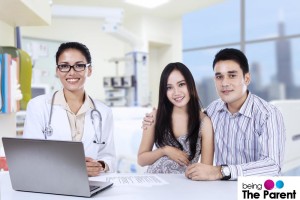 For couples planning a baby, it is very important to be aware of all the risks and possibilities. Just like various health check-ups and scans, a very important tool in ensuring the health of the baby is Genetic Testing and Genetic Counseling.
Genes contain the information that cells of the body need in order to function. The benefit of genetic counseling is that it can help in finding out nearly all the genetic disorders that are caused by a problem in single gene. Single gene disorders like cystic fibrosis and sickle cell anemia are hereditary and run in families.
Another disorder that can affect the baby is chromosome disorder where the chromosome is either extra or missing in entirety or in part. Chromosomes are the structures that contain the genes. Chromosomal disorders can also be found out by genetic testing and consultation.
It is important for partners to consult their doctor for genetic counselling if they suspect that any kind genetic disorder runs in their family. The information gathered by the doctor helps in creating an understanding of the genetic risks that the baby could have.
After assessing the risks, the doctors might suggest consultation with a genetic professional if there is a history of birth defects in the family, genetic condition, cancer or chromosomal disorder. Genetic counselling is usually done for women planning to get pregnant after 35 years of age or for those women who have had two or more miscarriages or a still birth. Genetic counselling may also be required in case of couples who are blood relatives to find out whether they have the recessive gene that can be passed to the baby.
For those families that have already have lost a child, or have children with inherited disorder, birth defect or some sort of intellectual disability or have had results showing genetic condition, or have an ethnic background, genetic counselling is as helpful as it is necessary.
Today, various Healthcare organizations are offering genetic testing that can be conducted at home also, besides the proper hospital counselling. Though home tests may seem convenient but they may not be completely reliable and might give damaging information. Ideally, they should only be done on the advice of a trusted and acclaimed medical professional.
Genetic consultation helps the couples as a genetic professional discusses the risks revealed from the results of various tests and diagnoses. The genetic counsellor meets the couple to either diagnose or rule out a genetic condition. Quite often, couples want to have genetic counselling and genetic testing as a preventive measure without any known risks to rule out any chance of their baby having any genetic disorder. Surely, it is better to be safe than sorry.