All of us women would love to have perky and firm boobs for as long as possible. However, post pregnancy, many women feel that their breasts are giving in to gravity and heading south. Women feel that their breasts are making them look ugly and their boobs look out of shape. This can be a huge confidence killer to many women. And here, we will be talking about avoiding sagging breasts after pregnancy.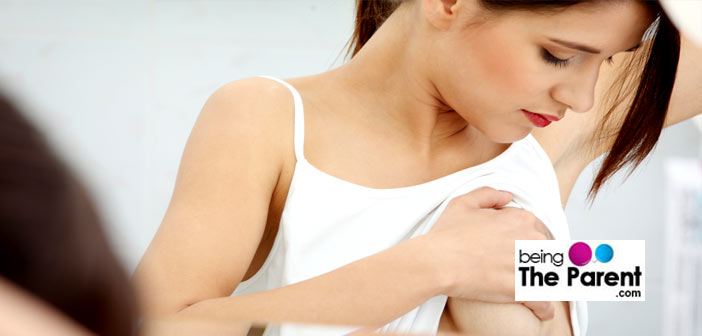 What Is Meant By 'Sagging Breasts'?
The medical name for sagging breasts is 'Ptosis'. Infact, sagging breasts are majorly dependent on genetics, with weight and age playing a crucial role. You may blame all those nursing sessions for your boobs going south, but pregnancy seems to be the bigger culprit. Pregnancy makes the breasts larger by stretching the ligaments that support your breasts, and once you are done nursing, the breasts shrink to their previous size, causing deflation and loss of weight. This causes sagging of the breasts. If you have fuller breasts, the change in size will be more prominent and noticeable. It is not that smaller breasts do not sag, but gravity does not take its toll on them like on larger breasts – because the ligaments are not far stretched. In the event of multiple pregnancies, sagging can be more pronounced.
How Can I Prevent Breast Saggy After Pregnancy?
The fact is, you have to start thinking about your breasts during pregnancy itself. Time and again, a lot of stress has been laid on wearing proper maternity wear bras during the gestation period. As your breast size grows, do purchase comfortable maternity bras that provide you support throughout your pregnancy. An ill fitting bra will not only make you feel uncomfortable but also be detrimental to your dream of having perky breasts. After pregnancy, below listed tips should help you to prevent your breasts from sagging.
5 Ways To Prevent Saggy Breasts After Pregnancy
Buy the right bra: After you have given birth, invest some money in good bras. If you are nursing, buy the bras accordingly. You will also need to go through several sizes as you nurse – depending on your baby's feeding schedules and frequency. Once your baby takes to route to solids and nurses less, your breasts will start to shrink and at this time it is crucial to support them with well-fitted bras. You may not know your size, so do not hesitate to measure yourself or asking for help at the lingerie counter. Those precious twins are much more valuable than your awkward shyness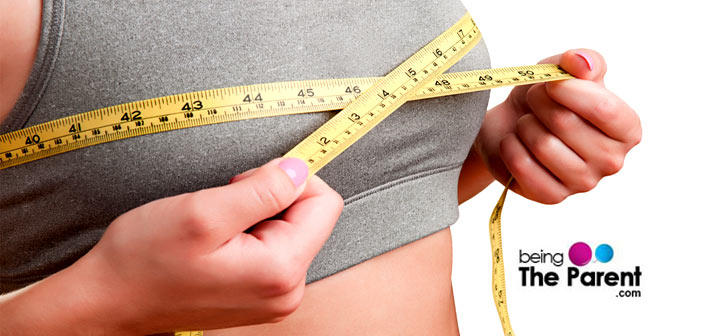 Have a nutritional diet: After pregnancy, a nutritional and well balanced diet can help your breasts regain their firmness. For example, a protein deficiency can make the breast muscles lose their strength and thus cause sagging. Your diet should have all the necessary elements like vitamins, essential fats, minerals etc. so as to keep your breasts perky for long. After pregnancy it is best to refrain from dieting, and even if you cut off some fats, ensure that you exercise accordingly so that the skin does not lose its firmness and elasticity
Plan pregnancy weight loss: After pregnancy, losing weight can be a top priority for you. You may want to fit in your pre-pregnancy clothes from day 1. However, sudden and tremendous weight loss will not only deplete your body and your nursing baby of nutrition, but will also encourage your breasts to sag. When you plan your weight loss regime at a moderate speed, you give your skin a chance to go back to its pre-stretched phase gradually
Keep your skin moisturized: After pregnancy, to give your skin time to bounce back flawlessly, it is imperative to keep your skin soft and supple and keep it healthy. Use your normal moisturizer to keep you skin, especially on the breasts. You can also opt for pregnancy specific creams and lotions
Exercise regularly: No, we are not asking you to hit the gym the moment the baby is out! Just try to form a simple exercise regime that includes walking, stretching etc. one your doctor tells you that you are good to go. Yoga is also a great way of attaining physical and mental peace and agility. While exercising, wear a well-supporting, good quality sports bra. You can read more about exercises for sagging breasts here
Apart from the above tips, you can try to control your weight gain when pregnant. Try not to go overboard by gaining too much weight as this can also cause your breasts to sag.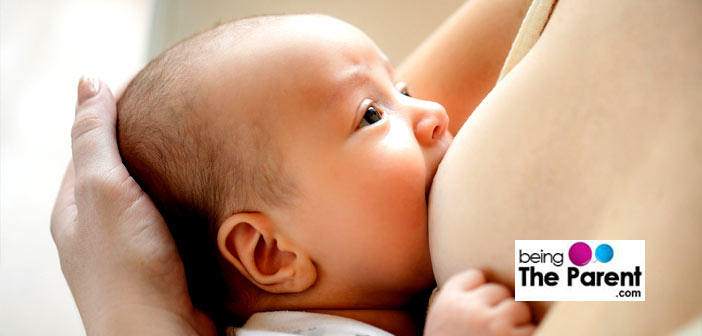 Will Breastfeeding Make My Breasts Sag And Droop?
many women feel that breastfeeding will cause their breasts to sag and droop. However, researches claim otherwise. Though breast size and shape will undergo some changes after pregnancy and childbirth, breastfeeding is not the culprit. Sagging breasts are largely genetics, with age and weight gain playing a pivotal role. Smoking, being overweight or having large breasts before conceiving, too much weight gain or a high BMI and multiple pregnancies can impact the shape of your breasts but breastfeeding hardly makes it droop. Do not let the fear of saggy breasts come in the way of breastfeeding your precious!
Also, now that you know that breastfeeding does not cause the breasts to sag, enjoy those precious moments of bonding with your baby. Use these simple tips to keep your breasts firm, shapely and supple for a long time!