Pregnancy does not just bring a rise and fall in your hormone levels only, but also in your breasts. Once you are pregnant, rest assured you will undergo many changes when it comes to your body. During and post pregnancy your body goes through a series which are psychological, physical and social. You gradually begin to gain weight while pregnant and once you have delivered you begin to lose the excess weight you gained over the course of nine months. These fluctuations affect your breasts, and thus your appearance. During pregnancy they increase in size due the accumulation of fat that helps in milk production and post lactating period they begin to shrink and eventually droop and sag. Many women presume that breastfeeding causes the breasts to sag and droop, but that is not the case and scientific research indicates that it is pregnancy that causes sagging of the breasts, not breastfeeding.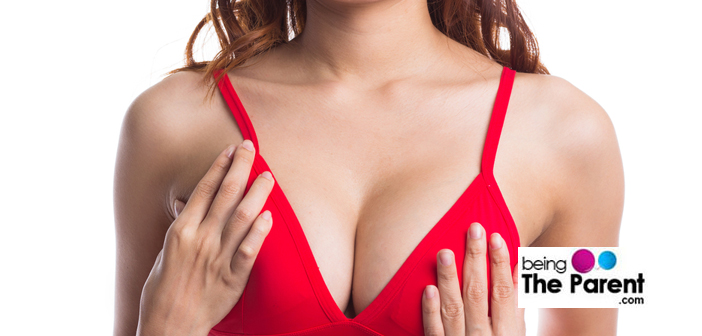 Is Sagging Inevitable?
Unfortunately, that does seem to be the case, most often. Most women go through sagging at some point in their life, owing to various reasons like pregnancy and loss of weight. Women who have not been pregnant can also have breasts that droop, and it is not uncommon to find 20 year olds whose assets seem to be a bit saggy. Though most women feel that saggy and droopy breasts makes them look unattractive, that is not totally true. Many men seem to find drooping breasts quite attractive. Seems like we women tend to over-occupy ourselves with such thoughts even when it does not matter to the opposite sex.
Saggy Breasts After Pregnancy
Sagging breasts after pregnancy might seem unavoidable, but there are certain measures you can take to reduce the effect. These steps will also help you to lift sagging breasts naturally.
Regular exercise: The most effective cure for sagging breasts is to exercise. Regular exercise will not only firm your breasts but it will also help you to get it shape, overall. It will increase your stamina and reduce fat effectively. One thing to keep in mind before exercising is to start slow. Consult your doctor and if he says you are fit enough to exercise start with brisk walking then slowing move to jogging. Your body is slowly gaining its strength, give it enough time to adapt and just be patient yet persistent with your exercise regime and you will have your old body back in no time
Moisturize your skin: It is important that you keep your skin moisturized during your pregnancy since it tends to get dry. Moisturizers and creams will help you keep your skin supple, reduce stretch marks and also protect your skin while it stretches. There are a lot of special lotions and moisturizers available in the market for pregnant women. Use them generously on your skin and give yourself a gentle massage while you are at it
Wear the correct bra: Your body is constantly changing during pregnancy hence invest in good bras in various sizes so that you can wear appropriate and well fitted bra through the course of nine months. Giving your breast proper support while pregnant will prevent them from sagging. Wear a comfortable and lose bra while sleeping as well. Make sure you don't wear bras with underwire especially while sleeping
Watch your weight: It is a given you are going to gain weight when you are pregnant. It is not in your control neither can you help it but you can watch what you eat. Eat healthy and abstain from unhealthy food products. Do not starve yourself but just opt for healthier items instead of chips and coke. A healthy body mass index will ensure that you do not put on too much weight while pregnant
Lose weight gradually: After you have delivered your baby and start exercising, don't get too obsessed about losing weight quickly. There is a reason you need to lose weight gradually. Your skin has stretched to accommodate your growing body during pregnancy when you lose excessive weight too quickly you don't give your skin enough time to adapt to the change and it begins to sag. Hence be careful with your diet and exercises post pregnancy as well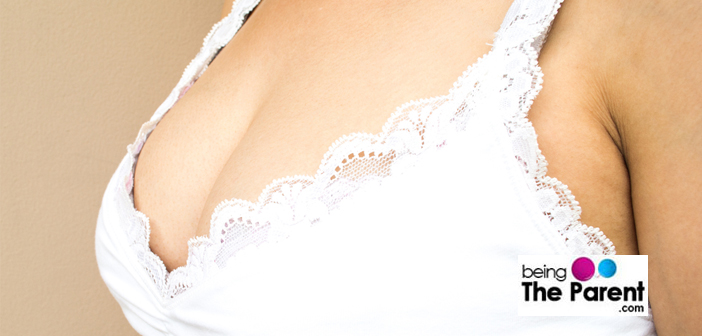 Most women also experience extreme dryness on the skin of the breasts. The dry skin could sometimes even flake out and cause irritation. This usually happens when your skin stretches during pregnancy. The change causes your skin to crack and peel. Another reason could be increased blood supply to your skin. Some women also experience peeling of the skin on the nipples. This is caused because of hormonal changes that your body undergoes during pregnancy. We bring you three steps that
will help you with dry and flaky skin on your breast and also control peeling of the skin on the nipples to a certain extent.
How To Keep Your Breasts Healthy In Pregnancy?
Eat healthy: Your diet during pregnancy not only affects your baby but also your health. Treat yourself to fresh fruits and juices and abstain from food stuff that contains chemicals like aerated drinks and artificial food colors. These chemicals dry your skin out and even cause irritation
Drink plenty of water: Dry skin is indication that your body is dehydrates or needs more fluids than usual. Drink plenty of water every day. It will not only cleanse you from within but will keep your skin healthy and supple
Wear comfortable clothes: When pregnant you must wear comfortable clothes all the time. Clothes that are too tight or have fabrics that are too thick will make you sweat and cause fungal infections that result in turn causes irritation
A lot of women feel depressed thinking how their breasts look after having a baby. You need to know and understand that this is completely normal and you just need to feel good on the inside. Moreover, saggy or droopy breasts can be lifted naturally with many ways, some of which are enlisted here.