Children can be very difficult to deal with at times. After a hard day at work, dealing with a fussy and moody kid throwing tantrums and demanding things at their beck and call can be very exhausting and annoying for a parent. However, we forget that like us even kids have their best days and not so good days when they act moody and request to indulge in few things are their only way to deal with such days. This may not be the case always and sometimes it may be just their need to feel pampered and at times they make unreasonable requests for the sake of it.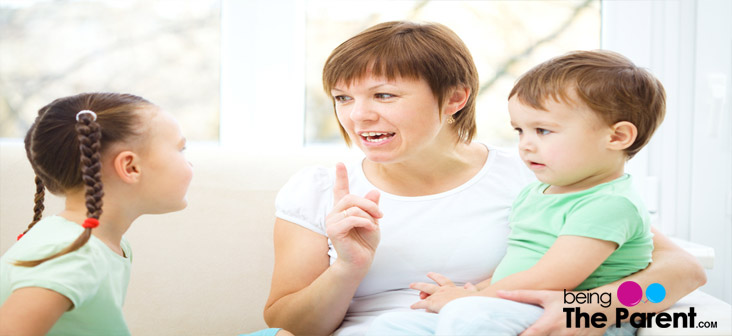 Some days using the word "no" would make you seem like villains of the happiness in their life, leaving your kids in a grumpy mood. You denying them something would be for their own good, but the little hearts fail to understand your thoughts. Have you ever felt guilty of saying "no" to your kid's requests? Have you wished to know of a better way to tackle the situation that saying an outright "no"? Well, read on to know your way out of these dicey situations.
Why Should You Avoid Saying"NO" Often?
Most of the time, uttering the word "no" happens to be a quick response to protect your child from doing something that would hurt him/her or teach them about the dangerous consequences that their actions may result in. An unexplained "no" would leave the child confused and frustrated. Excessive use of the word "no" may also be associated with something bad and make your kid more curious and make him act as a rebel and throw tantrums. A "no" without an explanation can make the kid want to know the reason and can be taken up as a challenge to know the consequence of it. Avoiding a direct "no" with an explanation or alternative options makes the child optimistic and look at the situation from different perspectives.
20 Alternatives To Saying No To Children Without Saying No
Agree with your kid: Agree with what your kid demands, but package it in a different manner. For instance, if your kid demands to have ice cream before dinner, agree to him/her and say "yes we can enjoy a bowl of ice cream but after dinner". In a way, you are denying him/her from it before dinner, but the child may not realize it cause of the way you have presented the entire thing
Offer an alternative: It is not possible to meet all your child's demands. In such cases look for an alternative that would best meet his/her demand. For instance, your child may demand of a toy that his friend might possess, but you may not be able to afford the same or it may not be to your liking. In such cases present a better alternative with good enough reasons stating the alternate toy's advantages. It would make your child feel happy and better to be gifted something than nothing at all
Offer a choice to your child: You can try and offer a choice to your child. This trick tends to work at times. For instance if your child insists on having an ice cream or chocolate before dinner and you do not wish to give him/her the same, then you may suggest that he/she can have one bowl of ice cream or a chocolate before dinner or have two bowls of ice cream or 2 chocolates after dinner. Let them choose from the options and make a decision for themselves. Most of the times they tend to choose the latter
Distract your child : If you do not wish to agree to the demands of your child, then distract him/her from the thought of it but suggesting something that is even more interesting. You may continue building up from there on and in some time your child may forget of what he had demanded
Engage in a play: You can act up as a monster that would eat up the kid who demanded an ice cream or chocolate and follow the kid around the house as he/she runs away from you. Your child will forget everything during the play, get tired and finally manage to finish to food and try to get some sleep. However, this is little risky as once a play has started it is difficult to get the kids back to the dinner table within short span of time
Check with authority figures: Kids tend to be little scared around doctors. They try and put up their best behaviors around a person of authority like their doctors, teachers etc. You can act as if you need to get their permission before indulging into something and they would have to wait until the next meeting with the teacher or doctor to get anything they demand of
Join them: You can join them and behave as if you too wish to have the ice –cream before the supper, however, due to the rule of no ice-creams before dinner you will have to finish your dinner first. Make sad faces and join them and show that you share the same feelings as them
Play around with imaginations: Kids can be easily distracted from the main topic with little effort. All you need to do is to weave an imaginary story and in the story, there may be lots and lots of what they desire. Build the story and slowly distract the child from the object of desire to something interesting. They then gradually mull over it and forget other things
Explain the logic to your child: Kids fail to see the logic behind our blatant "no". Explaining to them the logic or reason for the disapproval gives them a reason to ponder over their request and may later agree with what you say. They prefer to be dealt like grownups at times and like it when parents take an effort to have a talk with them
Bring their storybook characters to life: Pose questions like "what would Barbie do to have ice cream if her mother did not allow her?" When kids learn clean habits and lessons, they implement the same when they play with their toys. They would not like their favorite toys /characters acting bad or as a rebel and hence they themselves would behave well and tend to listen to what you say. And if you build up around the story and get the kid involved in the by asking various questions, they eventually forget what they had demanded
Remind the child of a prior instance: Reminding kids of a prior instance and the consequence faced (if the consequence was bad) may make them back out from their demand. Though ideally, this is not a favored method, because it may spoil the mood of your child; there is no harm in trying it for once
Make your child say "no" : You can try putting the ball in your child's court and let him/her say a no. For instance, if your child requests for snack sometime before the dinner, you can suggest to head straight for the dinner instead and check with your child if isn't that a better option than to kill the appetite with a snack
Use nonverbal signs: From the very beginning teach your baby to recognize your body language that conveys"stop" to your child. Using nonverbal signs like raising your eyebrow, putting up your hand in a "stop" gesture can communicate to your child without you having to use the word "no"
Teach stop sounds: Words play a major role when you want to say no positively to your child. It is necessary that your child should soon learn to differentiate which discipline words are more powerful and demand a quicker response than others. Children should soon which tone of voice means business and which allows them some liberty. As a parent, arm yourself with different "stop- what you are doing" sounds so that you can choose the one that fits the situation. So this way you can communicate to your child by using a firmer tone and without using the negative word "no"
Use feelings: At times it becomes a challenging task to reason out with your toddler or younger children. So if your child doesn't understand your explanation then another way of conveying to him is by using feelings or emotions. Like for example instead of just using words like"no" or"stop that" you can say"it hurts my ears and makes me sad when you shout at me". This way you are conveying the message. This way you are teaching your child to be empathetic
Show and tell: Sometimes when you say your child to stop doing a thing, they don't stop what they are doing as they don't know what to do instead. As parents, you need to help them figure it out. So instead of saying outwardly"No" to a thing, show and tell them what you want them to do. For example, if you see your kid hitting a cat, just say"be gentle" and you guide his hand in a stroking motion. You will have to do it several times before your child figures it out himself
Ask for time and give a deadline: If your child asks you for something then instead of saying a firm "no" just tell your child you will need some time to think about the demand and maybe get back to your child by next day morning. There is nothing wrong in buying time to think about the demand and the situation on hand. Be sure to give a deadline so that you are not bombarded repeatedly by the request
Look past the current conflict: When your kid demands something, it may not be actually something he wants, you can consider what else would have happened in that day that could have led to forming such a conflict. Like for example, if you child throws a tantrum at supermarket or troubles his baby sister then try and figure out what led to this- is it that you have paid less attention to him than his sister or is he acting like this because he did not get his afternoon nap and so on
Get strategic: When you say to your child "don't stand on the sofa", all she hears is "stand on the sofa" instead its more effective to say" please keep your feet on the ground", then this is more effective than a "no or don't". The point is not to over correct your child but create a balanced parenting style that is consistent, clear and positive
Use a signboard: The idea here is very simple. As a part of an art project, involve your child to make two signboards that say" Ok and not Ok". So the next time your child makes a contentious demand, just use the "not Ok" sign and let her know your decision. The only way this trick works is if it is a two-way signal. Keep these signs in an accessible place, so when you ask your child to do something for you, she can use these signboards to say if she is not Ok doing that thing
So remember, while saying no to your children is good for them to hone self-discipline, it is not always very effective. So it is very crucial that you use it sparingly. There are better techniques to deny, deter, or discipline your kid than always saying a big "no". We hope that these 20 tips and tricks mentioned above will help your tot to listen to you without you using the N word.
How many times do you say no to your child in a day? How do you effectively discipline your child> SO share your experience in the comments section below.