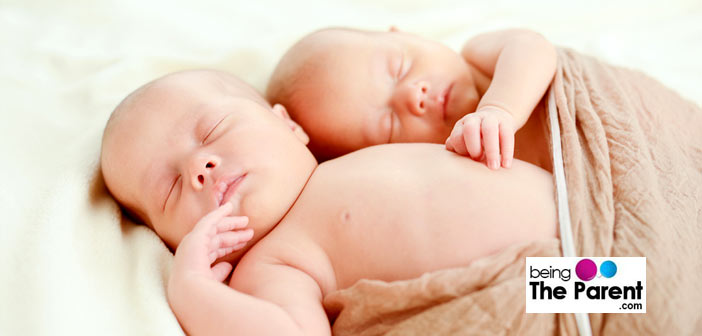 Should Twins Sleep Together?
It is a common question among mothers that whether it is right to put their twins in the same cot or bed for sleep. Well, the answer to this depends on a lot of factors. One such factor is their age. If your twins are infants then letting them share a cot or a crib is not a bad idea because at this point your babies are mostly sleeping and there is less chance that they will disturb each other. Newborn twins can be made to sleep together even if their crying and sleeping cycles do not match – as newborns rarely get disturbed when sleeping. On the other hand if you have toddler twins, then you might want to re-consider your options because there are chances that one of your toddlers might get up and disturb the other one. Toddlers have a very curious mind and it might become a problem at some point of time.
Why Should You Put Your Twins Together in One Crib?
One of the main reasons you will often hear your paediatrician advising you to put your twins in one crib is because from the womb itself they have developed this proximity to sleep closely and once in the outside world, they very much enjoy this company until after a few years later. Sometimes, they might feel a void if they do not find their partner close by – after all they have been with each other in a small space for about 35 weeks in a row! It is all about the continuation of feeling that the other one is close by. This gives them a sense of security.
Till What Age Should Twins Sleep Together?
Doctors will suggest that till the time one of the other does not start hampering the other's sleep, it is fine to bed your twins together in a crib. This is mostly till the early toddler age. As said before, toddlers have a very curious mind and if one of the two is more curious (as it always happens!) then it is most likely to disturb the other.
As they start to grow you should start making plans of putting them in different cribs because as it is important to make them feel beside each other when they are infants, it is equally important to allow them to grow into two different personalities independently.
Help Your Twins Sleep Together
aving twins' means that you have both your hands full, hence managing their feeding and napping schedules assumes a priority. If you do not sync your babies' napping times, one would wake and the other would sleep – and guess who would not get any rest – YOU. Develop a healthy sleeping pattern and a routine so as to get your babies sleep on the same schedule – and you get some well deserved rest as well.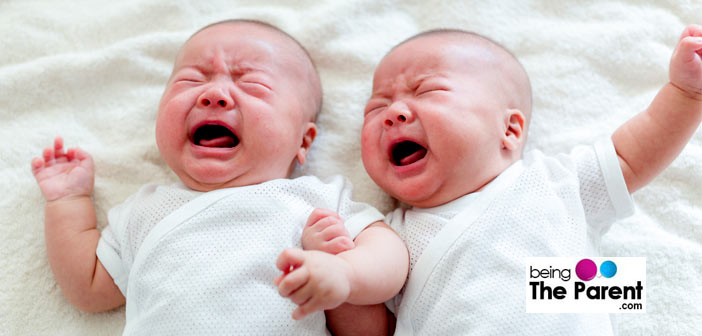 Pros of Making Twins Sleep Together
Sense of security that the other one is nearby
They feel cozy
They keep warm during winters
You will find it easy to monitor them
Cons of Making Twins Sleep Together
As they grow up, there will be less space for each one
Risks of overheating and suffocation
If one of the other moves and turns, the other might get woken up
Though twins, your babies have totally different personalities, eating and sleep cycles so their bedding arrangements should be made accordingly. It is also very obvious that after a certain age they will be asking you for their own separate spaces. If you think that it is too early to give them different rooms you can settle for separate beds in the same room or if they are older enough you can go for the separate room option too.
You will have to take the decision on your own gathering clues from their mental development.
Twins Sleeping Arrangements
It is best to keep your twins together as much as possible in one crib or cot till they are past their infant stage. This will not only give them a sense of security but will also bring them closer. During the toddler age, if they are sleeping fine together, then it is ok but if curiosity of one of the two twins or his sleep cycle is disturbing the other then you should take the call of putting them into different cribs.
If you are still bedding your twins even past the toddler stage, it is most likely that in some time they themselves will ask for separate spaces and it will be a wise decision on your part too to go with their decision. This is the point where your twins will actually start developing different personalities so it is very important to give them their space for their better growth. You again have two options here, either to put them in different room altogether or putting them in same room but in different beds.
Twins have a very special connection. So, nothing can affect their bond, whether you are sleeping them together or in different beds. The important thing is that you will have to take the right call at the right time and give the best environment to your kids.