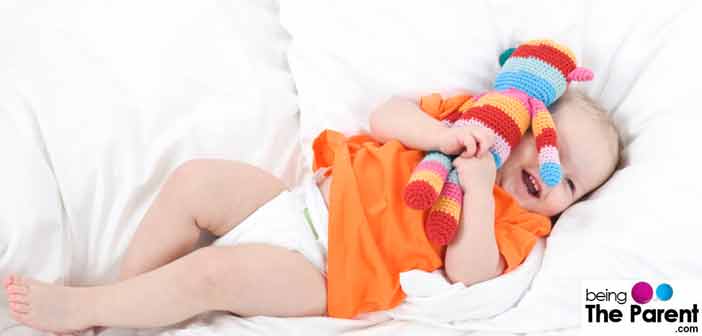 Consciously or unconsciously, you are performing many stimulation activities for your baby in day-to-day life. These activities help your child to learn and develop through stimulating their senses. A baby is new to almost everything – and as he develops reflexes such as sucking and rooting, he needs to develop his other senses as well. Simple things like blowing raspberries and making your child laugh are also baby stimulation activities and help your child to learn new things, increase his attention span, memory, curiosity level and affect him in a positive way. A child, introduced to an enriched environment where his senses of hearing, seeing, touching and tasting are constantly stimulated, has been found to be more active and intelligent than the one who is not. Baby or Infant stimulation activities can be numerous. It depends on your baby's age to find which particular activities will help him learn things faster.
Stimulating Senses of a Newborn:
A newborn is new to almost everything. Many of us have doubts about what can be done to stimulate his senses. As a parent, you also get to learn many new things with baby's arrival. In first few months, your baby's growth is rapid. Parents get very exhausted in feeding, cleaning and hushing their baby to sleep. In first few months, the baby's eyesight also takes time to adjust. The baby cannot focus on things from the beginning itself.
To start stimulating his senses you have to begin with hearing and touch. A baby is expert in recognizing touch and sounds. He can identify his mother's touch soon and sometimes if exposed to unfamiliar touch he reacts by crying.
You will soon learn that your child is able to identify your voices. He can make difference between voices of different people. The activities you can do in this period are to hold, hug, touch your baby as much as you can and talk to him. Use squeaky toys, play soft music, play something on which you can dance. Hold your baby in your arms and sway your body, do a little dance.
Keep yourself and your baby entertained. Use colors in nursery, bright contrastive colors, patterns and shapes make it easy to recognize him different colors and shapes. Buy colorful soft toys for him help him recognize colors. These activities will be very useful in developing your baby's senses and bonding with him.
Stimulating Activities For Three to Seven Months Baby: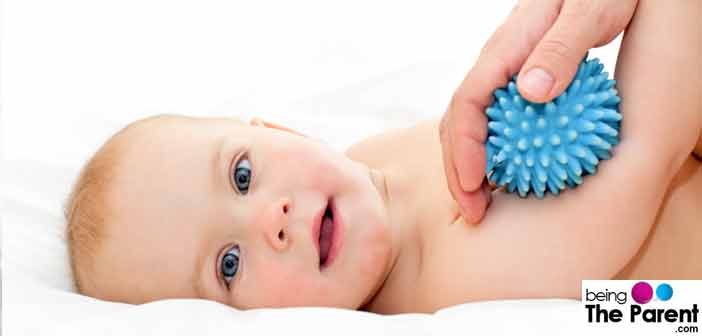 Your baby would have started to enjoy social play and would be moving already. His tummy time would already been working wonders for him. Motor skills development will take place, and soon twisting and crawling will encourage mobility by strengthening the core muscles. Some would be attempting to balance themselves, and would also babble – so be careful what you say.
After your child is 12 month old, you can include many activities to enhance his senses and help his nervous system strengthen. These activities are helpful in getting your child's attention and keep him engaged in something or other. The more your child gets to learn new things now, the more intelligent he will turn out to be later.
Some Stimulating Activities For Infants:
You can do number of activities to stimulate your infant, some are as follows.
• The good kiss, the bad kiss.
Get your child to sleep on his back. Lift his one leg to plant a kiss on sole of his feet. Make a face that this kiss was yummy. Kiss his other feet and tell him this kiss was yuck. Make faces to tell how yummy or yucky the kiss was and observe your Childs reaction. He will normally laugh when you kiss his feet that taste yuck. However, this is a good way to make him understand the difference between two.
• Peek a boo
This activity does not require any explanation you simply have to hide your face or any object and pop it back into the view. By doing this your child will be able to understand objects and recognize them.
• Copy cat
Make a face like sticking out your tongue or make simple sounds, vowels mainly. Do it repeatedly soon your baby will learn to copy you. Child young as two weeks can also imitate. By doing this you help him in learn new things this is a sign of very early problem solving behavior.
• Chit Chat with baby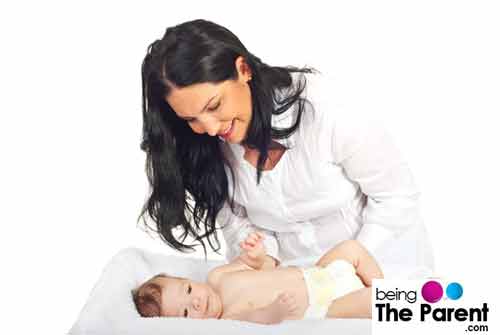 Keep talking with your baby about anything. Talk in high-pitched baby voice and be reactive. Make sure you display emotions in your talk. Just blab anything your baby will catch it. You may also see that even if your baby cannot pronounce words he will blab away anything. This is surely wonderful moment but by doing this your baby will understand how to display his emotions, if he does not like something he will blab in high-pitched voice. This is a god way to help him communicate.
There are many other things too that you can do to help your child learn, memorize, replicate, imitate and develop. Singing, dancing, tickling, making faces, take him out, surprise him, make him laugh and make sure that you get to spend a lot of time with your baby. Your child learns a lot just by imitating you so be active yourself.