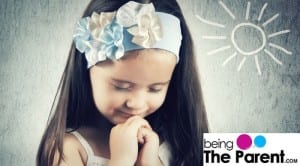 In most Indian homes, early mornings and evenings follow a daily ritual – of prayer. Being diverse, we have people of many faiths, and many of us have a prayer ritual as per our religions and beliefs. Teaching your child to pray is one of the most beautiful gifts that you can give him – this not only makes the child to be thankful for all that he has, but also reinforces the relationship with the supreme power, the Almighty. Like you, praying will help your child put his worries to rest and seek wisdom, while learning God is always close and near. Praying also opens the doors to spiritual teachings and helps develop the personality of a child, making it easier to figure out good from bad. A God fearing child grows up to be an adult of principles and values. The love for God and others creates a feeling of respect for the fellow human beings, and a child begins to understand and treasure the culture and heritage that we Indians stand for.
Children learn by observing – we all know that. They replicate everything you do because you are, well, by and far, their most admired role models. Hence, setting a good example becomes all the more necessary for you once you are a parent. Below are some basic tips so as to teach your child to pray –
Ask Your Child to Join You– If you pray daily, your child would not be an alien to the concept of praying. However, you need to include him in the prayers, asking him to join you, and praying together. Slowly, this will fall into his routine.

Teach Single Line Prayers- Sit with your child and teach him single line prayers, mantras, hyms, or lines from the Quran. Make them understand the same and imbibe the messages the holy words carry into their personalities.

Teach Your Child to be Thankful- Always be thankful to God for being with you and providing for you and your family. Seeing you, your child will also start being thankful to God for all that he can think of.

Focus on Personal and Spiritual Development – Practice and preach the importance of personal and spiritual development of children who are a bit older.

Teach To Respect All Religions – Teach your child Vedic statement "Truth is One, sages describe it variously."

Teach Positivity of the Mind – Prayers often make us rest our worries and gain a positive outlook towards life. Teach your child how God lives in a positive mind and prayers wash away all worries

Celebrate Festivals Traditionally– Dressing up in traditional attire and praying traditionally on festivals also makes a child learn about the importance of festivals and their relevance to religion and God.
Lastly, teach your child to pray with love, and not because of fear. Prayer is a way to connect with the supreme power, and also lends a know-how of our culture and beliefs. Praying makes one develop a sound character and a righteous approach – thus making better human beings.