Are you eager to make your child learn English from a young age? Well, many parents are, in fact, exposure to other languages at a young age also helps your child gain second language exposure. When a child is exposed to a language from a young age, he forms a positive impression of the same and becomes comfortable with it. However, the same cannot be forced or it will make your child resist learning the new language.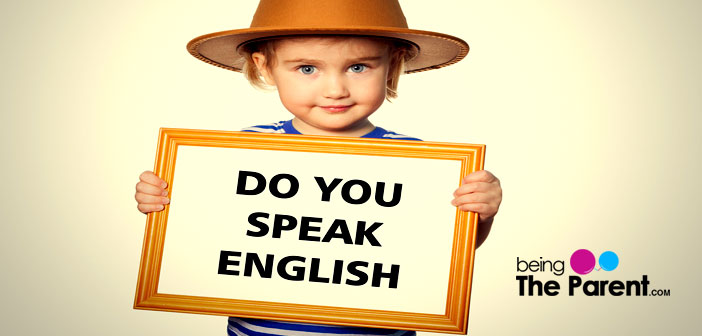 How Can I Teach My Child To Speak English?
Simple Tricks And Tips To Teach Your Child To Speak English Effortlessly
How Can I Teach My Child To Speak English?
Teaching your little ones speak English may seem quite an ordeal in the beginning, but you will find this quite easy once you begin teaching them. Brains of children are tuned to grasp any language quickly and the trick lies in speaking to them constantly in English. As per many child specialists, brains of toddlers can absorb between 150 to 200 words by the time they are two years of age. So talk to them as frequently as possible in English. Very soon your toddler will be speaking English fluently with little effort from your side. Continuous practice and never ending activities are some of the best approaches you can adopt to ensure your baby picks up this universal language easily.
Simple Tricks And Tips To Teach Your Child To Speak English Effortlessly
Here are some simple guidelines that you as parents can adopt to ensure your toddler starts speaking English quickly and effectively.
1. Make sure you read to your toddler every day:
It is imperative you read aloud to your child, regardless of your mother tongue. It would be a good idea to choose English books which have simple vocabulary and bright pictures as they are sure to help your child build up his language and even the correct usage. Pointing out pictures and making them tell you what it is, is an excellent way to develop sentence formation too. Bedtime reading is an excellent way to do that!
2. Let your child see YOU enjoy the language:
Children have impressionable minds. If they see you enjoying something, they will definitely try it out. Your kids look up to you, let them see you enjoying English music, reading English books or talking to a friend in English. This is the easiest way to get your child interested in English language
3. Describe your day:
Irrespective of whether English is a totally new lingo for your child; he or she is not going to be floored by new words flowing out from your lips. It would be a smart move attempting the combined use of your mother tongue and English which is sure to help him pick up English faster. Hence narrating the same sentences in English along with whatever language you speak at home the entire day will ensure that they pick up English faster
4. Do not pressure them to answer in English:
Your child may find it difficult to respond in English, so you should not pressurize them either. However, you can talk to them in simple sentences, like:
Commands: "Let's go", "Come here" , "Put on your shoes" etc.
Praise: "Great work", "Good job" etc.
Observations: "It's so hot today", "This is a beautiful flower"
Ask questions: "Where are your books?", "Where is Dad?", "Do you want some ice-cream?"
All these are great ways to expose your child to English language without forcing them to answer.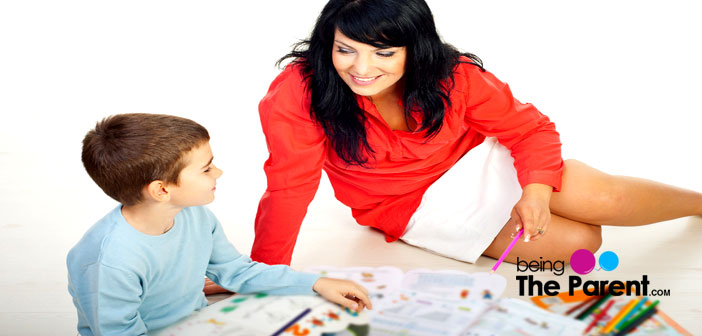 5. Flash cards can aid quicker learning:
Describing pictures with the aid of flash cards can quicken the learning process. Each flash can be described with the object in it, its color and shapes enabling quick learning. Flash cards are also an ideal means of helping children identify objects in real life
6. Putting a scrap book together:
Cutting and pasting pictures like animals and shapes is yet another smart move that will help your little one pick up English in no time. You could also encourage your child to color these pictures; an activity most kids of this age enjoy. Doing this with a theme for example, food or animals in mind can help your child quickly pick up a lot of new words related to that particular topic
7. Extending conversations:
Once your child starts speaking the language, make sure you don't relax, thinking how easy this was. You require extending his vocabulary by describing objects. If for example he/she points out to a dog and says 'dog', you need to talk more about the object describing its color and size and how it barks which automatically helps to expand your toddler's vocabulary. One simple point to keep in mind while attempting to teach English is never to allow them end a conversation with a simple yes or no. Encourage them to speak in full sentences and is a major trick in aiding your little girl or boy grasp the language faster
8. Choose a preschool, which has English as its medium of instruction:
Ensure you enroll your precious bundle in a preschool, which follows English as its medium of instruction. Your toddler will start speaking the language more easily when English is the only language they speak at school as they have no other option other than conversing in this language their peers and teachers
9. Encourage children to watch English Channels on television:
There are some wonderful English channels on TV which are specially broadcast for little ones keeping in mind their age and interests. Letting them watch special programs featured for these tiny tots are lovely ways of helping your child expand his or her vocabulary in an interesting manner
10. Pick up ideas online:
There are umpteen sites which give you ample tips on how to help your kids develop English at a very young age itself. Browsing through these sites will help you come up with more novel ideas which are sure to help you in your endeavor
However, you need to keep in mind the fact learning English is not by any means a race. Give your baby time to ensure he picks up the language in a positive manner without stressing them out. Focus on positive behavior and let them progress gradually.