Dark chocolates have been one of the most tempting food items in the last decade. While some consume it to satiate their sweet cravings, others use it as an ingredient in their desserts. Dark chocolates are rich in cocoa and have a rich flavour. The multiple health benefits of consuming dark chocolate include lowering the risk of heart disease, improving mood, and relieving stress. Dark Chocolates are comparatively expensive than the regular chocolates available out there in the market. Let's go ahead and unfold the list of some of the Best Dark chocolate in India.
Top 10 Dark Chocolates in India
1. Amul Cacao Ultimate Dark Chocolate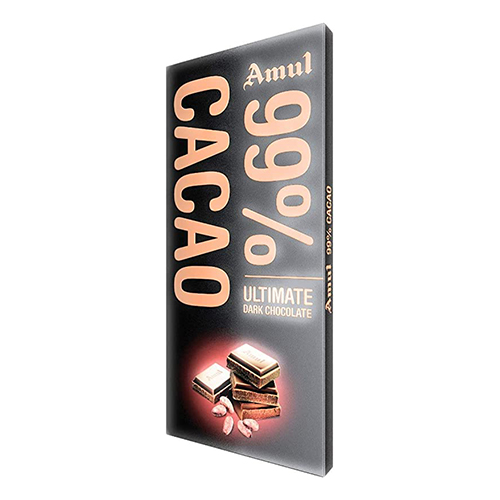 At the top of our list of the best dark chocolates in India is Amul's Cacao Ultimate Dark chocolate. Carrying the label of India's most successful and trusted dairy brands, this Dark chocolate has gained a lot of popularity since it was first available in the Indian market in mid-2016. With no added sugar, free from milk, this dark chocolate from Amul has 99% cacao which implies an extraordinarily bitter taste. This dar chocolate bar is good for those who are conscious about weight gain. So if you are someone who prefers some additional amount of bitter taste in your dark chocolate, then this piece of art is for you.
2. Cadbury Bournville Rich Cocoa Dark Chocolate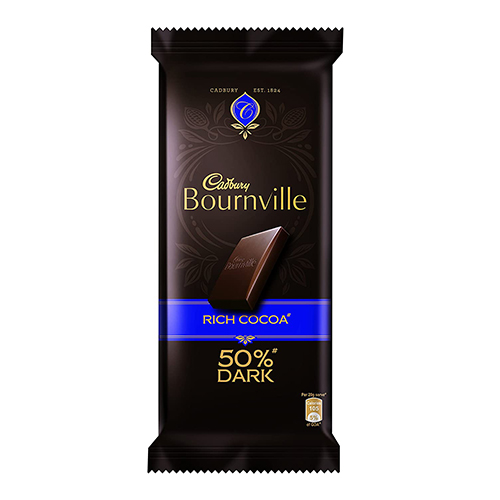 The next chocolate bar on our list of the best dark chocolate in India is from a very renowned company, "Cadbury". Among India's most common dark chocolate lineup, this Cadbury Bournville contains 50% cocoa resulting in an ideally balanced taste. If you are looking for a bar of dark chocolate with relatively less bitterness and low sugar content, this one is for you. One of the USPs of this dark chocolate is its range of flavours. So if you are one of those picky customers, this bar is for you.
3. Ketofy – Dark Keto Chocolate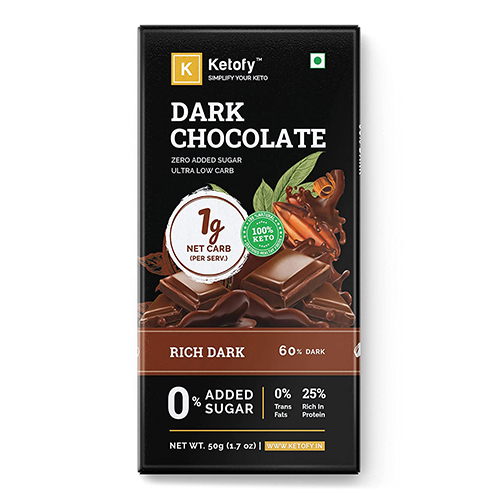 If you're looking for a chocolaty adventure, but without any sugar, then dark chocolate from keto which is low on carbohydrates & sugar is the best choice for you. To bring your chocolate experience a notch above, Ketofy uses high-quality brown cocoa beans. Although it does have some added artificial flavours in very small quantities, this chocolate is rich in Vitamins, Antioxidants, and minerals. The makers even claim that this Dark Keto Chocolate is 100% Vegan, making it a strong contender in our list of best Dark Chocolate in India.
4. Lindt Excellence Supreme Noir Chocolate Bar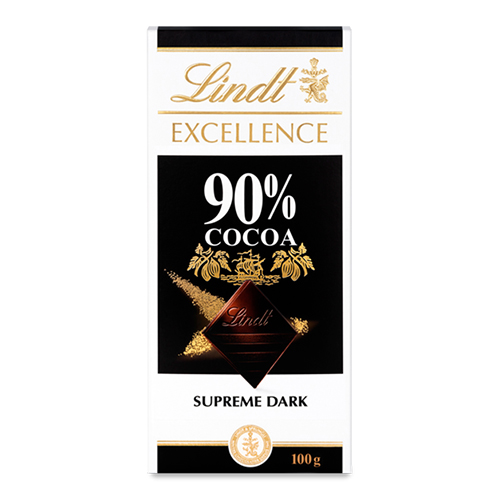 Another excellent dark chocolate on our list of best dark chocolate in India is from Lindt. This "Supreme" labelled dark chocolate quickly melts in your mouth and constantly reminds you of its premium aftertaste for a long period. According to Lindt, the world's most superior cocoa beans are used by the brand to delight your taste buds. It contains 90% cocoa, just 9% less than the one offered by Amul, again making it highly bitter. So if you prefer extra bitter dark chocolate with a premium taste and are willing to spend some additional money, then this masterpiece is for you.
5. Zevic Belgian Sugar-Free Dark Chocolate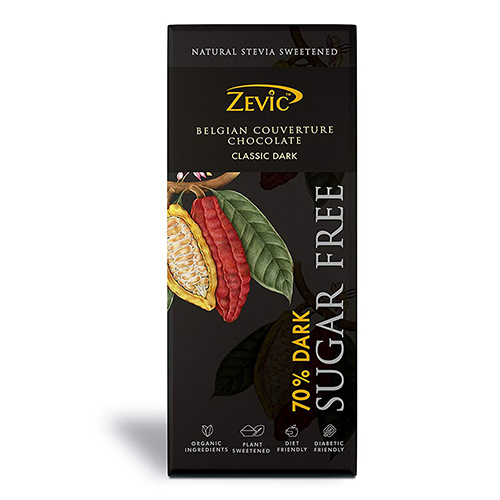 The Zevic brand is very well known for the healthy options it offers to its customers. If you're looking forward to experiencing the great taste of cocoa without trading off your health, then this Sugar-Free Dark chocolate from Zevic is the one. This dark chocolate is mainly for those who prioritize health above everything but still want to experience Belgium cocoa's exceptional quality and balanced flavour. One of the best parts of this dark chocolate is that this is a bar of sugar-free dark chocolate that consists of 70% cocoa from Belgium and thus is undoubtedly one of the best on our list of the best dark chocolate in India.
6. Bogatchi 99.99% Dark Handcrafted Chocolate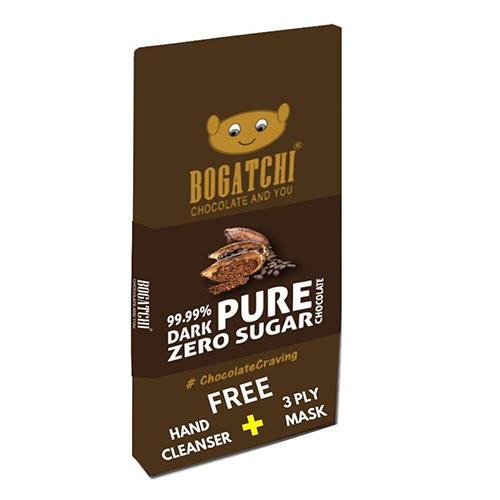 Next up is dark chocolate from Bogatchi. If you love the bitterness of cocoa to an insane extent, then this dark chocolate should top the list of best dark chocolate in India for you. It has a crazy amount of 99.99% of cocoa, which is almost 100%. This dark chocolate comes in different flavours like roasted almonds, pumpkin seeds, and cranberry. It has an original taste of African cocoa beans, making it a good contender on our list of the best dark chocolates in India.
7. Nepenthe Coffee And Dark Cocoa Chocolate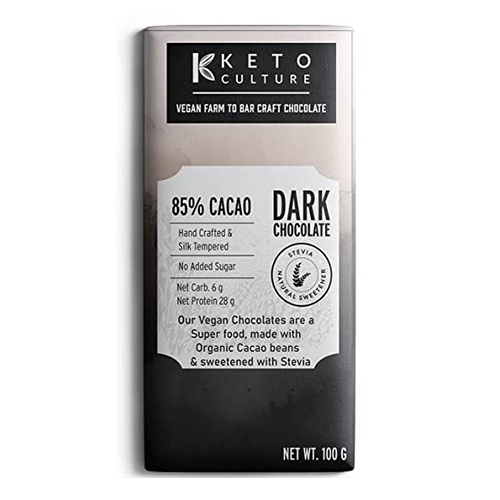 Nepenthe Coffee And Dark Cocoa Chocolate perfectly suit people on Keto diets. The brand claims that this dark chocolate is high in protein, low-carb, and is made with 100% sugar-free chocolate. As suggested by some users, this dark chocolate feels a bit sugary despite having 85% cocoa in it. This dark chocolate is 100% Vegan, so if you're vegan, this dark chocolate is a great option for you.
8. Butlers Dark Chocolate Bar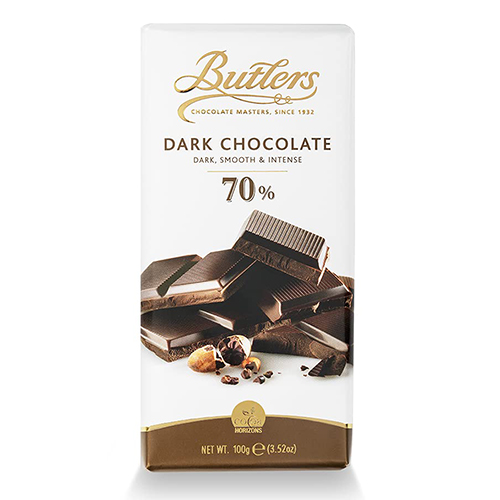 This high-quality Dark Chocolate Bar from Butlers has offerings in seven alluring flavours. One thing that sets this Chocolate bar apart from its competitors is the sophisticated packaging. As it contains nuts, people expecting a pure dark chocolate experience might be disappointed, but on the flip side, those who strive for added nuts in their chocolate will be more than satisfied with this dark chocolate. With the premium quality taste it offers, this brand deserves a spot on our list of the best dark chocolate in India.
9. Mojo Thins Dark Chocolate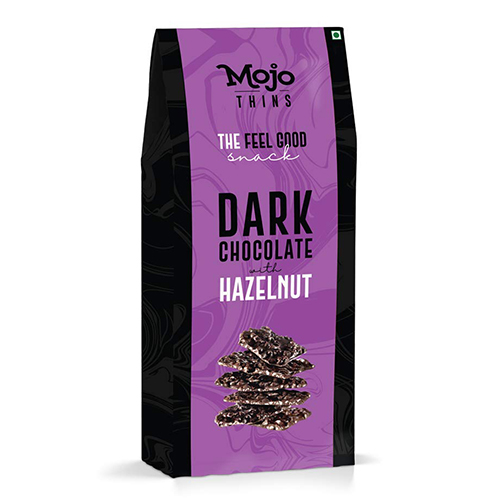 This premium quality dark chocolate comes with a combination of fruit and nut, which could be a perfect combination for many people. This high-quality dark chocolate contains 50% cocoa, making it moderately sugary. Option of Hazelnut, Sea salt, and Cranberry with cashew flavour are available. So if you are one of those picky customers or prefer trying out different flavours then this dark chocolate can be a perfect fit for you.
10. Denali Premium Dark Chocolate Compound Slab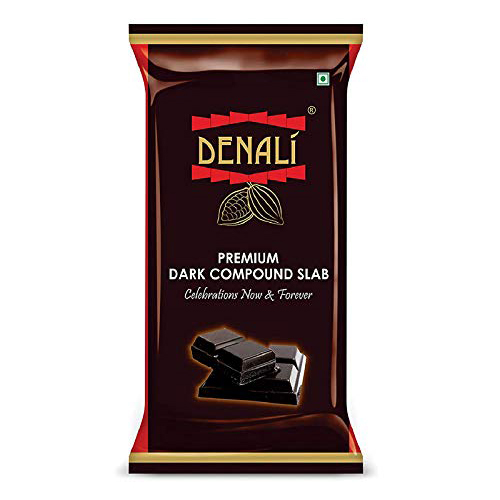 The last one on our list of best dark chocolate in India is the Dark chocolate compound slab by Denali. This premium dark chocolate slab is ideal for icecreams, brownies, muffins, and cake decoration. You can even make your own custom-made chocolate bars just by melting this chocolate slab using preferable boilers. And even if you are looking for slightly different options, this slab is also available in white and milk chocolate.
How To Choose The Best Dark Chocolate?
A wide variety of dark chocolates are available in the Indian Market. From well-known brands to their different flavours, the different bars listed above have their own advantages. Choosing the healthiest or the tastiest one among so many great options could be a difficult job. Let's look at the qualities you should be considering when choosing the best Dark chocolate available on the market.
Higher amount of Cocoa: Experts suggest that the best dark chocolates must contain at least 70% of cocoa.
Low Sugar: One of the most important factors which contribute to all the green flags that dark chocolate has is the quantity of sugar it contains. It is as low as 0% in some of the dark chocolates.
Processing Temperature: Dark chocolate should be processed at lower temperatures.
Alkalization: Always avoid dutch or alkalized dark chocolate. This process is mainly used in order to obtain a darker colour and to bring down the bitter flavour of dark chocolate.
Organic in nature: Naturally or organically grown chocolate doesn't have added flavours. More processing lowers the health benefits of that particular dark chocolate.
Subjective choice: Every single individual has their own taste and choice. You can opt for dark chocolate with any additional ingredients like dry fruits, seeds, or even a pure form of dark chocolate without any add ons is preferable.
FAQ's
1. How much dark chocolate should be consumed on a daily basis?
We know that dark chocolate has its own benefits, but that doesn't mean that the more you eat the more beneficial it'll be for you. Dark chocolate should not be over consumed. Experts recommend not having more than 30-60gm of dark chocolate per day.
2. Is dark chocolate good for babies?
According to experts, Babies younger than 24 months should avoid dark chocolates at any cost. Dark chocolate contains caffeine and added preservatives which are not good for them. Dark chocolate may damage those first teeth because of the high sugar content as well.
3. Can I have dark chocolate during pregnancy?
It is scientifically proven that dark chocolate improves blood flow to the baby and benefits the mother as well. So, yes you can have dark chocolate during pregnancy.
4. Are there any side effects of dark chocolates?
Yes, only if consumed in large amounts. There are side effects that include sleeplessness, skin reactions, frequent urination, nervousness, etc. These side effects can be avoided if you consume these chocolates in moderation.
5. What kind of dark chocolate is beneficial for the heart?
Any kind of dark chocolate is probably good for your heart. But studies suggest that you should only consider purchasing dark chocolates with more than or at least 70% cocoa content.