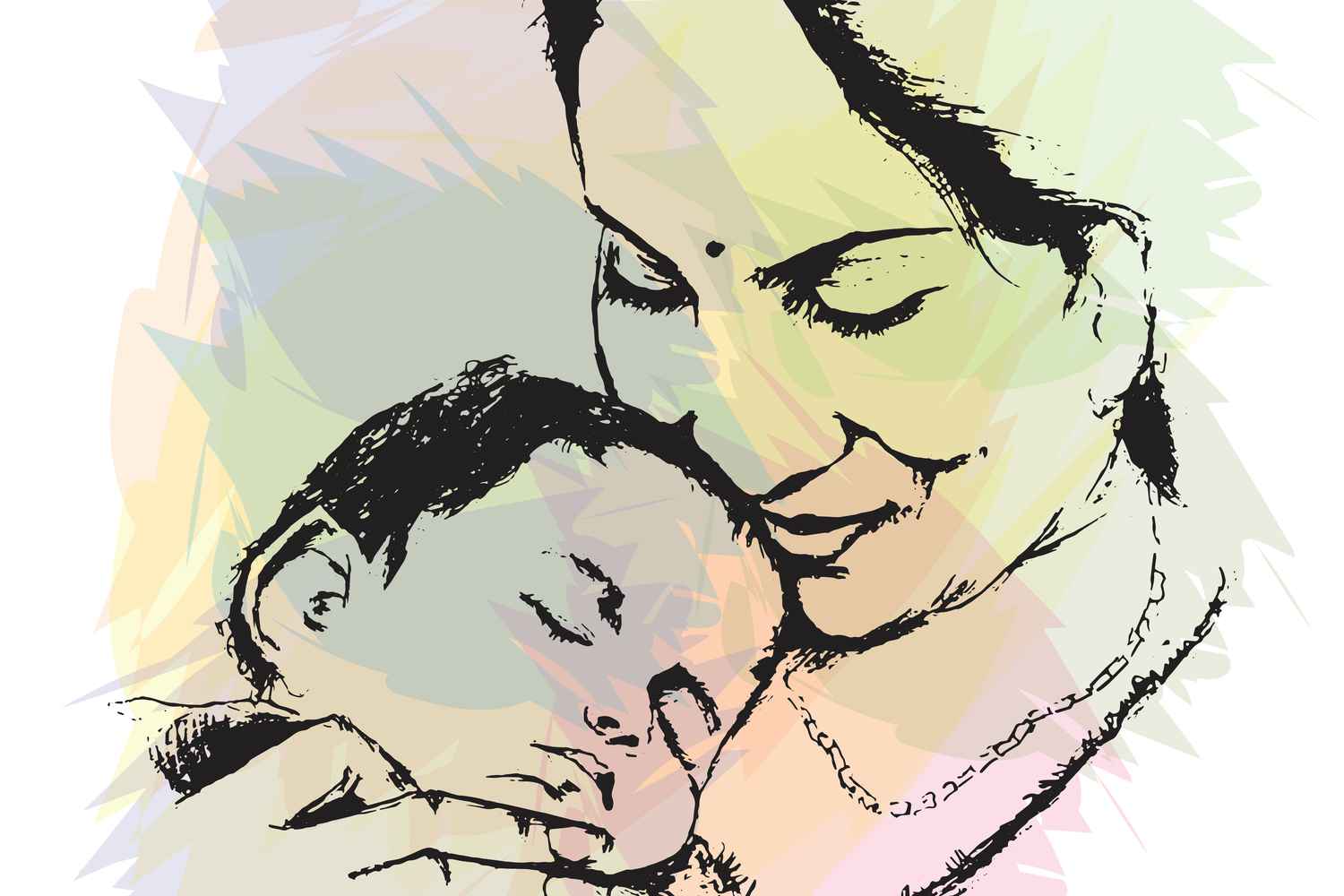 Loris, also better-known as "Lullabies" in English, can be counted as our introductory experience with auditory sensation. They may be of any kind. Loris can come with or without lyrics, with or without a logical message. And yet, they invariably incorporate one of the most compelling messages which can ever be bestowed or accepted by the human race- the message of earnestness, fondness, and emotion. Loris are uncomplicated, yet their range surpasses all artificial bounds that humanity has created for itself. They can even overstep the age barrier as also seen in the extraordinary Lories listed here.
Music de-stresses us, calms our mental tension, and helps us in resting, and basking in our beingness. Loris stand out in achieving these objectives, without relying on the technological complexities, lyrical quality or fanciful concepts of contemporary popular music. Great loris are the music of purity. They will forever be savoured by a lucid and un-littered psyche and when they are not, there is in all likelihood something wrong.
In This Article
Importance of Lori Songs For Mothers
There is a lot of research on the function of Lori Songs in fostering care-giving attachment between a baby and its mother. Mothers who hum Lori songs to their babies engage in a soldering act that actually changes the fundamental nervous structure of the baby's brain power so that the baby becomes "attuned" to music and its affiliation with maternal association.
In one Asian survey of Kangaroo Care, a care method for newborn babies in which a mother grasps her baby close to her chest, it is shown that baby–mother pairs who listen to their choice of cradle-song connect with more relaxing slumber states and fewer occurrences of crying episodes by the baby. This process also significantly lowers parental anxiousness, than those pairs who do not listen to cradle-songs. The healing outcome of Loris can therefore have a powerful effect on pacifying emotions and fostering attachments, which is crucial with delicate and premature babies.
Top 10 Hindi Lori Songs From Bollywood For Your Baby
Each and everyone loves Bollywood Hindi compositions. We listen to them whether in sorrow or even when we are in a happy state of mind. There are musical compositions for all situations. We also sing kids lori songs when we are trying to put our child to nap. Many mothers love to do it but do not know what are the best lori for sleeping for the baby. If you are a mother and want to hum some Bollywood night lori songs for putting your baby to sleep, presenting the ten greatest of all time Hindi lori songs lyrics which will forever be a treat to listen to for all of us.
1. Surmayee Ankhiyon Mein Song From Sadma
It is a famous lullaby Bollywood song, from the movie Sadma, sung by K. J. Yesudas. In this song, Kamal Hassan is attempting to put Sridevi to sleep by singing this Lori. Surmayee Ankhiyon Mein lyrics are touchy and beautiful.

2. Lalla Lalla Lori Song From Mukti
This Lori song is from the soundtrack of the movie Mukti. The song is sung by Mukesh, while the lyrics of Lalla Lalla Lori Doodh Ki Katori are penned by Anand Bakshi. It is also one of the famous loris and all the babies fall in love with this song's lyrics.

3. Aa Ri Aaja Nindiya Song From Kunwara Baap
It is yet another popular Bollywood lori song for babies. This song is from the film titled Kunwara Baap. Mehmood, the actor in this film, has been instrumental in making this song one of the most famous Lori songs. The rhythmic and peaceful lyrics also contribute to making this song one of the best kids lori songs in Bollywood.

4. Dheere Se Aaja Ri Ankhiyan Song From Albela
A famous lori song for babies, this is a very old musical composition from the film Albela with beautiful lyrics penned by Rajendra Krishan, composed by C. Ramchandra and sung by Lata Mangeshkar. The soothing lyrics and music are sure to put your baby to sleep within minutes.

5. Chanda Hai Tu Song From Aradhana
It is another popular lori song for boy babies, from the movie Aradhana, featuring Sharmila Tagore and Rajesh Khanna in leading roles, and sung by Lata Mangeshkar. This lori has extraordinary hindi lullaby lyrics, penned by Anand Bakshi and music by S. D. Burman.

6. Ram Kare Aisa Ho Jaye Song From Milan
Another heart-moving lullaby song from the film Milan in the golden voice of Mukesh. The lyrics are penned by Anand Bakshi and emotional music is composed by Laxmikant Pyarelal. The video of this lori song is picturized on Nutan and Sunil Dutt.

7. Aaja Ri Aa Nindiya Tu Aa Song From Do Bigha Zamin
Aaja Ri Aa Nindiya Tu Aa is a Hindi Lori musical composition from the soundtrack of the Hindi movie Do Bigha Zamin. The song is sung by Lata Mangeshkar and composed by Salil Chowdhury, with lyrics of "Aaja Ri Aa Nindiya Tu Aa" that are rendered by Shailendra (Shankardas Kesarilal). The movie Do Bigha Zamin features Balraj Sahni, Jagdeep, Meena Kumari, Muraf, Nan, Nirupa Roy, Palsikar and Ratan Kuma in pivotal roles.

8. Nanhi Kali Sone Chali Song From Sujata
It is yet another popular Lori song, and numerous parents love and pick this song to put their baby to sleep. It is a song from the film Sujata. This is a perfect song  if you have a girl baby because this song was specifically written for a girl baby. It is a rather beautiful musical composition with outstanding lyrics, penned by Majrooh Sultanpuri.

9. Gudiya Rani Bitiya Raani Song From Lamhe
Another celebrated Lori song was from an old film Lamhe where it was picturized on Waheeda Rehman putting her daughter to sleep. The lyrics of this song, as well as the music video are peaceful.

10. Chandaniya Song From Rowdy Rathore
Almost all of the favourite Lori songs are from old films, but not this one. It is from a film titled Rowdy Rathore, directed by Prabhu Deva. Composed by Sajid-Wajid, this lori song is sung by Shreya Ghoshal in her melodious voice. Its resonant lyrics are penned by Sameer Anjaan.

[Read : Why Should Babies Listen To Lullaby Songs?]
Sleeping Lori in English
Looking for sweet lullabies for your tiny one in English? Here is a rounded-up list of the 14 best bedtime musical compositions for sleepy-eyed babies and their parents. Give them a try when words let you down.
Twinkle Twinkle Little Star
You Are My Sunshine
Rolling In The Deep
Disney Movie Love Songs
Yo Gabba Gabba! Songs
Frere Jacques
Hush Little Baby
All Of Me
The Alphabet Song
Beautiful Boy
Upside Down
My Love, My Life
Isn't She Lovely
Brahms's Lullaby
That is all! Now you have the best list of peaceful Hindi and English Lori Songs that will help you to hum along to put your baby to a good night's sleep.