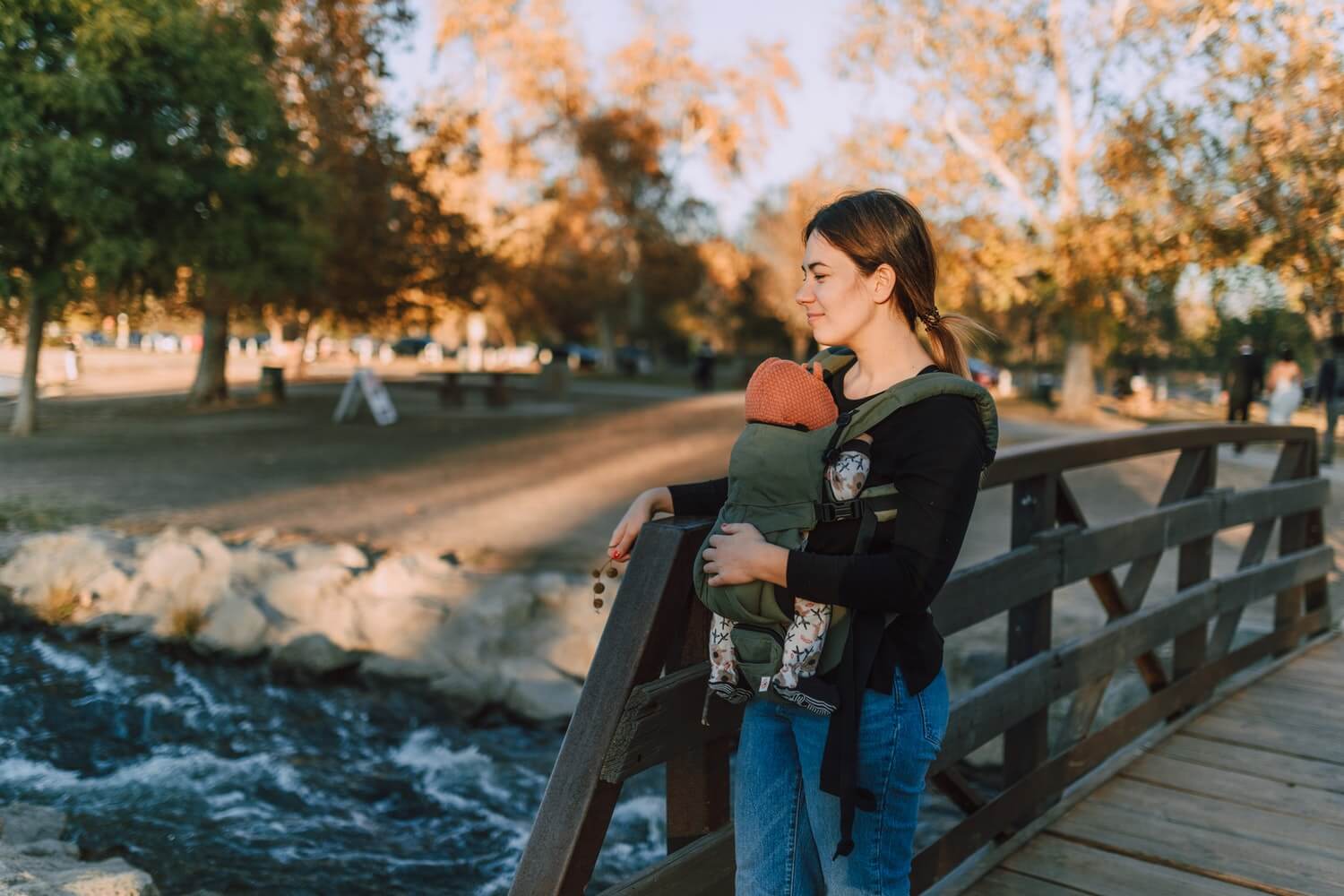 As a parent, there is nothing more special than being able to pick up your child and carry them with you. But many parents complain of back pain from holding their baby, particularly as the child gets bigger.
5 Best Ways to Carry Your Baby to Minimize Back Pain
To help, here we break down a few of our top tips to help you minimize those back pains while still being able to carry your youngster.
1. Try Not to Use Your Hip
Ok parents! We know that balancing your baby on your hips is one of the most comfortable and functional carrying methods, as it lets you free up one of your hands. But it also happens to be one of the worst for your back in the long term.
This method is damaging partly because you have to twist your back to one side to counterbalance the baby's weight and partly because it overloads the core and back muscles.
So to avoid getting aches and pains, try focusing on holding your baby on your front instead.
2. Use a Sling
Slings have been around for hundreds of years as one of the best ways to carry a baby. They are easy to fashion from any piece of fabric if you know how to tie one into place securely. Slings are great because your baby stays snuggled close to your chest, but you can have your hands free.
If you are not confident about fixing a sling yourself, companies are now selling them in all sorts of designs to match your style and requirements. You can find the best ring sling online and sometimes in local shops.
3. Baby Carriers
After slings, baby carriers are a brilliant way of carrying your baby. They allow you to share the weight across the body using padded shoulder straps and clips. Distributing the weight is particularly important as 25% of Americans experience lower back pain.
A front carrier is particularly beneficial when carrying your baby and has the added aspect of enabling you to check on your baby as you walk around.
4. Follow Safe Lifting Practices
When we lift heavy boxes, we make sure to bend our knees and keep our back straight, but when it comes to our children? We often forget in the rush of everything. But if you can, try to follow safe lifting practices when you are going to carry your baby — you should feel the effects quickly.
To protect your back from straining itself, when you pick up your baby, try to use your knees and legs rather than your waist and back.
5. Remember Your Posture
We all know that posture helps us look better, but did you know that it benefits your health too? Then on top of this, good posture helps alleviate back pain when you are carrying your baby for long periods.
Bad posture adds pressure to your spine and often causes headaches and other secondary effects. When carrying an infant, you might end up leaning forward too much or craning your neck down.
We know that it can get tiring to stand or sit straight all day, but there are exercises that you can do to strengthen your core and back, which will, in turn, make it easier to keep a good posture.
The Breakdown
So with these five tips in mind, you should now feel much more confident about the ways to carry your baby while minimizing back pain. Remember, you can also help your back after a long day of carrying by stretching, massaging, and getting enough rest so that those core and back muscles can recuperate, ready for the next day.