A woman's body is one of the most complicated machines that medical science has ever researched on. Usually all women have similar anatomy with few variations, but there are few cases which have made the doctors extend their researches to another level. Uterus Didelphys is one such exception which is a very rare congenial abnormality in women that has considerable effects on her pregnancy and her future life.
What is uterus didelphys?
In a female fetus, uterus is formed as two small tubes , which join later on as she develops, into one large organ. In uterus didelphys, this doesn't happen and the tubes instead of joining completely, develops into a separate structure individually. Hence instead of one uterus, there are two such organs and this condition is thus called a double uterus issue in women. Each of them have a cervix, which is formed when a thin tissue runs down to vagina, and divides into two cervixes or openings.
Can a woman have two wombs?
Strange but true, she can. Uterus didelphys or double uterus problem in women is rare but it exists and eventually they end up having two vaginas instead of one. One of them is usually bigger and better than the other, which is also composed of stronger tissues and muscles, which can support implantation which occurs once she conceives. That is why, women with double uterus can carry their babies only in one of them-preferably the stronger one.
Double uterus pictures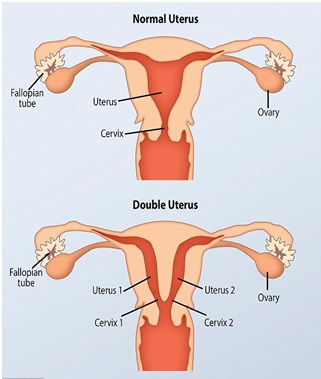 Symptoms of didelphys uterus
Most of the women with didelphys never get to realize that even if she is pregnant and while delivering since there are no specific symptoms for the same. usually it remains absolutely undiscovered till she starts having her menstrual cycle, and may have these symptoms as she grows:
Unusual pressure on lower abdomen all throughout the month

Excessive cramping before or during periods.

Excessive bleeding during menstruation, in spite of using tampons

Frequent miscarriages
If a woman notices these symptoms, she must get it diagnosed with a doctor in order to confirm her congenial abnormality and take appropriate measures. The doctor can confirm the same with several methods of diagnosis like MRI, ultrasonography, Hysterosalpingography, and sonohysterogram, which might find out what is the level of complication she is born with. As far as the treatment is concerned, it is usually not needed as there are no significant symptoms, but there are surgical methods through which the uterine wall can be separated and fused into one hollow organ.
Causes of didelphys uterus
Doctors all across the globe have been incapable to understand the right causes of this abnormality in women. Few believe that it occurs due to the abnormalities in kidney, whereas some believe it is genetic and women with a family history of uterus didelphys are more prone to such conditions than otherwise.
Didelphys uterus complications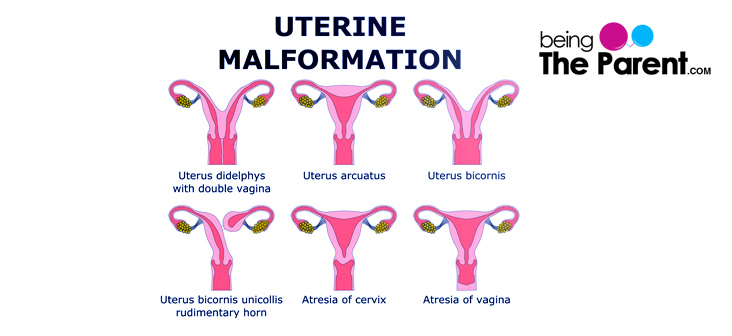 Majority of women with double uterus tend to have no symptoms at all, lead normal sexual life and even have healthier pregnancies. Sometimes they can even go for normal deliveries as well. However, few of the complications can be as follows:
Infertility might occur due to such uterine abnormality and the woman can never conceive in her life.

Even she manages to conceive, she undergoes multiple miscarriages

She might give birth to premature babies as her uterus doesn't allow her to complete her full term. It might also happen that her baby takes unusual positions in her uterus like breech position during delivery.

She might develop complications in her kidney and might face issues for that.
They say that women is the best creation of God and it is true in every sense of the terms. But however every creation has its own flaws and uterus didelphys is perhaps one of them. Despite that a woman can give birth to a child and can initiate yet another life on earth. So if you are facing such symptoms and is diagnosed with a double uterus, there is nothing to worry. After all every child born is a miracle and you should be having a positive mindset to give birth to your own child even if you are medically different from others.