If you have a water baby, then you know how excited she can get when she spots a body of water, be it in a bathtub, a bucket, a puddle or a pool. No matter how cute they seem when they play and splash around water, there is a huge range associated with water play – the risk of drowning. Trust us when we say this, drowning is not at all an "unlikely" event. We lose a number of kids to it every year, especially because small kids can drown in as less as one inch of water. This is the reason as parents, we need to be very careful when we let our kids play in the water. Here are some life saving tips to ensure water safety of your child.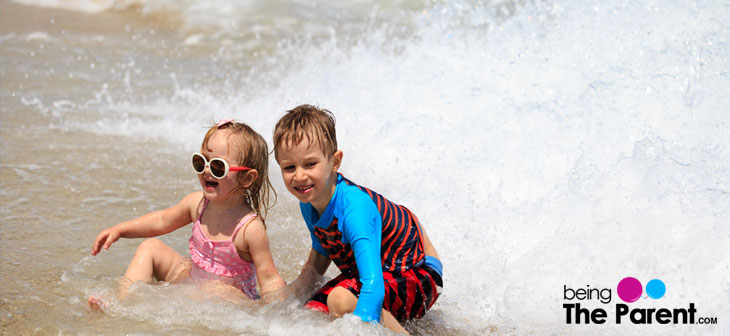 8 Life- Saving Tips To Ensure Water Safety For Your Baby
Always supervise, always: This is a serious one. Do not take your eyes off your child when she is in water. Not even for a minute. Why? Because kids can drown in as less as 25 seconds, even in a baby pool. If your kid does not know swimming, we recommend you to be in the pool with the child close enough to reach out or touch. Even if your kid can swim, accidents can happen which might impair your child's ability to swim. So, be careful always. If you are at a pool party, where it is easy to get distracted, take turns with other parents so that one adult is always supervising pool activities
Give undivided attention: Most parents tend to use phones when their kids are in the pools mainly because it is quite boring to just sit around looking at the kids in the pool. Do not fall for this temptation. Keep your phone, books and magazines away while your child is playing in the water. This is because, as we mentioned before, even few seconds of neglect can lead to accidents
Do not rely on flotation devices for safety: Many a times the flotation devices, such as swimming rings and inflatable toys, give us a false sense of security. While it is OK to use them, please remember that these devices cannot be a substitute for adult supervision. If you are staying the US, please make sure the ring or the life jacket you buy are approved by the US coast guard. Even in that case, stay close to the pool and keep an eye on the child always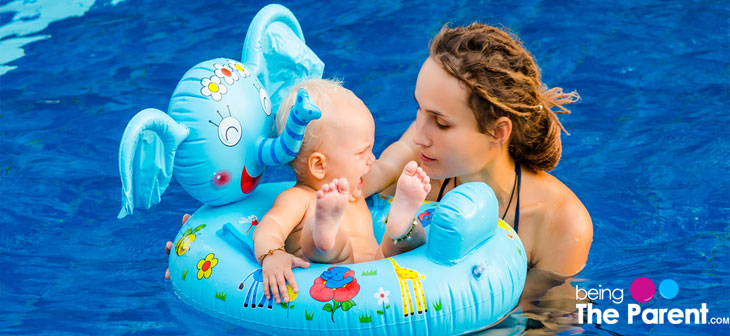 Consider giving your child swimming lessons: If you have an access to a pool and your child enjoys being in the water, it might be a good idea to teach your child swimming. Different studies recommend different ages for the kids to start swimming lessons. But, if your child is over 4 years, then she is definitely ready. That said, you need to remember two important things. Firstly, you need to take a lot of precautions and chose a swimming class wisely. The following article can help you – Swimming For Your Child – Pros, Cons And Precautions. Secondly, just because your child knows swimming, you cannot not supervise. Accidents can happen anytime and you need to be vigilant
Ensure bath tub safety: Water safety is not limited to pools, you need to be careful when your child is in a bathtub as well. Always keep your bathroom door close, so that the child does not enter the bathroom without your knowledge . Line the bottom of the tub with a rubber mat so that the child does not slip and fall in the water. If your baby is not old enough to sit well, make sure you provide back support. And yes, as always, make sure you supervise at all times
Learn CPR: If something goes wrong, you need to be prepared. Learn how to perform CPR so that in case of an emergency, you can rescue your child. If your child is unresponsive, perform CPR for 2 minutes and then call the emergency room
Educate the child about water safety rules: If your child is older, you can teach her the following five easy to remember pool rules:

Do not push any other child into the pool
Do not pull any other child under the pool
Do not run and play near the swimming pool
Do not dive into the baby pool or the shallow end of main pool
Do not swim when there are no adults around

Be extra cautious in a public swimming pool: When you are in a bigger public pool, be extra cautious. Make sure there is a lifeguard around. Make sure there is enough rescue equipment nearby. Make sure the pool is not over-crowded and watch out for older kids trying to bully or push the smaller ones in the pool
What Are Some Other Water Safety Tips?
Use waterproof diapers when you take your baby to a pool or any water body. This is to avoid the baby from losing his balance in wading pool as diapers designed for use in water don't tend to get as heavy as the regular ones
Immediately empty buckets, pails or bathtubs after using them. Avoid keeping a container filled with water around your home if you have a small baby or toddler at home
Keep kids away from ponds and streams at any time of year if you are not around them
While you should let your baby have fun in the pool or at the beach, make sure to keep in mind these safety rules when it comes to water safety of your baby. Are there any precautions you take for water safety that we have missed? Do add them in the comments.