What Is A Sitz Bath?
A sitz bath, also called a hip bath is a warm water bath used for cleansing or healing purposes in the pelvic and genital region. This is a shallow bath that cleanses the area between the rectum and the vulva (or scrotum). Here you will sit in the bath (hence the name) so that only your hips and buttock region is soaked in water. Upper body, legs, and arms will remain outside the water.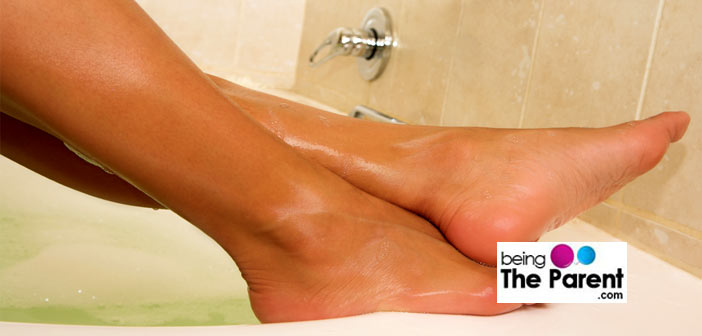 When Is A Sitz Bath Recommended?
The name 'sitz' is derived from the German word 'sitzen' which means 'to sit'. A sitz bath can be helpful in relieving pain from your private parts and does not need a doctor's prescription. You can take a sitz bath for any or all of the below reasons:
Personal hygiene: Sitz bath can use for everyday personal hygiene as it cleanses perineum, area between anus and vulva (the external opening of the vagina)
After a natural birth: Sitz bath is recommended if you have recently given birth through the vagina. In many vaginal birth cases, an incision is made between the vaginal opening and anus (episiotomy) during the delivery procedure. This cut will heal in a few weeks, but pain and irritation in the perineal area may persist creating discomfort. It may also cause infection if not properly taken care of. A sitz bath will provide relief from itching and pain and speed up the healing process. It will also reduce the swelling due to the episiotomy. Read more about episiotomy here
Vaginal infection: Vaginal yeast infection can be effectively treated with a warm saline sitz bath. For this add table salt enough to make the water salty and add some vinegar. Vinegar will help to bring the vaginal pH back to 4.5 and salt will help to decrease the itching and burning sensations. Now sit in the bath till the water gets cold
To ease the pain of hemorrhoids: Studies have shown that many pregnant women, especially those who constipated, develop hemorrhoids mostly during their third trimester. They are often itchy and painful. A sitz bath will help them to relieve the pain and irritation to a certain extent. You can add baking soda to warm water in raise the soothing effect
If you have undergone surgery in your perineal area: Taking a sitz bath in warm water will help to increase the blood flow to the perineal area. This will boost the healing process. You can also add povidone-iodine, which has antibacterial properties, to the warm water to treat the infections
What Precautions Should I Take While Taking A Sitz Bath After Delivery?
Sitz bath is a hydrotherapy which comes under home remedies with risk factor equaling to zero. That means it is not essential to consult a doctor before taking a sitz bath. At the same time there are some factors that you should take care of before taking a sitz bath after delivery as follows:
Don't add any type of soaps, whether it be a bubble bath or even shower gel, in the water
The temperature of the water should be lukewarm. Test the temperature before proceeding
After a natural delivery wait for 24 hours before going for a sitz bath
Before adding salt and herbs for a sitz bath after delivery, get the opinion of your doctor because salt may increase your pain and some herbs may not suit you. Only your doctor can guide you to correct dosage and safe herbs
Use a soft towel to pat dry your bottom part. Don't rub the perineum and bottom area with the towel because it will postpone your curing time
Thoroughly clean the tub or basin before and after taking sitz bath
What Are The Benefits Of Sitz Bath?
There are three types of sitz baths.
Hot sitz bath: Hot sitz bath is taken in warm water and is beneficial for:

Painful ovaries
Uterine cramps
Hemorrhoids

Cold sitz bath: The Cold sitz bath is taken in cold water. Sometimes people prefer a cold sitz bath. Those who prefers a cold sitz bath in ice water should note that such bath should not be longer than 60 seconds. The cold sitz bath is beneficial for:

Vaginal discharge
Constipation
Inflammation

Alternating cold and hot sitz bath: Alternating cold sitz bath and hot sitz bath are taking five minutes hot sitz bath followed by a one-minute cold sitz bath. You should always remember to finish the procedure with a cold sitz bath. Taking cold and hot sitz bath alternatively is seen beneficial for:

Vaginal infection
Pelvic inflammatory disease
Abdominal disorders
Pelvic congestion
How To Take A Sitz Bath In The Bath Tub?
For taking a sitz bath in the bath tub you should firstly ensure that the bath tub is thoroughly clean.
Fill the tub with about three to four inches of warm water
Sit in the tub. Make sure that your perineum is completely soaked in the water
Add any medicine/ herb or substance that the doctor might have prescribed
Sit for fifteen to twenty minutes. Stand up carefully and pat dry your bottom area
Rinse and clean the bath tub thoroughly
How To Take A Sitz Bath Using A Kit?
Using a basin that fits on your toilet seat will be easier for women during their postpartum period than taking a sitz bath in a tub. Sitz bath kits are available in most of the medical stores, pharmacies and even in supermarkets.
Place the basin in the toilet seat carefully so that will stay in place and won't shift
Follow the instruction that you get with the kit
Sit for fifteen to twenty minutes. When you are finished, stand up carefully and pat dry your bottom area with a soft towel
Wash the basin with a disinfectant based cleaning product
How Often Can I Take A Sitz Bath?
You can do sitz bath up to three times a day, preferably morning, afternoon and before going to bed. If you are having a sitz bath because your doctor recommended, he will decide the duration and times based on your physical requirement.
Depending entirely on a sitz bath for curing your condition is not recommended. Sitz bath is supposed to be a hydrotherapy aids in reducing your pain and irritation. You should also take proper medication as prescribed by your doctor for fast recovery.