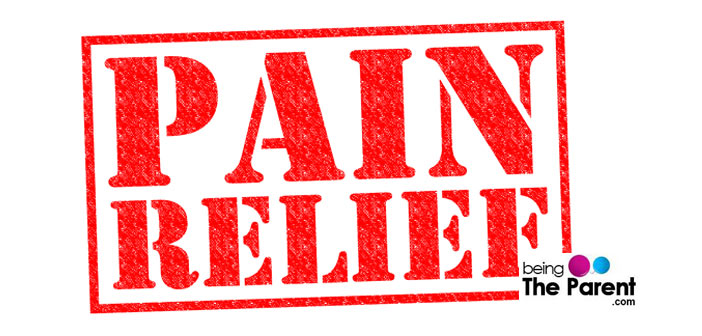 The word 'epidural' is derived from the ancient Greek. It is a technique whereby epidural analgesia or epidural anesthesia is given during surgical procedures.
What is an Epidural?
An epidural is used especially in childbirth to produce loss of sensation below the waist. An injection of anesthetic drug is given with the aid of a catheter in the epidural space. This causes a loss of sensation- by blocking the signal transmission through nerve fibers in the spinal cord.
The pain killer drugs are instilled in your spinal cord- this is called regional anesthesia. This provides an efficient pain relief and makes your tummy numb.
How is an Epidural given?
The epidural anesthesia is given by a qualified anesthetist who injects an injection in lower back followed by insertion of a hollow needle in the space between small bones of your spine.
A fine tube is passed through this needle and then the needle is removed and the tube is carefully taped on your back and on your shoulder. You should try to remain still when your anesthetist gives you the epidural.
You will be asked to sit leaning forward. This particular posture opens up the spaces between two spinal bones. Breathe deeply via your nose and breathe out slowly through mouth.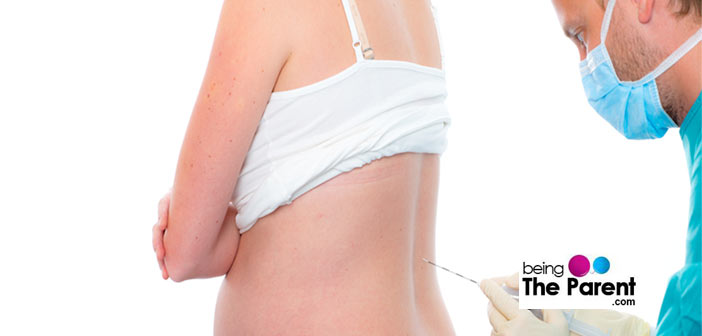 Epidural can be Given As
Injection with top-ups: Injectable painkillers are given to make your lower tummy numb and you do not feel any pain of contractions. When the effect of epidural starts to wear off, the injectable top-ups are given- lasting from one hour to two hour
Continuous infusion: A continuous supply of epidural infusion is given via epidural catheter with the help of a pump. This constant pain-relieving solution is good for women having intermittent pains
Combined spinal epidural (CSE): In this the injection contains small dose of pain-relieving drug (mini-spinal) and is effective in eliminating pain. Next the anesthetist introduces a catheter and gives epidural solution when the effect of relieving pain gradually passes off
How Does an Epidural Work?
The mode of action of epidural is based on its action on nerves carrying the pain signals from mother's uterus to the brain. Generally, the hospitals use low-dose epidurals containing a mixture of analgesics such as bupivacaine or levobupivacaine and fentanyl- an opioid. You could feel some sensation in your legs and feet if the dose of an epidural is low.
When Can I Have an Epidural?
You can take an epidural anytime during your labor. Most women request for a dose of an epidural once the contractions start getting strong, mostly when the cervix dilates to about 5 cms or 6 cm, which is 2 inches and 2.4 inches. The doctor may offer you an epidural if he feels that your labor needs to be speeded up.
How Can An Epidural Effect My Baby?
Experts believe that epidural drugs affect the oxygen availability to your baby. The oxygen supply to your baby is disturbed with the fall of your blood pressure. Before giving epidural, a tiny tube (intravenous canula) is inserted in your arm or hand. This is done for giving drugs or fluids if your blood pressure drops.
The opioid fentanyl present in epidural solution can cross the placenta. If fentanyl is given in high amount, the baby's breathing is severely hampered.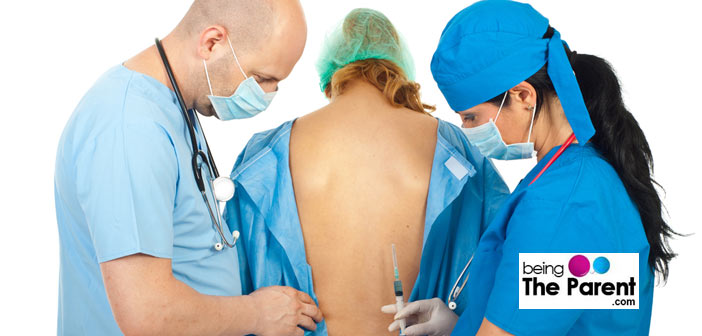 What are the Advantages of Having an Epidural?
The advantages or benefits of epidural anesthesia can be summarized as under:
Epidural is surely the most effective form of relieving pain during labor
Epidural top-ups can be given by trained midwife as long as epidural catheter is in position. So, no waiting for the anesthetist
The patient is wide aware of the contractions and still has no pain
If your blood pressure shoots up, epidural can bring it down safely
If unplanned cesarean section is to be done, the epidural can be topped up with efficient stronger anesthetic drugs
What are the Disadvantages of Having an Epidural?
Every good thing comes with a cost and epidural is no exception. There are a few disadvantages associated with epidural anesthesia. It is noted that epidural does not work properly for some women. In such situations, additional pain relief is needed. If you do not feel loss of sensation within half an hour of epidural administration, ask your anesthetist to give you a top-up
Epidural can make you shivery
Itching is also seen with CSE. This kind of itching is not serious
You might also experience fever after epidural
If the patient remains in one position for long duration, she might develop pressure sore on dependent areas. So, keep changing your positions
If epidural is not administered properly and carefully there is a risk of permanent nerve damage
Sometimes epidural can affect your ability to wee
Epidural should be administered with extreme caution in heart patients
Epidural affects the movement of baby in womb and the probability of the use of ventouse of forceps increases surprisingly
You might experience headaches with epidurals particularly if the needle punctures the fluid bag surrounding the spinal cord
Epidurals mitigate the labor pains and facilitate the birth of the baby but its administration is intricate and should be carefully done.