As your baby grows, it becomes easier for you as a parent. The days of sleepless nights would be behind you soon and you can look forward to helping your child make the first steps of his/her life. By the end of the third month, the routine should seep into your life. You would have grown accustomed to the late night diaper changes and having to carry around a basket everywhere you go. These would continue, for some time at least.
What most babies can do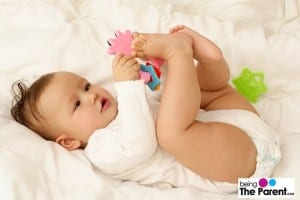 The initial three months can be tiresome for every parent. Of course, this is not to say that from the fourth month onwards you would be able to take long vacations. But it is no longer necessary to spend so much time around the baby. A major reason for this is the enhancement of the senses. The baby should develop better eyesight by this time and respond to stimulus accordingly. He should be able to express discomfort or hunger. The vocal cords would begin to develop and random sounds can be expected. By the fourth month, a child can grasp objects. He/she would clutch whatever is placed in his/her hands. Thus, the body can be expected to have grown strong. However, the spine would still need support when the baby is held in arms. This period of growth is marked by vigorous physical activity. A lot of energy goes into the movement of the arms and limbs. Movements become elaborate around this time and the baby would spend hours cycling or fumbling with a toy. A four month baby should be able to recognize his/her parents at the very least. There would be times when your baby would seek out for the mother or father. This phase in the life of your child would still require the use of diapers.
What some babies can do
Despite the fact that the baby would make sounds during the fourth month, the actual probability of him/her trying to attempt human communication is rare. The sounds would need some refinement before they can be passed off as words. In exceptional cases however, simple words may be uttered by the baby. Movements may be of diverse types. However, a lot depends on the environment in which the baby is brought up. Some babies may show remarkable growth and make Though milk would remain the staple diet of the child, a very small amount of adult food can go well with some babies. However, this step should be taken carefully and it is always better to wait for a couple of months more to include adult food or packaged. Few babies may like to be placed in a face down position. There is no harm in doing so and besides, the baby has grown enough to let out any discomfort.
What very few babies can do
Very few babies that are four months old would be able to topple over and stay in that position for several minutes. They would be able to move or slide around and may even show advanced level of speech.