The growth of a baby takes place vigorously in the first semester. The remarkable development cannot be merely comprehended in terms of appearance. Of all the food that is taken up by the baby, more than two thirds go into the developing brain. Thus, responses show a remarkable improvement. The body grows too, adding an average of one kilogram each month. Till the fifth month, the baby grows and develops but lies in a stationary position. From the sixth month onwards, things can be expected to change. The baby begins to experiment with postures and more comfortable positions. These events would lead up to the first standing position in couple of months' time.
What most babies can do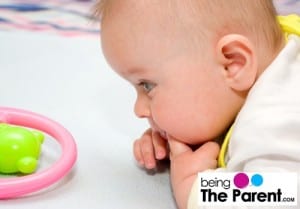 The sixth month of your baby's life can be expected to be happening. As a parent, your task should get visibly easy as your child develops basic response skills and mobility further increases. Unlike the first few weeks, he/she would not be asleep for most of the time. Infact, your baby would spend his day waking up and regular intervals but might sleep the night through. It can be expected for your child to develop a sense of curiosity by now. He would try and touch toys or other brightly coloured objects. A baby at this stage can be expected to develop a sense of likelihood. There would be certain things he would like more than others, like a certain toy or a person. People recognition skills are well formulated by this time. The body would continue to gather strength and make vigorous attempts at movement. Speech would constitute an important component of communication. Successfully uttering the words would take time but a  working system of communication can be established successfully by this time. If your child still has not developed vocal skills, it may be advisable to carry out some stimulating practices. At this stage, regular food can be introduced in careful proportions. A six month old is quite different from the newborn that came onto the planet. He/she should be more sensitive to the world around him as well as have more strength. By the end of the fifth month, a baby should show the ability to change postures. This may involve rolling over onto his/her stomach. The reverse, i.e. rerolling can be more difficult. The baby would love this new found way of looking at things. Many would even be able to sit unaided or with little aid. This signifies that the spine can support the weight of the body. Your baby would also be teething, and should be ready for solids.  If your baby is able to successfully assume a sitting position, then the first phase of raising your baby is behind you. Slowly, the legs would gather strength and locomotion would follow.
What some babies can do
It is not uncommon for a six month child to walk on all fours. In certain cases, a baby may successfully manage to come to a sitting position with little aid. Many would be able to replicate human words with remarkable accuracy.
What very few babies can do
Very few babies would try and make the first fumbling attempts at walking on his/her feet. These few would also greatly benefit from the use of a walker or similar devices.