Close to being two years, you will be happy to note that you are not changing as many diapers as you earlier did. Your toddler is probably ready for potty training and this could mean freedom from diapers. Though you cannot rule out accidents as yet, still it is a great cue to start perfecting potty training regime. Choosing the best potty seat for your toddler is the first thing you should consider, after you are sure your little bub is ready. Find out 10 Tips To Buy The Right Potty Seat For Toddlers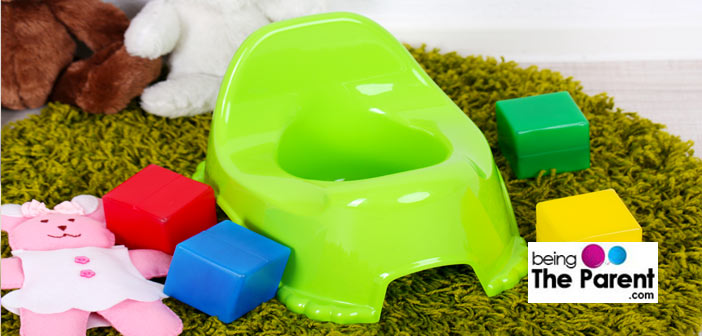 ---
What types of potty seats are available for toddlers?
10 tips to buy the best potty seat for toddlers
Fixtures for potty seats for regular toilets
---
What Types Of Potty Seats Are Available For Toddlers?
Dis you see the signs of readiness of potty training in your child? For your little one, you can opt for either a standalone potty or a seat reducer. Now a standalone potty seat can be used if you do not want your toddler to take over the toilet for a long time, and you want to give him the potty time anywhere in the house. Seat reducers, however, fit on a traditional commode and reduce the ring to a comfortable size for the toddler. These are less expensive, and saves time to transition from a standalone potty to the regular adult toilet. Plus, the stools can be simply flushed out. Seat reducer potty seats can be great for families that have more than one bathroom, or the kids love to imitate the older kids. However, the type of potty depends on your child's readiness, and so it is best to take your child for shopping for it. Size matters a lot when you are buying a potty seat, so if you are not taking your toddler out, make sure you have the sizes.
When your little one becomes a little more independent in terms of potty, it will save you loads of hassle such as changing diapers and cleaning the little potty (if he is using it). Moreover, your child gets to practice on the real toilet and saves you from purchasing extra stuff such as potty chair. Most potty seats are portable, so when using public restrooms or visiting relatives, it will save you a lot of toilet drama!

10 Tips To Buy The Best Potty Seat For Toddlers
Potty training itself is a tricky procedure. Several potty training products are available in the market.  To ease out the complication, we have outlined a few tips on buying the right potty seat. The potty seat for toddler should easily fit on the top of the regular seat. Find out 10 Tips To Buy The Right Potty Seat For Toddlers
1. Potty Seat Of Toddler Should Be Easy to clean:
The potty seats should be easy to clean. Remember, this transition to big toilet is also saving the hassle of dumping poop and cleaning toilet. Look for material that is smooth, with no crevices
2. Potty Seat Of Toddler Should Be Comfortable:
There are two types of seats – plastic and cushioned. If your child seems way too uncomfortable on the plastic one, you can opt for the cushioned seats. The downside of cushioned seats is that they could require a bit more effort in cleaning. You may need to remove the cushion from the seat base clean it and then put it back
3. Secure:
The seat should be snugly fit. If the seat slips or wobbles under the weight of your child, it will make a huge impact and possibly rendering him reluctant to use it again
4. Optimum support:
Look for potty seats that come with handles. They are perfect to provide that support when they sit on a big toilet. Apart from this, they also assist in lending the required push for expelling stools. When you have this support, it increases the confidence of the child in using the loo
5. Potty Seat Of Toddler Should Be Perfect size:
It is important to watch the size of potty seat and regular seat. If the potty seat is too small, his bottom will scrape on the regular seat and he will feel uncomfortable. Similarly, if the seat is too big, it might not lend him proper support and dwindle under his weight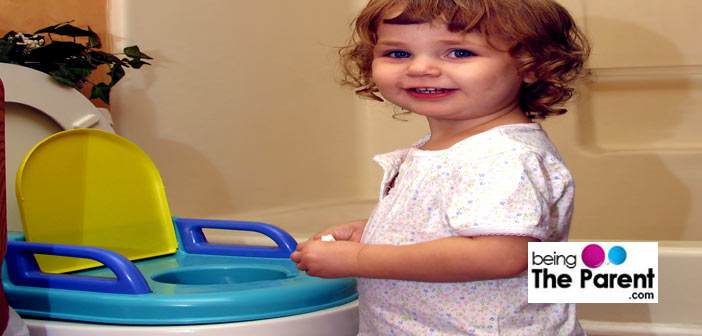 6. Back support:
You can consider buying seats with additional back support so that your child can sit on the potty comfortably
7. Nonslippery:
The material of the seat should not be slippery. Slippery bottom calls for trouble. Remember, inconvenience will back him away from using the potty
8. Easily removable:
The potty seat should be easily detachable without any complex locking mechanisms. In case an adult needs to use the toilet, it should be easily detachable and lockable
9. Catches interest of your child:
Having something which attracts your child will surely entice him to try it. If you wish, you can select the varieties featuring lights, stickers or colors. Taking your child shopping for his choice of potty seat can save you a lot of hassle
10. With added splash guard:
You may want to invest in these when potty training young boys. The guard in the front will prevent a messy floor as the pee will drop back into the toilet. For girls, this may lend an additional support for pushing the poop out as they tend to lean the pelvis forward

Fixtures For Potty Seats For Regular Toilets
Depending on your comfort, you may select any of the following fixtures for potty seat:
Suction cups: The potty seat has suction cups underneath which attach to the regular seat by means of vacuum
Winged: There are wings under the seat which securely fit on top of the regular seat
Hinge: The little toilet seat will become a part of your toilet along with the regular seat. No hassle of detaching and locking the seat again and again
You may a need a small step stool for your tot to climb and reach the toilet. You can even buy potty seats that come with attached step climber or foot rests. The only disadvantage is that they may require more effort in detaching every time an elder needs to use the toilet.
Perhaps the best thing about using potty seats over potty chair is that it will save you another transition from potty chair to the regular toilet. You don't have to carry a potty chair with you around and potty seats do not take much space for storage either. Remember to provide him all the entertainment and support during his time in toilet. Even if he is using the big thing, your presence around will simply get things done smoothly and quickly! Cheers!