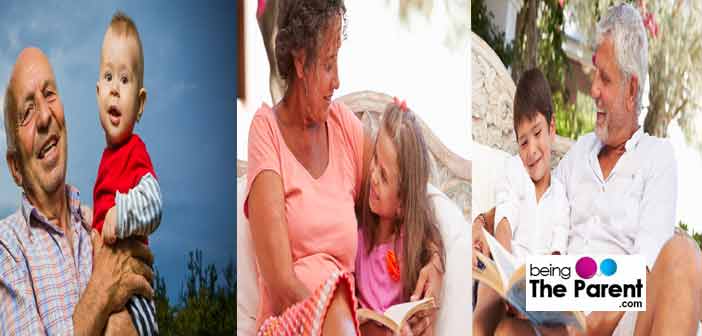 Are you often huffed with your in-laws for obliging with the unreasonable demands of your child? Even after requesting for the umpteenth time, your in-laws brought the new toy which you refused to buy for your child? This is the most common issue in a joint family where there are other people to look after your infant and his needs. Grandparents are often considered as second parents to their grandchildren. They give unconditional love, attention, wisdom and time to your child. Kids love their grandparents as they dote on them, seldom get to hear "no" from them and are off-limits with them. Such over-indulgence may make your children whiny complainers, who are more likely to grow into financially dependent, irresponsible adults.
"So how do you prevent your child from becoming an unruly, over-pampered brat and being considerate of your in-laws feelings?
Here are 10 tips to help you
Make family a team:Talk clearly about the rules and discipline set for your child to your in-laws and other elders. Share your concerns and seek their advice. Explain the importance of being consistent with the set limits which otherwise confuses kids. Give examples of how their permissiveness is paving way for increased unreasonable expectations. Insist on spending quality time rather than showering them with gifts to show love
Organize your child:If you are a working parent, it is likely that your child will spend great deal of time with his grandparents. They cannot always play, or take your child for outings. They spend more time at home, relaxing and watching TV. If you are worried about your child watching excess TV and its content, indulge your child in different activities. Organize play dates, send him to hobby classes or tutions when you are not available
Join hands against junk and sweets:If your infant's grandma secretly passes him the sweets you so restrict, it's might be a good idea to have them accompany you to the pediatrician. The grandparents will be more receptive to the doctor's words than yours. Avoid sending your child on shopping trips with grandparents, kids get overwhelmed

Use goodies as incentives and rewards:Stash the toys and sweets received by your children and use them as incentives and rewards. Award them when they behave properly or oblige you. You can even make them earn it. In this way, grandparents still get all the credit for buying those special things and children are more likely to toil than get spoiled
Introduce non-material joys: Allow your child to realise that toys, sweets and clothes are not the only joyous things in this world. Take him out for a nice children's movie, treat with an ice-cream or read two stories once in a while
Set up a piggy bank: Establish a piggy bank and direct your child to store all the money received by him in it. You can even request his grandparents to put money in the piggy bank to buy something big later rather than spending scrumptiously on sweets and toys. You can allow your child to go shopping with his grandparents with that money

Consistency is the key: If the rules change from day to day, it's hard for a child to understand what is expected of him. Be consistent with what you expect from your tot and how you plan to get it. Talk this our with the grandparents, but do not sound forceful. Always remember that a grandparent's love is way deeper than sweets and toys
Put your foot down: Your infant can realise that his friend's house is bigger or he's got a new remote-controlled car. Do not buy the item immediately due to peer pressure. Save it for when you want to reward for good behaviour. Tell the grandparents the same thing. Talk logic, and remember not to hurt them. Alternatively, make him earn goodies
Barter: It's important for your child to realise that you are the parent and the one in-charge. When he succeeds in luring his grandparents to buy a new toy, you can barter the new toy for the old one. Teach him to appreciate what he has. Inculcate the feeling of charity. For instance, allow him to play with the new toy if he donates his old toys

Don't justify your decisions: Your child will pull you in long discussions as to why can't he have the new toy. This is pure tactic to manipulate you. He will not understand your reasoning. Be firm, don't cave in. Refrain from displaying emotions and sternly refuse repeatedly. Eventually, your child will realize that his attempts are futile, and he will move on. At this point, the grandparents should also support you in the interests of the child. It is crucial to act immediately and consistently. If you detest your child devouring sweets before dinner, simply say "No, Mommy doesn't want you to have candy before dinner. Give it back to Grandpa until you finish dinner"
Grandparents are supposed to spoil kids since parents are reasonably stricter. Also, they bring with them a wealth of wisdom and pure love. Children who grow up with grandparents tend to be more sensitive and cultured. Spoiling kids by sweets, chocolates and love is a part of a life, and also lends the balance in life. Ask them to spoil them with love, time, affection and attention—not toys, treats and money.