A smiling baby is one of the cutest things in the world, especially for a mother. Now add some tinkle to this smile and you get the sweetest sound of a baby laughing in glee. So if you hate the frown on your baby's face learn some super cool ways to make them laugh. Yes, babies look cuter when they are smiling. And what better if your little one breaks into a cute and riotous laughter. Are you wondering how you can increase the frequency of those smiles and laughs? Believe me when i say it isn't tough!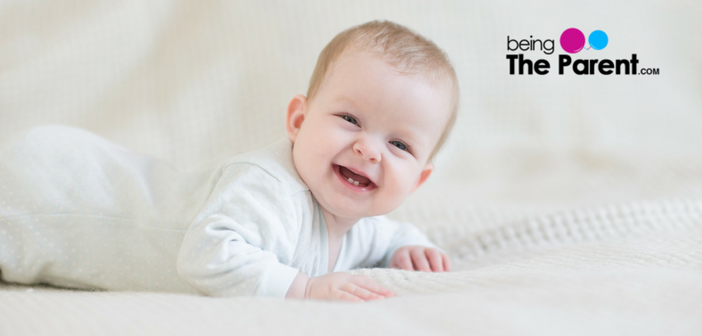 Here are some simple tricks to roll in more giggles and see that magical laugh.
Try some strange sounds: Try making some unusual sounds to make your child giggle. Change your voice – may be sound childish and talk to your munchkin. It's a sure shot way of bringing a smile instantly. Or try copying their cute voice, slurps, burps or anything, or bark like a cute puppy, meow like a cat and see. It makes the child loosen up immediately.
Blow some belly raspberries: Wondering what this is? Blowing noisy raspberries or kisses into your infant's belly is never going to fail. When you do this, it's like you switch the ON Button for a riotous giggle.
How about a crazy dance: Have you tried breaking into a crazy and funny dance in front of your little one? Impromptu dancing always gets the kids laughing. And imagine if you add some funny steps to it! Kids find it very funny and will roll laughing. Even better, if your husband can join too. The kiddo will be much happier if both mummy and daddy are doing a funny dance. Still better is to hold your baby and you all dance. A non-stop giggling fun is guaranteed.
Peek-a-boo: This isn't something very out-of-the-box; but it's a classic one, which never fails. Your child could be an infant or a toddler, playing peekaboo never fails in making the child laugh.
Tickling: This again isn't a new one. Tickling your baby's neck, feet, armpits, tummy will surely give you uncontrollable laughter as a result! But remember, all kids are ticklish to a different degree. If you feel that your child is extremely ticklish in a particular place, like feet, then you can tickle her there.
Catch me if you can: Have you tried the chasing games with your baby? If your kiddo has started crawling, try chasing her around? It's even better if you imitate her and you crawl too. They find it very funny when you pretend to catch them.
Horse riding: Another activity which little ones enjoy a lot and find funny is pretend horse riding. It's simple. Just make your baby sit on your knees. Now bounce her up and down and make her feel she's doing horse riding. You could add up some sound effect to it, which makes it even funnier.
LOL – laugh out loud yourself: Have you tried an 'evil' laugh? Wondering what it is? Just throw your head backwards and laugh out crazily and loudly while saying, 'Bwa-ha-ha-ha!' Your little one will giggle even louder for sure.
Funny faces: Try making funny faces – tongue sticking out, act like a bunny with your hands as big ears, or narrow your eyes and make a funny face. Your baby would surely find you as the funniest thing she has seen till now and would laugh instantly, or may be tries to imitate you too.
Animal tricks: If you have a pet, may be throw a ball and ask it to fetch; kids find it very funny. Or your baby might have a little elephant or teddy bear and playing with it can also bring a quick smile.
I am going to eat you up! Pretend nibbling or biting your baby. Tell her – I am going to eat you up and give her little pecks on her cheek or neck or tummy. See how she laughs then.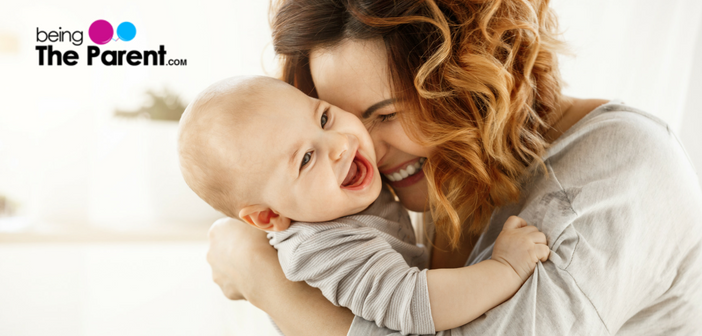 Play with them in a bubble bath: Fill the tub with a bubble bath and play with the bubbles. Yes, you have to be a kid too. Blow some bubbles in the air, put some on your face and have some fun. Your child is going to enjoy and laugh a lot too.
Pretend to sneeze: Can you imagine that sneezing can be funny for some kids too? Yes, they think it's some kind of comedy and roll into laughter.
Entertain your little one and feel entertained yourself. You deserve all the laugh and fun too. So try these tricks and cherish those lovely and memorable smiles and laughs.
Happy Parenting!