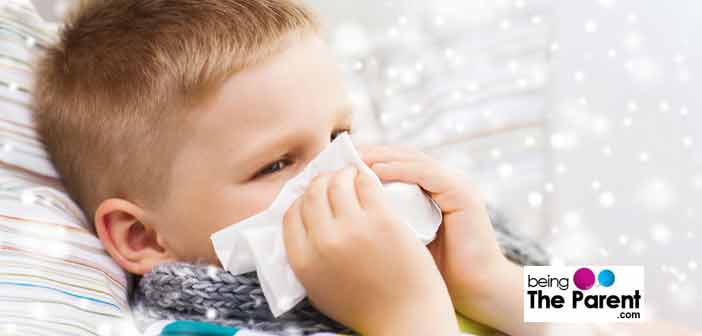 Winters spell the season of colds for many kids. Sniffles, sneezes, flu's bother the kids and make them sulk, cry and uncomfortable. Any cold that stays beyond 4 days needs medical intervention, but staying in India, we can also try some herbal remedies to make winters more than a season of mucus and sore throats.
13 Home Remedies To Help You Fight Colds
Most of you will say that home remedies tend to be slow and do not really work. Well, yes, they can be slow, but are sure beneficial. Besides, they seem a better option than seeing little ones' popping pills. If need be, you can use these remedies along with the regular medication and help your kids recover faster and quicker.
Rest: First and foremost, ensure your little ball of energy takes ample rest. Yes, it sounds unlikely, kids are known to be moving even when they fall sick! But you understand that the body needs rest to recover, so set a comfortable place and make your child lie or sit, wrapped up snugly. Now is the good time to let him watch TV or draw, maybe read a book or two. Caution, do not use too many covers – they might do more harm than good
Steams and warm baths: Steam lets the mucus loosen up in the nasal passages. Moisture in a steamy bathroom with a warm shower can also be good if you do not have a humidifier
Use a humidifier: Use a humidifier to moisten the room air as dry air can make breathing uncomfortable with a congested nose. Use ot for 30 minutes before bed time. Add eucalyptus oil if you like. Make sure that you clean the humidifier regularly, as it creates molds which is sprayed into air if left unclean. Follow the manufacturer's instructions

Keep the fluids going: Making your kid stay hydrated extremely essential when your child is fighting with any infection. Keep the juices, herbal teas, and the soups coming
Gargle with turmeric and salt: Turmeric or haldi is a Indian house's kitchen essential, and combine it with warm water and a pinch of salt, and there! You have a wonder medicine ready. Make your kids gargle , or drink this mixture (if they cannot gargle)
Turmeric and honey: Again, turmeric or haldi can be mixed with honey and given in small teaspoons to the kids. Honey will elevate the taste factor while turmeric will help fight the infection
Bump up the pillow: Make your child sleep with an extra pillow under the head. An elevated headrest will help congesting the blocked nasal passages
Love the Garlic: Garlic is the pungent cousin of onion, and has compounds that can fight bacteria. Some kids might have a natural liking for the smell and taste of garlic, for others, you need to put a spoonful of the paste through the foods they like best
Tulsi, ginger and honey: Indian families generally have Tulsi, the medicinal wonder plants, right in their homes. Known as basil, Tulsi has properties that fight infections. Make a paste with ginger, Tulsi leaves and top with honey, for the taste factor. Use ginger in moderation, it could send spice waves in your child
Ginger-lemon tea: If tulsi is not available, make a warm cup of tea with ginger and lemon that will create a natural expectorant

Ajwain(carom seeds): You can make your child have ajwain in his milk or warm water. But for those who cannot make their kids take to the taste of ajwain, you can simply heat some of it in a towel over a hot pan, and place the warm napkin on the kids' chest. These tiny seeds are more powerful than your antibiotics
Tell your child to blow away the nose: Sniffing the mucus back into the system will only make the cold go worse. If your child can blow his nose by himself, good. Else you need to lightly press a finger on one nostril and gently blow the other
The old favourite, Vapor rub: Rub the jelly on the feet and heat them up, quickly putting on socks. You can also rub it on the chest and back of your kid
Caution:
Honey is not prescribed to infants under one year of age, do speak to your pediatrician if your child is under two.
Do not force your child to gargle or swallow hot fluids, it can have other consequences.
For infants under six months, stick to breast or formula milk even when you feel the child is not hydrated. All the fluid requirement is fulfilled by milk for infants.