You understand the true sense of the saying "time flies" while watching your child grow up. You remember like yesterday when a cotton candy-like bundle was placed in your arms and you were told the three magical words: "It's a girl!" And today you are planning her 10th birthday party.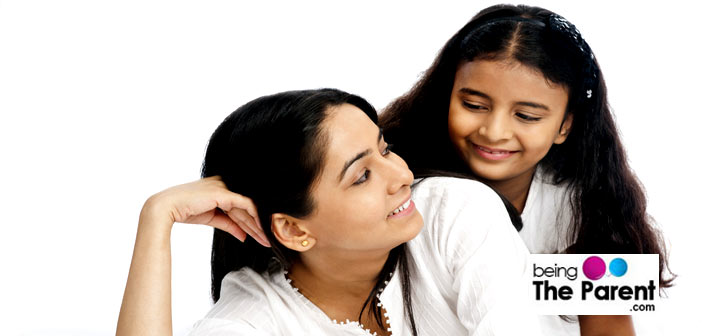 How did time move so fast? When did she grow up? Have you done everything right so far? How do you prepare her for the adolescence? How do you prepare her for adulthood? How do you ensure you do not miss telling her anything?
With just two more years to go before she hits her teens, this is the right time to have some serious mom-daughter talk. She is old enough to understand what you are saying and young enough to mold herself to your advises and inputs.
Find below 15 things we at www.beingtheparent.com think you should tell your daughter before she becomes a teenager. Since this comes directly from the heart of a mother, we have not changed her perspective at all and have presented as a first person account:
15 Things I Want My Daughter To Know Before She Hits Teenage
You are beautiful: You will soon start worrying about your skin, your look, your hair and your appearance. I know you think your nose is too big. You will think so for rest of your life. But do not be obsessed with that. Do not fall into the trap of what others consider as "beautiful". You are uniquely beautiful, big nose or not. All you have to focus on is to be well-groomed all the time. Keep yourself clean and wear neat clothes. Beauty lies in the eyes of the beholder – you will always remain beautiful for people who matter, especially me
You are you, do not try to be someone else. Ever: You can let others inspire you. You can aspire to emulate good sides of other happy and successful people around you. But do not try to be completely like them. You are unique – you are not even like daddy or me completely. If you chase someone else's life, you will lose your personality, which is what makes you, you. Do not be afraid to be different or stand out

Do not be afraid to say NO: You are slowly becoming a young woman. You are not a baby anymore. It is time you take yourself seriously and have opinions. You do not have to agree with daddy or me on everything. You are allowed to disagree. You are allowed to present your point of view. We will agree, if you are reasonable. Similarly, as you grow up, if you are not comfortable about something, you have to say NO firmly, whoever the other person is
Being "girlish" is not a weakness: As you grow up, people might take jabs at you saying "don't be such a girl". Being girlish is not an uncool thing or a weakness. Being girlish will make you lady-like soon. And being lady-like will make you gracious, kind and respectable. It is a great set of qualities to have. You are a girl for a reason; don't try to be like a boy just because that is considered cool by some narrow minded people
Being sporty does not make you "boyish" and not "lady-like": I know I said being lady-like is good. But that should not stop you from being sporty and physically active. You can still run, jump, play soccer and kabbadi, swing on monkey bars and still be lady-like. These are not two mutually exclusive sets. You can be both. And you can own them both in style
Be healthy and fit. Being "thin" is not the right goal: You might not realize this yet. But soon you will be swept by a health wave. Some of your friends and many of the celebrities will talk about chasing "size zero". This means that they want to get into that XXS tee-shirt which we see in shops. Do not fall for it. Being healthy and being thin are two different things and sooner you understand that the better. You can be healthy and fit by eating nutritious home cooked food and getting plenty of exercise. This will also ensure that you have a great body. You can be thin by starving. But this will make you weak, lethargic and give you quite a lot of medical problems as time go by. Choose the right path

It is ok to cry when you feel like. It is ok not to cry if you do not want: Crying is neither a weakness to be embarrassed about, nor a strength to be leveraged to get your way. If you want to cry, do not be scared to be judged. Cry. If you do not feel like crying when others expect you to cry, do not cry. It is your emotion. You are free to express it the way you want
Read: If there is one thing that can make a lot of difference in your life, it is reading. Look beyond your school textbooks. Read fiction, non-fiction and even newspapers. Especially newspapers. Read extensively about various topics to make you knowledgeable. Read intensively about topics that interest you to make yourself an expert. Being well read can truly be a differentiator in your life ahead
Find a creative side. Follow it. For Life: Academics is important. It is important that you study hard and score good marks so that you can go to the college of your choice. But always, always have a creative side as well. I know you do a lot of creative things now – like painting, singing, dancing. Trust me when I say this. As you grow up, you will have lesser and lesser time to pursue these interests. But do not give up. Even if it is one thing, spend some time on it regularly for life. It will be a great stress reliever for you as an adult
You are not responsible for other people's happiness: I have seen how you selflessly give up what you want to make your brother or me or daddy happy. This is because you are a truly beautiful soul. Do not stop being selfless. But do not go out of your way to make someone else happy. You are primarily responsible for keeping yourself content. Similarly, others are responsible for their happiness. You are not. Do not sacrifice your ambitions for someone else, especially if your sacrifice is going unnoticed or unappreciated
You cannot pin all your hopes and life on one person: You are probably a little too young to understand this now. But soon you might meet someone who is very special for you. You might think that this person is your 'be all end all'. You might even start planning your life ahead centered on this person. Do not do this. Plan your life around yourself, because you are the only constant here. If you pin too many expectations on another person, it might lead you to be heart broken and disappointed if the person does not live up to your expectations

Learn self-defense: The world is not a safe place. There are many out there who might harm you if you are not careful. I will enroll you for a self-defense martial arts class. I want you to go for it even if it does not interest you. It will give you a lot of confidence to go to places alone as years go by. And if you are confident, people might think twice before harming you
Find a balance between confidence and humility: Confidence is about knowing you can do something. Humility is about being humble and not taking credit alone for all your achievements. You should absolutely be confident. But you should always remember that we live in a society. Your achievements are the result of multiple people's hard work. Always be willing to accept that and give credit where and when it is due
You will grow up sooner than you think. Embrace it: As a girl, you are already noticing small physical changes in your body. Soon you will get your periods, and this will bring few changes to your daily routine. However, it will not put you in a disadvantage. It will only strengthen you as a lady. So do not be embarrassed or sad about it. Embrace it. It is this physical change that helped me give birth to you. So it a good thing. Inconvenient at times. But good all the same
Do not let someone else tell you what you cannot do: As you become a young woman, you will encounter many who tell you that you cannot do certain things or cannot opt for certain jobs. That's rubbish. You can be anything you want to be. You can do anything you want to do. But you need to work hard relentlessly to achieve your dream. Do not be scared to follow your passion or second-guess yourself, based on other people's opinion
We would love to hear from all moms out there! Please do let us know in comments if there is anything we missed.