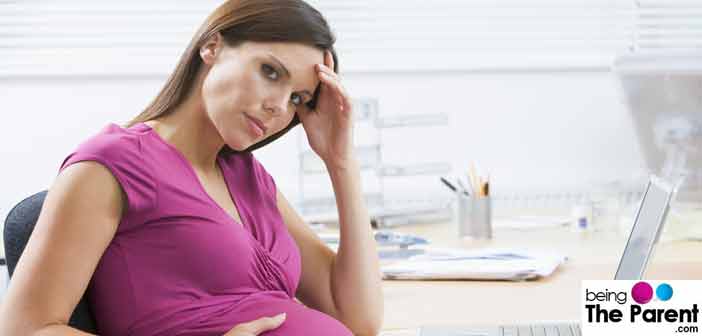 When pregnant, even normal routine tasks go for a toss, and if we talk about work stress, it can sky-rocket. Jobs these days are already stressful and demanding when you are not pregnant, and the stress levels multiply owing to so many changes happening inside when you are pregnant. No job is ever stress free (generically) but you need to demarcate that clear line between how much you can take now that you are pregnant.
Stress at work
Every work field has its own ups and downs and jobs these days are hectic and demanding. Even if you are coloring rainbows at your work, there will be a boss breathing fire on your neck. The stress caused due to work is very common for everyone, but it should not be neglected when you are expecting. A stressed mind tires the body and alters our nature. We become aggressive, frustrated and depressed emotionally due to over stress. The human body reacts to stress with headaches, elevated blood pressure, and problems with sleeping. Add to these the hormonal and physical changes happening to your body when you are pregnant. Expecting mothers should be very much cautious about stress and its effect on their body. Stress can cause diverse effect on you and your baby. Stress causes the body to produce hormones that can cause miscarriages and other complications like preterm baby and low birth weight.
5 Effective Tips to manage stress at work
Don't be a hero: Reason out what and how much work you can do, and what responsibilities you can take. Give your rigid schedule minor adjustments to adjust to your pregnancy stage. Be upfront, and remember that you will be able to contribute as much as you did earlier, only in a different way
Take frequent breaks: While pregnancy a women body works hard to support the life in it, hence pregnant women feel easily tired. Working while pregnancy leaves very less scope to sit back and relax, which can cause fatigue. In such situation do not neglect the demands of your body, take time-to-time breaks when you want them. By taking short breaks, you will not over stress yourself and get back to work rejuvenated.
Set your limits: When you are pregnant, you cannot hop around your office with files and reports to your bosses' table every time he/she asks you. Cut back on few activities; take help from others with your work. Normally people at your work will love to help you with little things like this. Even bosses become merciful at such time. Remember that nothing is more urgent than your health and safety things can wait at your office. If you are assigned with some task, make sure to accept it only when you are sure that you will submit the work on time and let others come forward to do few things
Maintain a schedule every day: If you follow a timetable, stress will not bother you much. By assigning time to every task at home and work you will easily manage time and have a calmer state of mind. Take enough rest at night and start your day in happy mood. When you will get enough rest, you will automatically feel less stressed throughout the day
Combat those hunger pangs: While at work, make sure that you stay hydrated and your stomach is full. If you feel nauseated, take trip to ladies room. Carry ginger ale with you for when your stomach feel upset and have healthy snacks during pregnancy. Do no neglect your health as you will feel less stressed when your body is healthy
Do not over think and over analyize
Human body is adapted to stress, some stress during pregnancy is normal. Having a child is after all not that easy. There are many things, which you have to look after. Such stress will not harm your baby in any way. When you find yourself in such situations, do not over think about your worries and over stress yourself. The stress that you are facing is because of the crazy hormones in you. Pregnancy can make you a bit more worrisome, and tensed, many women face this problem during pregnancy. To avoid such stress, talk it out with a colleague or a friend of yours who is close to you. Some of your colleagues and friends would have gone through such situation. They are able to give you good guidance to manage the stress you may be facing.
Stress during pregnancy is common and you can carry on with it normally. However, compulsive stress is not that common but it may occur in a few pregnant women. Consult a doctor in such situations.