"There is one man I love more than any other, that is my son." A son is one of the sweetest gifts of god. He is that guardian angel you would ever ask for. And his birthday is one of the biggest days which overwhelms your heart. It is hard to pen down these feelings for him in the form of birthday wishes for your son. Nevertheless, it is important to let him know what value he holds in your life and the respect and love you have for him. What better day to make this happen than the birthday of your dear son. While there are many different ways to convey this, the one thing common is LOVE.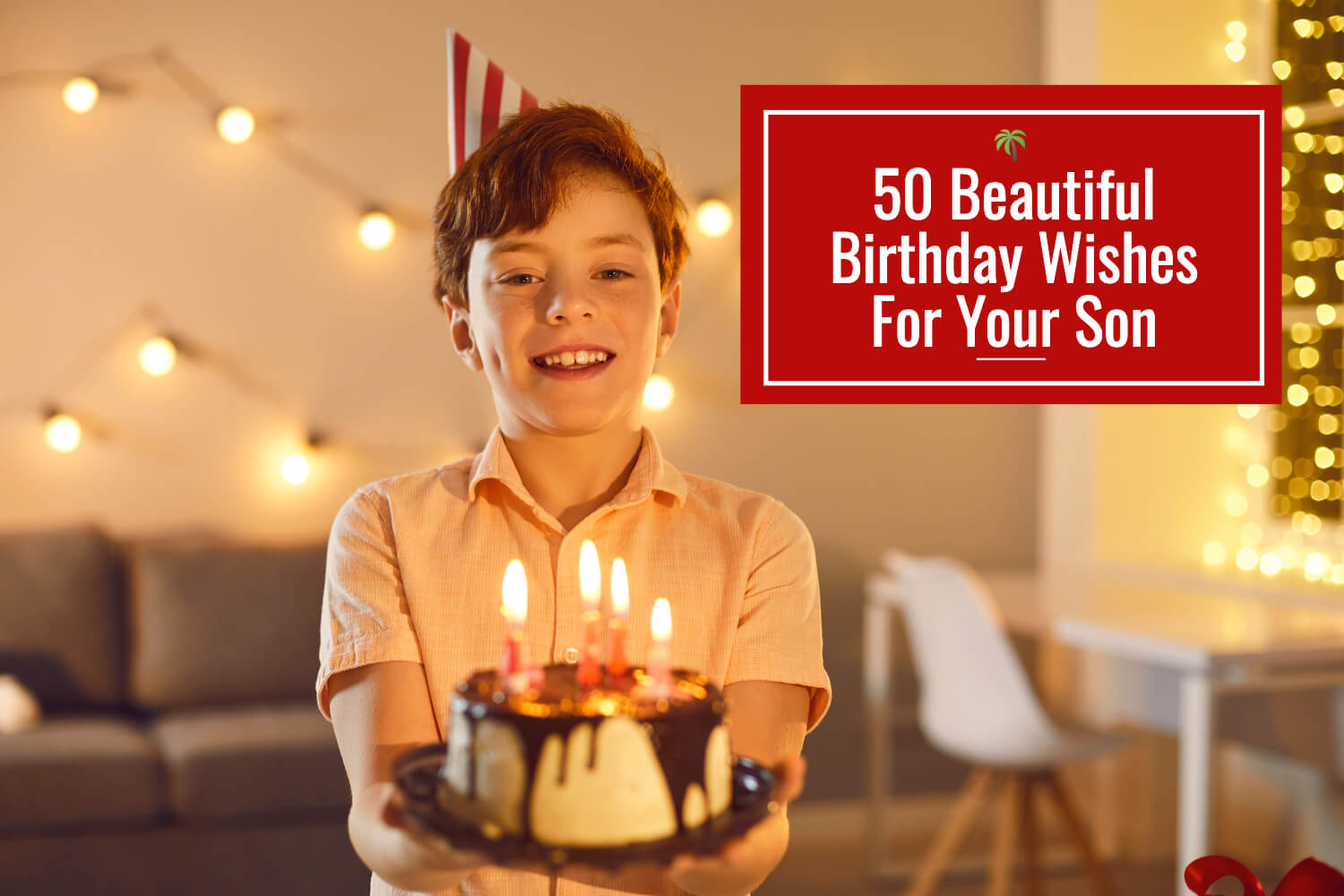 Happy Birthday Wishes for Your Son:
Below is a list of birthday wishes for your son: some heart-warming, funny, valuable, and grateful messages that can brighten up his day and make it more special.
When you were born, I couldn't even imagine how much you would come to mean to me. You are my everything. May your special day be filled with magnificence. Happy Birthday!

You have been my sunshine ever since you have entered my life. Happy birthday, son. Shine brighter and have a glorious life ahead.

When times are tough and low, all it takes are my thoughts of you to lift me up. Your smiles and giggles nourish my soul. Happy birthday my precious.

Your birth marks the birth of me being a parent and it is the most delightful role I have ever played. Happy birthday my sunny son.

When you were conceived, I couldn't imagine how on earth I would manage to be a parent. Now I can't imagine not being one. It's all because I have a son as remarkable as you.

To hold you in my arms and to see your striking smile is the best thing that has ever happened to me! You are truly one in a million – happy birthday!

Happy birthday to the best boy ever. You are loved by all those around you and are definitely going to have a fabulous life ahead.

May you be ever-loving, giving, and kind. Happy birthday my adorable son.

You are a shining example of all that is bright and good in my world. I'm not sure what I did in life to deserve a son as sweet as you, but I'm grateful for whatever it is. Happy birthday my miracle.

Thank you for stealing my heart the day you were born. May your special day be filled with light, laughter, and unending happiness. Happy birthday, son!

Know that no matter what happens in life I will always be there to support, help and cheer you on. There is nothing you could undertake that I wouldn't be proud of.

For your birthday, instead of giving you a present, it seems you have gifted us with one, the gift of being a perfect son. Happy birthday.

Watching you grow is like witnessing the wonderful marvels of nature. You are truly a spectacular creation of nature. Happy birthday!

Happy birthday to the coolest kid in the world. May your day be filled with fun, gifts, and cake.

May you sail through this journey of life on the path of righteousness and kindness. Happy birthday, son.

And now you walk around proudly around the world as a lovely bright young man. I would like to wish you a bright future. Happy birthday young chap.

You're growing up, bud and I am so pleased to see the gentleman you are becoming. You obviously take after your old man! Happy birthday young lad.

I see so much of myself in you from when I was your age, which truly is a joy to admire! It's nice to know that you're a man after my own heart! Happy Birthday young man.

You constantly fill me with pride and I will always be honored to be your parent. Happy birthday my little cub.

I know you can't wait to be the king of your own castle, but I hope you know that you will always be a little prince for me. Wishing your birthday be filled with boundless success and joy.

For when you need a shoulder to lean on know that you can always turn to me. Happy birthday my little man.

Happy birthday to a person that's polite, gifted, and clever, and reminds me of a smaller version of myself.

May you be blessed with all the courage and wisdom to achieve all the great things in life. Happy birthday dear son.

I know we didn't always get along when you were growing up, but when I look back over all the years and birthdays, I realize how lucky I am to have you as a son. Happiest birthday to you dearest.

You are my rare gift in life. You make it so easy to love you. Happy birthday to my mischievous, darling, and adorable son. May you be healthy and blessed always.

It is never a dull day with you, you keep me on our toes. Happy birthday my little bundle of energy.

I might have received unconditional love but never knew it would be so fulfilling to give my own son unconditional love and the warmest corner of my heart for you. Happy birthday, boy.

Nothing has been the same since you came into my life, and I want you to know I wouldn't have changed it in any other way. I am so thankful that you have changed my life for the better. Happy Birthday!

You may have given me endless sleepless nights. But the satisfied smile you give me can help me through any number of sleepless nights. I love you, happy birthday.

Your little fingers have grown into hands that now hold mine. No matter how old you get, my love for you expands with time. Happy Birthday!

To the son as precious and wonderful as you, happy birthday.

My heart has been so full of love and joy ever since you were born that sometimes I think it will swell. It is very hard to contain all the feelings I have for you baby, and on your birthday I hope you feel even a tiny bit of how much I love you.

My dearest child, may all your wishes come true and be blessed with bountiful happiness, good health, and wisdom.

Happy birthday son, from your loving and the most caring parents on this planet!

Son, you are such wonder and respect that the government should be declaring your birthday as a national holiday. And I would be the first one to take off! Happy Birthday our lovely brat.

I wish my son his birthday to be blessed with lots of love, happiness, and success. Of course not to forget, even lots of cake smashes and birthday bums.

Thank you, my dear son, for allowing us to be the best parents in the world. Have a very happy birthday.

We always knew that you were a miracle, so when you got us as parents, you became one in a million. Have a miraculous birthday.

Happy birthday to the world's best son. A little boy now turning a great man. I've seen you grow and I pray you'll grow to be the best in life. Enjoy your year.

You are my source of the brightest smiles. Happy birthday, boy.

Happy birthday! Time passes away swiftly; you are only young once so enjoy it to the fullest.

No matter what life throws at you, I will always have your back. Happy birthday!

Today marks one more milestone in the beautiful journey of your life. May you continue to be showered with blessings and follow your dreams and ambitions to heights! Happy Birthday.

Dear baby, your life will be full of losses and findings, but I hope you never lose the smile on your face or the kindness in your heart throughout! Happy birthday!

My love for you is far greater than my heart could hold. I am so grateful that I have such a wonderful son and that you always try to make me feel like a good parent. Happy birthday my lovely son.

You bring everlasting positivity into my world. I hope always to be able to give you unlimited love and comfort. Happy birthday to my son who deserves it and so much more.

The only thing I truly wish for you on your special day is for you to become even more amazing than you are. Happy Birthday, sweetheart.

Happy birthday to the brightest star of our galaxy. Shine brighter than ever.

On your birthday we want you to know that there is no limit to our love for you. May you always be happy and merry! Happy Birthday, darling.

Son, no words can ever express my love for you. It keeps on growing day by day and we love you so much. Happy Birthday, kiddo! Have a blast!
These specially curated birthday wishes will surely bring out a heartfelt feeling for your son on his special day. We are sure you would relate to the wishes listed above. Now that you know what to pen down and how to convey these to him…. sit back, relax and enjoy the special day of your offspring!
Also read Birthday Wishes For Daughter – Find the Perfect One! if you are looking for wishes for your Daughter.