We must have all seen heartwarming adorable videos of babies laughing wildly as they jump up and down on a baby jumper. Considering buying one for your little one? Here is everything you need to know about baby jumpers.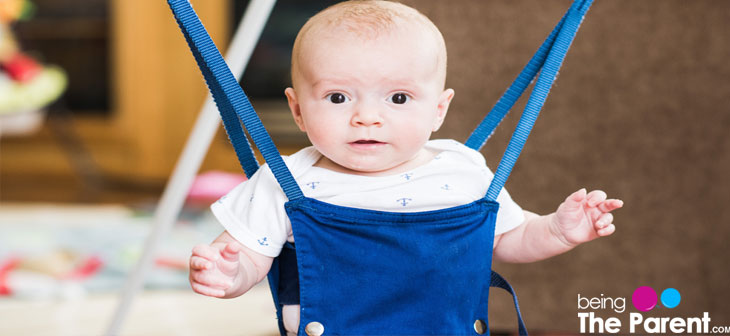 What Is A Baby Jumper?
A baby jumper is essentially a seat attached to elastic straps on both sides. The child sits on the seat with their toes just barely reaching the floor. They push their toes on the floor, and the elastic band makes them jump up. When they come down, they kick their toes again on the floor, taking them right back up. And this jumping motion gives your child lot of delight!
What Are The Different Types Of Jumpers Available In The Market?
There are mainly three different types of jumpers available in the market:
Stationary jumper: This is the most simple of baby jumpers. It consists of the baby seat and elastic bands and a metal frame. The metal frame holds the seat and the elastic bands are also attached to the frame. This way the whole structure is an independent unit and you need not worry about fixing the jumper anywhere
Activity jumper: Same as a stationary jumper, but with an additional fixture of a tray full of activities. The activities can be a mix of sound and visual treats triggered by baby's hand movements and it can vary from one jumper to another. The basic idea is to keep the baby entertained while jumping up and down
Doorway jumper: These are jumpers with a seat, elastic bands and a clamp that you can attach to your door frame. The advantage is that it takes up very less space, unlike the stationary jumper. The disadvantage is that you need to make sure you have a doorway that can fit the clamp
What Are The Age Considerations For Using Baby Jumper?
Most baby jumper brands mention the minimum age limit for using their product in the pack. Abide by this. The most commonly followed thumb rule is if your baby can support his head alone, then he is jumper ready.
Uses Of Baby Jumper
Baby jumper has three primary benefits:
It keeps the baby entertained
It helps channel baby's excess energy
Parents who use jumpers for their kids swear that their babies sleep very well at night
Some people claim that baby jumpers help in the development of baby's legs and his motor developments since the whole activity involves exercising the legs. However, this is debatable. While parents tend to think that the jumpers were directly responsible for their kids walking sooner independently, many experts believe that this is just a perception and baby jumpers would, in fact, delay walking.
Are Baby Jumpers Really Safe?
While baby jumpers bring joy to kids and parents alike, there are few potential risk factors associated with it as well:
If you use a door jumper, then the clamp can get loosened or weak, causing it to break away from the door frame. This can cause the baby to fall on the floor
Medical experts believe that baby jumpers can result in muscle imbalances as the tiny babies are made to sit on the seat or stay in an upright position long before their spine, their bones or their muscles are ready
Some experts think that baby jumpers can lead to foot deformities
So what should you do? Although experts have been discouraging parents from investing in a baby jumper, it continues to be a favorite toy both for kids and parents. Should you go with science? Or experience? We recommend that you use a baby jumper, but in moderation. 20 minutes a day is the ideal time. This way, you are not inflicting any muscle imbalance in your child, while at the same time not denying him happiness. Ensure that the child gets a lot of tummy time to strengthen his core muscles. Further, follow the below safety guidelines.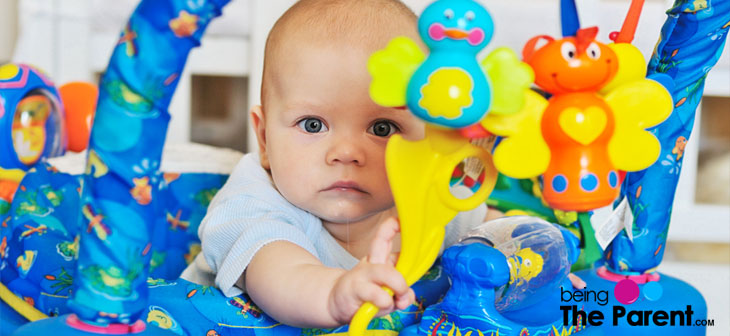 How To Ensure Baby's Safety When Using Baby Jumper?
Make sure the baby is properly fitted in the seat
Chose a door frame that is strong enough to hold the jumper and the baby's weight
Keep the jumper on a flat surface
Limit the time of usage to 15 – 20 minutes
Always supervise the child playing with the jumper
Ensure other kids are not pushing the jumper when the child is on it
Check the equipment regularly to ensure that no part has gone weak since the last use
Keep the jumper away when not in use
How To Buy The Right Baby Jumper For Your Kid?
Since we decided that baby jumpers are a great toy as long as you follow the safety and weight guidelines and use it in moderation, here are some tips to pick the best baby jumper:
Check for the weight limit mentioned on the pack. It varies from model to model and you might benefit from buying one that you can use for a longer time
Pick a jumper with removable and washable seat
Make sure the seat has a cushioned lining so that baby's crotch does not hurt
Buy a jumper with height adjustment so that you use it for a longer time
A giggling infant happily bouncing in his jumper is a pleasant sight. But like everything, moderation is the key here. Have some bouncing fun!