One of the happiest moments in your life is when you discover you are pregnant with your precious baby. Nothing can match the joy you feel of becoming a parent when your little darling is placed in your arms for the first time. Since your baby has brought in so much happiness and joy in your life, wouldn't it be a wonderful idea to name your little angel something that means happiness or joy? Here we provide you with wonderful collection of beautiful and exotic names that mean joy and happiness. So go ahead and take your pick.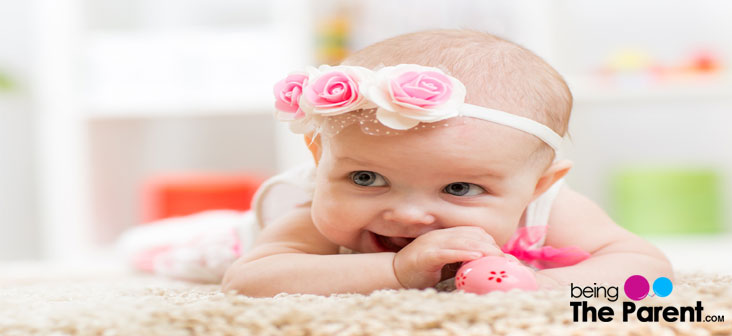 50 Baby Names Meaning Happy And Joy For Girls And Boys
Here is a list of some wonderful baby names that you can browse through, which mean joy or happiness. So go ahead and pick an appropriate name for your little darling.
Alisa: A beautiful name of Hebrew origin that has the meaning "great happiness" and is apt for the little princess
Annabella: A lovely name that means "joy "in American language
Luana: This wonderful Hawaiian name has the meaning "happy". Another exotic pick for your little angel
Beatrice: A sweet name that has the meaning "she who brings happiness"
Blythe: Another enchanting name for the little princess that means "cheerful, happy and carefree"
Chara: A unique name of Greek origin that has the meaning "joy"
Duscha: An exotic name for the little darling which means "happy"
Falisha: A wonderful variation of the name Felicia and means "happy and fortunate"
Felicity: Another beautiful name for your daughter that has the meaning "fortunate and happy". It gained popularity after a television show
Farrah: A wonderful name of Arabic origin that has the meaning "happiness or joy"
Halona: A rare and exotic name of American origin that means "happy fortune"
Gwyneth: Yet another simple yet beautiful name that means "happy"
Hani: A lovely Hawaiian name that is short and sweet and has the meaning "joyful"
Aine: A conventional Irish name that means "happiness and success"
Eda: A name of German origin that has the meaning "happy"
Alaia: One lovely American name that is extremely popular for girls these days and means "joyful and happy"
Bliss: A short and sweet name that means "cheer, joy and extreme happiness"
Illaria: This unique name has the meaning "happiness"
Joyce : A popular name that means "joyous"
Jovie: A lovely and happy name to call your daughter and has the meaning "joyful"
Jubilee: Another beautiful name that means "joyous"
Leta: Of Greek origin, this wonderful name means "glad and joyful"
Keiko: A beautiful Japanese name which has the meaning "happy child"
Leda: With Greek roots this is another ideal pick for your little angel that means "happy"
Merry: This simple and cheerful name, of course, has the meaning "happy"
Maeve: An enchanting Irish name which means "cause of great joy"
Letita: A delicate and peppy name which means "joy"
Hillary: An extremely popular name which means "happy and cheerful"
Geila: With Hebrew roots, this lovely name has the meaning "joy of the Lord"
Hana: A lovely English name which means "happiness"
Fane: An ideal pick for your prince which means "happy, joyous"
Felix: Another wonderful choice for the little boy which has the meaning "happy or lucky". It is considered as a lucky omen in Britain and other European country
Gil: A wonderful Hebrew name which means "happiness" and pronounced as Zheel is just apt for your baby boy
Macario: Very common in the US, this Spanish name has the meaning "happy and blessed"
Naom: With Jewish roots, an ideal pick for your little boy which means "delight, joy"
Selig: Another Jewish name which means "happy or fortunate"
Tarub: A name with Arabic roots which has the meaning "happy"
Zelig: This quirky name means "blessed or happy" and would be perfect for the little prince if you are looking for something different
Oron: A wonderful name for a boy which means "happy"
Marnin: With Hebrew roots this lovely name has the meaning "one who creates joy"
Keyes: Another nice pick for boys which means "rejoice". It is of Hebrew origin
Issac: This lovely name is extremely popular for boys and means "laughter and joy"
Gale: An Irish name for a baby boy which means "happy and cheerful"
Gaius: A beautiful Latin name prefect for boys which has the meaning "to rejoice"
Bahjat: An Arabic name for boys that means "happiness". A nice choice for your baby boy
Anschel: With Hebrew roots, this lovely name is an ideal pick for your baby boy which means "happy"
Asher: Another Jewish name that means "happy or fortunate"
Nario: A lovely Italian name which means" cheerful or happy". It is indeed a lovely pick for your baby prince and a cool alternative for Mario
Simcha: One more name of Hebrew origin which has the meaning "joy"
Cayo: This unique Spanish name means "rejoice" and would be a lovely pick for your little man
The above mentioned names are just a few among umpteen names which mean joy or happiness that you can choose for your darling baby who means the world to you. For more baby names read here