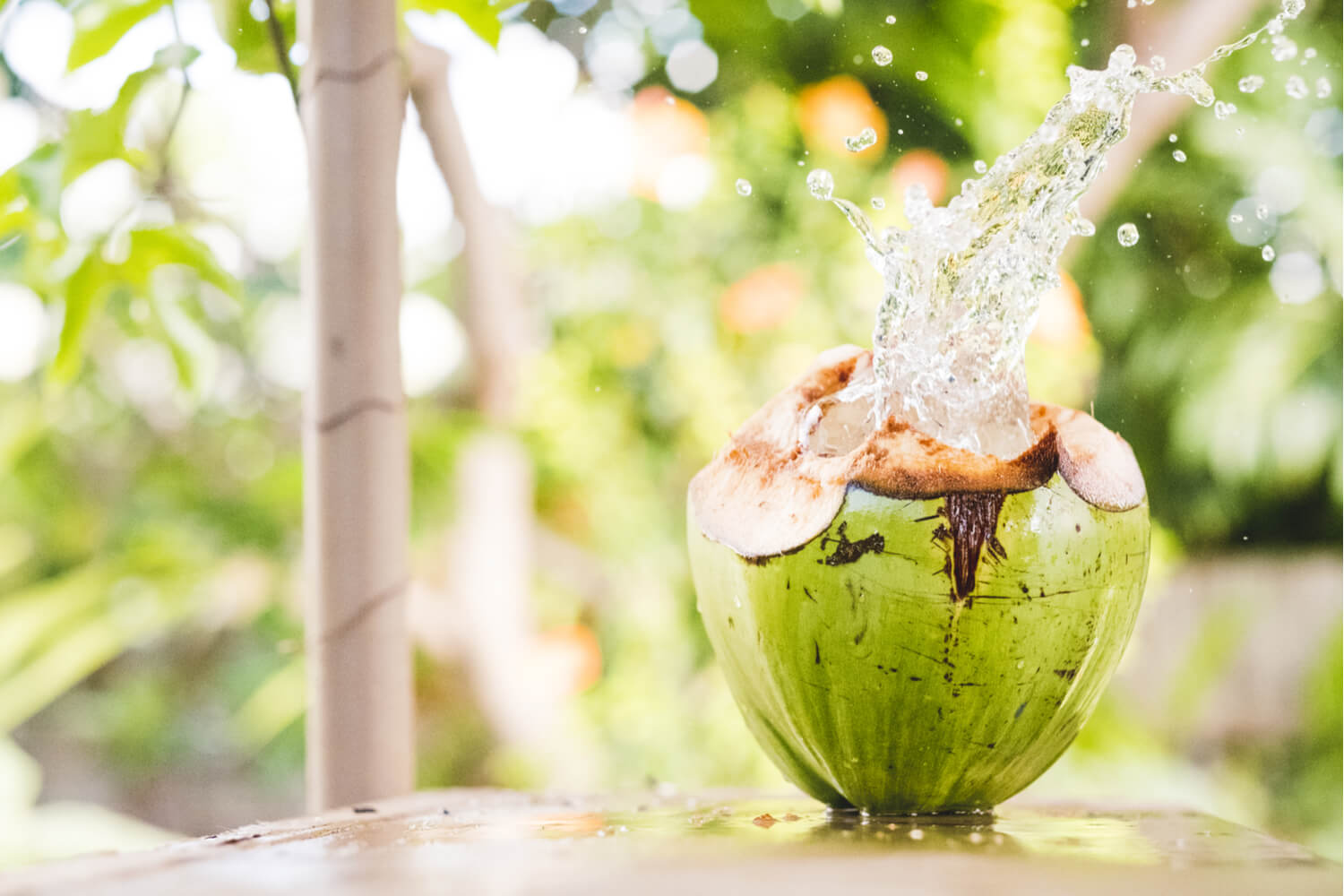 What better than tender coconut water to replenish you in scorching summers! Enriched with amazing healing qualities, the coconut tree is also referred to as "Tree of Life". Coconut water is also highly recommended to pregnant women due to its numerous health benefits.
During pregnancy you will receive many advises and recommendations from all and sundry. Drinking coconut water is one of the major advises you will get from elderly and young. Low in cholesterol and calories and rich in potassium, coconut water is super hydrating and nutritious to the core.
In This Article
What is Coconut Water?
Tender coconut water, also knows as elaneer or nariyal pani is an isotonic drink that is not only natural but also packed with nutrients. Coconut water is clear fluid contained in the center of young coconut and is refreshing, nutty and sweet in taste. Coconut water is actually the liquid endosperm present in the unripe green coconut. It is the new rage across the world as a potent refreshing and nutritious drink full of health enhancing properties.
Is Coconut Water Good For Pregnant Women?
With nutrients like manganese, calcium, riboflavin and vitamin C, plus being a good source of dietary fiber, coconut water can be consumed by pregnant women to refresh themselves and gain nutritional benefits. This natural drink is also rich in potassium, chloride, magnesium and electrolytes.
However, it should be mentioned here that moderation is the key to derive all essential nutrients from a particular food or drink. Coconut water can be your best alternative to caffeinated drinks and sodas, as it will not only refresh you but also pass on some nutrients.
Always pick green and fresh coconuts and have the juice as soon as it is cut else fermentation process will start on exposure to air. Though you can have it anytime of the day, it is best to drink it during early morning hours to derive maximum benefits. Limit your intake to one glass a day, and speak to your doctor if you have any concerns.
Are There Any Side Effects of Coconut Water During Pregnancy?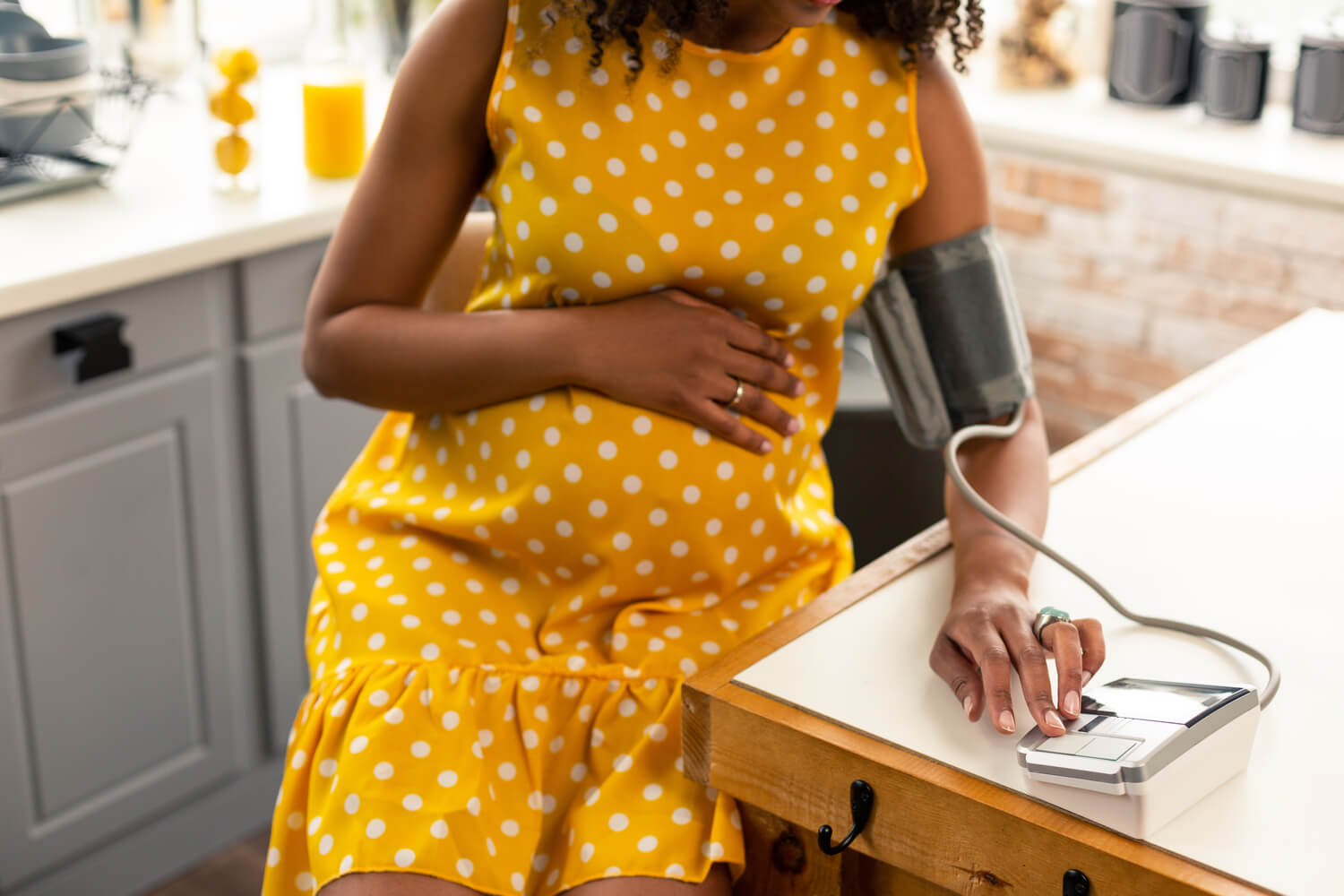 Widely acclaimed as a potent health drink, coconut water or coconut juice has not been much studied for it's side effects on pregnant women. As with everything, moderation is the key here too. Coconut water can prove to be detrimental to health for the below reasons:
1. High in Calories
Just a liquid drink, but coconut juice is quite high in calories, so watch its intake if gaining weight is a concern for you during pregnancy.
2. Can be Allergic
Coconut water may be allergic to people who have a history of tree nut allergies and the like. Do exercise caution in such cases.
3. Increases Blood Sugar Levels
If you have gestational diabetes or are already a diabetic, you should limit the intake of coconut water due to its high carbohydrate content.
4. Diuretic in Nature
Pregnancy can make you run for the loo several times a day owing to the pressure on the internal organs, and drinking coconut juice can further increase the frequency.
5. May Lower Blood Pressure
Coconut water can lower your blood pressure, but if you are already on medications for high blood pressure, do check with your doctor whether coconut water is an ideal choice of drink for you.
Top 6 Myths About Coconut Water During Pregnancy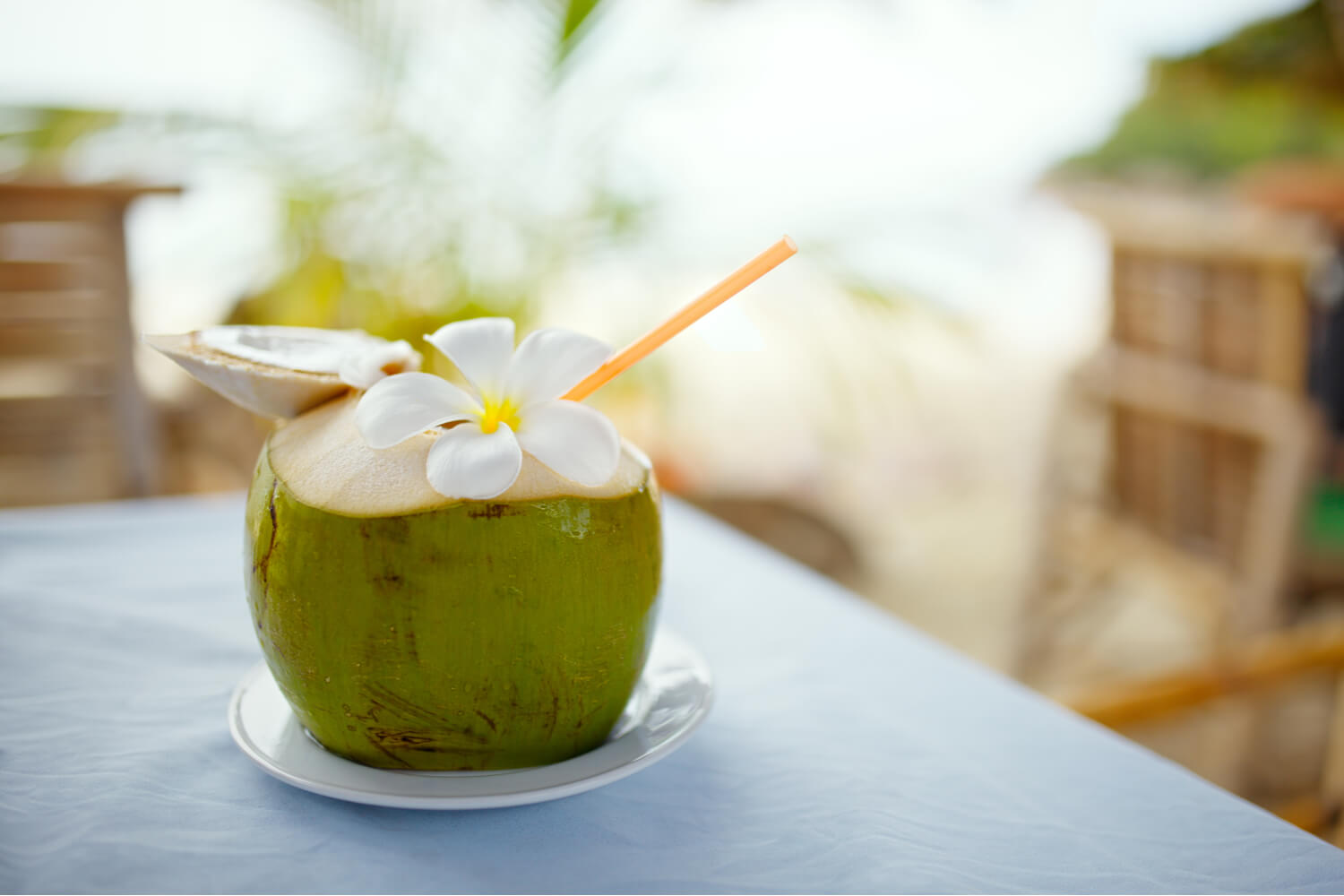 Coconut water is popularized as a 'miraculous drink'. Innumerable health benefits are attached with drinking coconut water, such as retarding aging process, aiding weight loss, lowering blood pressure, etc. Some of the benefits are overblown out of proportion, and here we bust those myths:
Myth1: Coconut Water is a Magical Drink For Chronic Diseases
Coconut water is believed to be enriched with all the nutrients, hence widely advised to pregnant women.
Fact: A pregnant woman requires vital nutrients and minerals in sufficient amount. This is an age old myth that drinking coconut water will take care of all the nutrient requirements of a pregnant mother. There is no single thing having all ingredients needed for survival. It is actually a combination of things that give you all the required nutrients in proper dosage. So drinking coconut water alone won't do much unless it is supplemented with other fruits, vegetables and food items.
Myth 2: Coconut Water and Baby Hair
Drinking coconut water will thicken the hair on your baby's scalp and you will be getting acidity.
Fact: Absolute rubbish! There is no connection between drinking coconut water and hair growth on baby's head. Moreover the acidity felt by the mother is because of her enlarging belly. As the pregnancy advances the uterus pushes the intestine upwards and impedes the process of digestion.
Myth 3: Coconut Water is an Immunity Booster
Coconut water is considered to be a potent immunity enhancer. Pregnant women are vulnerable to infections. Having a strong immune system helps in checking the invasion of infections.
Fact: Lauric acid is an important immunity booster and is present in high amount in mother's milk and coconut oil. Some people think lauric acid is present in coconut water also but unfortunately it has negligible amount of the acid. However green coconut water is rich in electrolytes so there is no harm for the pregnant women.
Myth 4: Coconut Water is Good For Heart
Fact: Some people advice drinking coconut water is beneficial to pregnant women having high blood pressure or any other cardiac problem. Potassium is needed for cutting down the risk of heart ailments. The average daily dose of this vital mineral is around 380 mg while coconut water has minuscule amount of potassium around 100 mg. The rest of the potassium is obtained from other food items. Another myth debunked!
Myth 5: Coconut Water Has the Best Hydrating Properties
Proper nutrition and adequate hydration is essential for keeping the mother and baby healthy. This is the reason why coconut water is thought to be ideal for pregnant women.
Fact: Well, you will be surprised to know that neither sport drinks nor coconut water has more hydrating properties than regular drinking water. So, all you pregnant ladies! Drink at least 10 to 12 glasses of water daily and keep your body well hydrated.
Myth 6: Coconut Water Consumption Will Make Your Baby Fairer and Healthy
Fact: The health, color and complexion of newborns depend upon many factors such as genetic inheritance, proper nutrition, health and wellness of parents, etc. Merely drinking coconut water will in no way help your baby become fair and healthy. This is a sheer fake myth.Well, there is no problem in consuming coconut water and there are many health benefits associated with coconut water.
[Read : 10 Benefits of Watermelon During Pregnancy]
Benefits of Coconut Water During Pregnancy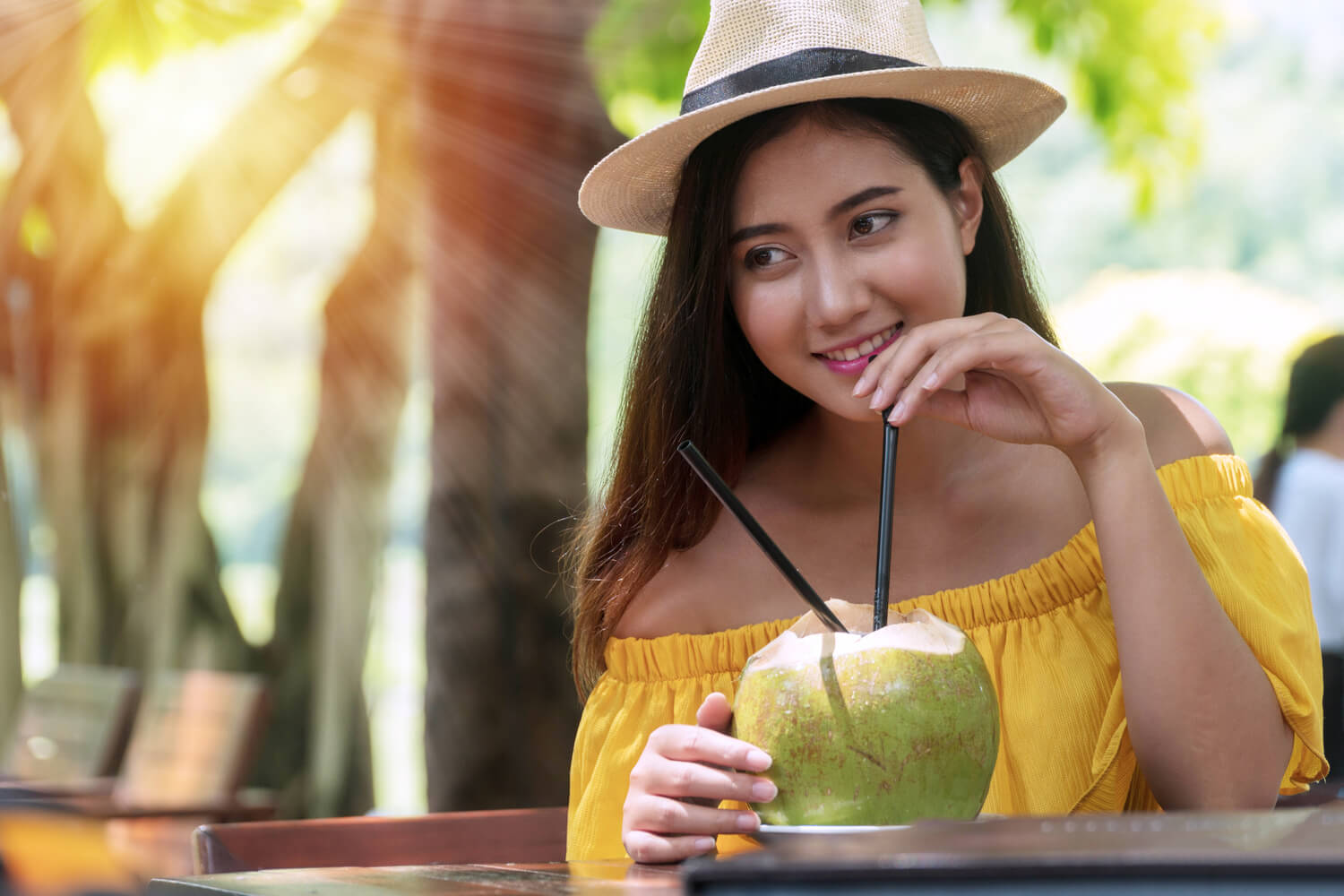 Coconut water during pregnancy is known to have many benefits, and many women swear by the same. It is an excellent alternative to caffeinated drinks without any side effects.
1. Helps in Keeping Weight in Check
Coconut water is low in calories and is fat free. Pregnancy adds some extra kilos in your body weight. If you are conscious about your weight drink coconut water as it is low in calories and you can drink it without guilt. Fat is present in high amount in coconut milk as compared in coconut water. Healthy omega fatty acid is also found in small amount in coconut water. Omega fatty acid is not a harmful fatty acid and is recommended for pregnant women.
2. Coconut Water and Constipation
Coconut water is enriched with dietary fibers and helps treat constipation in pregnant women. It is also found to be effective in heart burn and acidity during pregnancy. However, consume only green coconut water as the ripe variety can, in fact, increase constipation.
3. Coconut Water is a Great Exercise Drink
Light exercises are advised to the expectant women in order to keep fit and strengthen the pelvic floor. Coconut water is recommended to pregnant women as it is a good exercise drink and a wonderful revitalizer. However, if you are an intense athlete, and loose more sweat, then you should opt for conventional sports drinks only.
4. Prevents Dehydration
Coconut water helps in preventing dehydration owing to its great hydrating properties. However, water still remains the number one hydrating liquid.
5. Helps Prevent Urinary Tract Infections
Coconut water has been found to prevent urinary tract infections, though research is still being done on the subject.
How Much Coconut Water Can a Pregnant Woman Have?
Let your body guide you, but we'd suggest to limit your intake of coconut water to a glass per day, if you are not diabetic- gestational or otherwise. Always have fresh coconut water and do not consume stale juice. If you do not like the taste, refrain from having it.
Coconut Milk During Pregnancy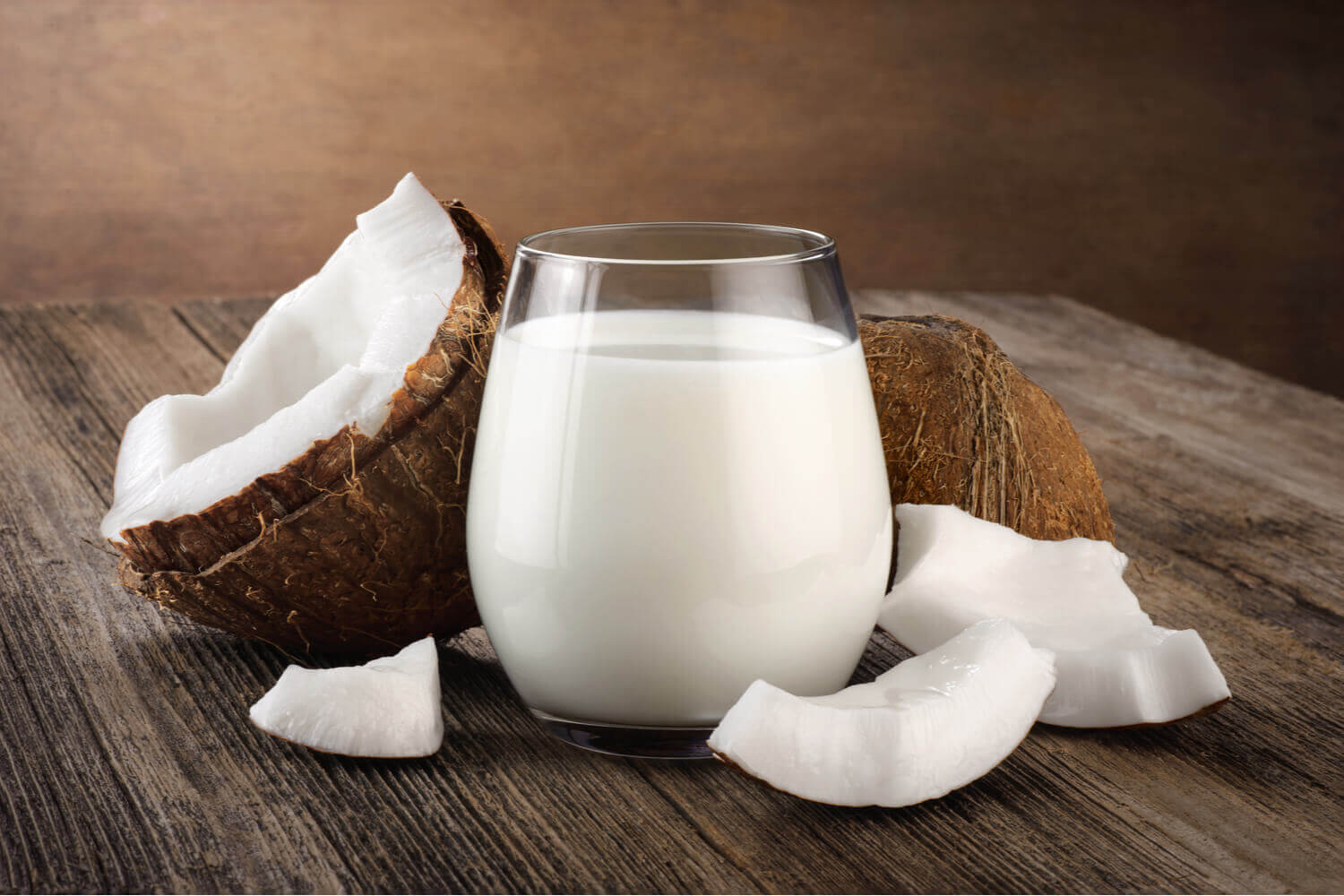 Coconut milk is obtained by grinding or crushing fresh coconuts. Rich in fats and calories, coconut milk can offer instant energy during pregnancy. The thick, white, milky liquid is also used in many dishes, especially in Southern India and Southeast Asia. Unless you are allergic to coconuts, coconut milk is safe for you and you can easily derive many benefits from it.
[Read : Drinking Sugarcane Juice During Pregnancy]
How to Prepare Fresh Coconut Milk?
Because pregnancy is a delicate matter, it is advisable to prepare fresh coconut milk at home rather than opting for canned coconut milk, no matter what the labels say. Plus, it is super easy to prepare, as enlisted below:
Take a whole coconut and grate it in a grater or a food processor.
Add about a cup and a half of hot water.
Leave the mixture to cool at room temperature for about half an hour.
Strain the cooled mixture and your cup of coconut milk is ready.
A cup of coconut milk made from a fresh coconut contains about 450 calories and 50 gm of all fats. It can be an exceptional energy booster, but people with weight issues should watch the intake.
Benefits of Coconut Milk During Pregnancy
Coconuts in any form are good for the body, and coconut milk is no exception. During pregnancy, you should have food and drinks that provide benefits to you and your growing baby, and the benefits of coconut milk are enlisted below:
Coconut milk is known for its fat that boosts immunity.
It is also a good source of iron and can help fight pregnancy anemia.
Being laxative in nature, it can help pregnant women deal with constipation and digestive issues.
Coconut milk also relaxes sore and tensed muscles and joints. Also helps with easing joint pains.
Coconut milk is beneficial for women who have high blood pressure during pregnancy, though doctor's advice is recommended.
Is Canned Coconut Milk Good During Pregnancy?
Even though considered safe, canned coconut milk is not the best choice during pregnancy. This is so because pregnancy is a delicate phase of life and one must consume only fresh, healthy food and drinks to derive optimal nutritional benefits. Canned coconut milk is laced with additives that can cause harm to the mother or the growing baby.
Also, the internal lining of the coconut milk can may contain BPA that can leach into coconut milk and cause a number of health issues. It is therefore advisable to prepare fresh coconut milk as listed above to get maximum nutrition and benefits.
Though a number of nutritional benefits are attached with coconut water, but it is certainly not a medicinal cure for chronic and severe diseases. To summarize coconut water is a healthy drink, but it does not have all the so 'hyped' properties as claimed by people. It can be an healthy alternative and be substituted for aerated drinks and other liquids as it has better satiating benefits.
You should always take fresh green coconut water and not buy the packaged one. Never make the folly of relying on whatever is mentioned on the label as it is not true. Pregnant women can drink coconut water but should not believe the popular myths attached to drinking coconut water. It is a hydrating drink, but not a magical potion.