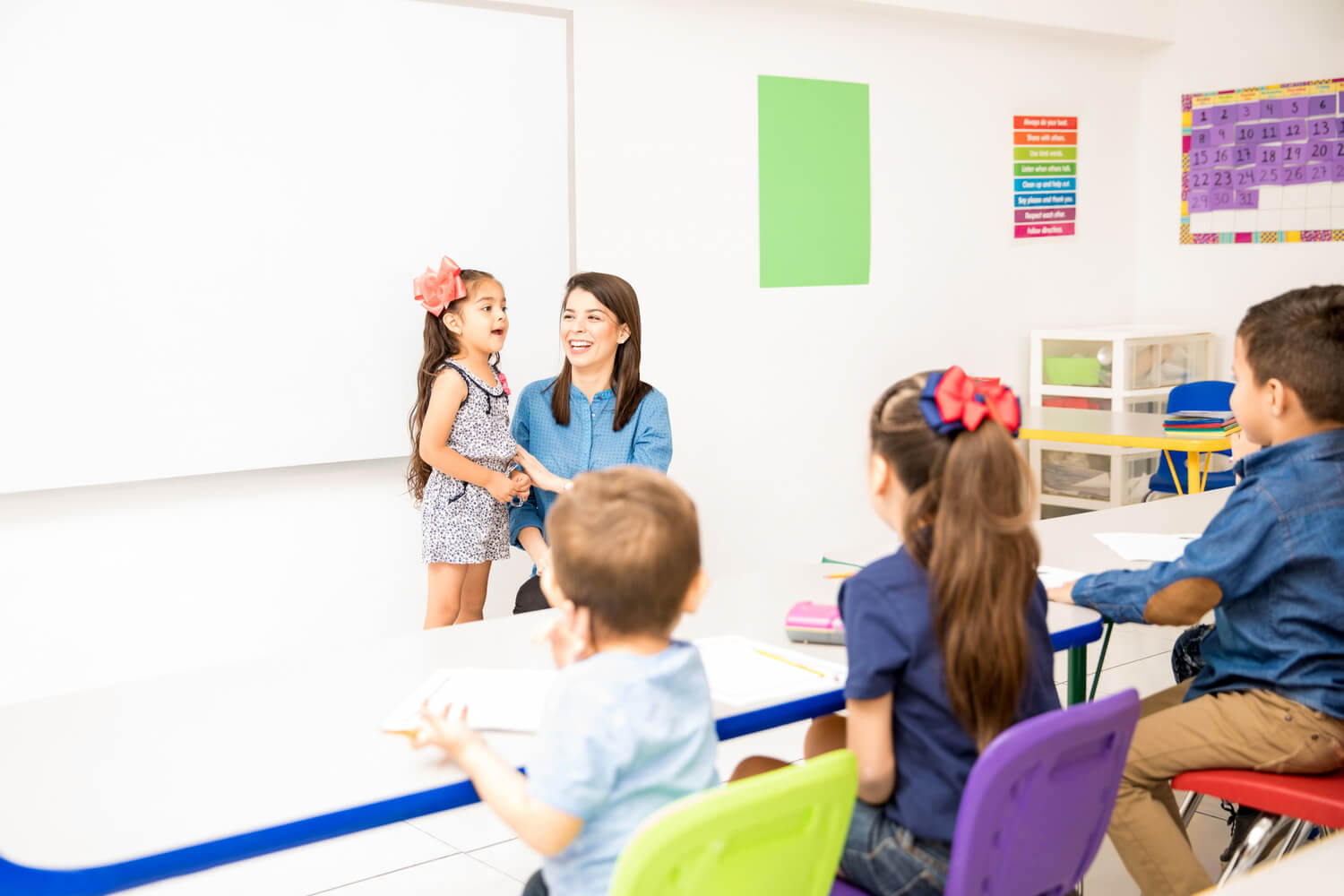 Rhymes are synonymous with kids. Ask an adult to sing to a childhood rhyme and they will belt out rhymes they remember. Rhymes are something we remember and cherish throughout our life. That is the power of early learning and the power of these rhymes. Children love to recite these short English poems and show off in a crowd.
For a child who can't read, these poems improve vocabulary; for a child who can read, it helps their reading skills.
In This Article
Why do Kids Love Short Poems?
All children love these short poems and rhymes. It is one of the first things they teach are taught at school – be it a playschool or a regular school. The words are simple, the tune is catchy, and the syllables repeat, making it easier to memorize and retain.
These poems are related to what a child sees and does in their day-to-day lives. They are able to relate and learn in the process. Small children love animals and when the poem is about an animal, they associate it with the animal and recall it every time you refer to that animal.
Why Teach Children Poetry?
Poems are a simple yet beautiful way to string words together. They convey simple things in a beautiful manner. While some use rhyming words, others use similar words. Poems and poetry can enhance your child's vocabulary and also help improve their pronunciations.
When information is in a poetic or rhyming manner, children find it easier to recollect and repeat. As they repeat them, their language improves. They learn better this way, than with full sentences. They can learn to string words together into a sentence.
List of Top 9 Popular Short English Poems For Kids to Recite
Here are 9 simple, famous and easy to learn short English poems your kid would love to recite. It is easy for them to learn and easy for you to recite at any time of the day. Can be a perfect solution for those tantrum times too! Since they are famous, you are bound to hear most of them from children in all parts of the world.
1. Twinkle, Twinkle Little Star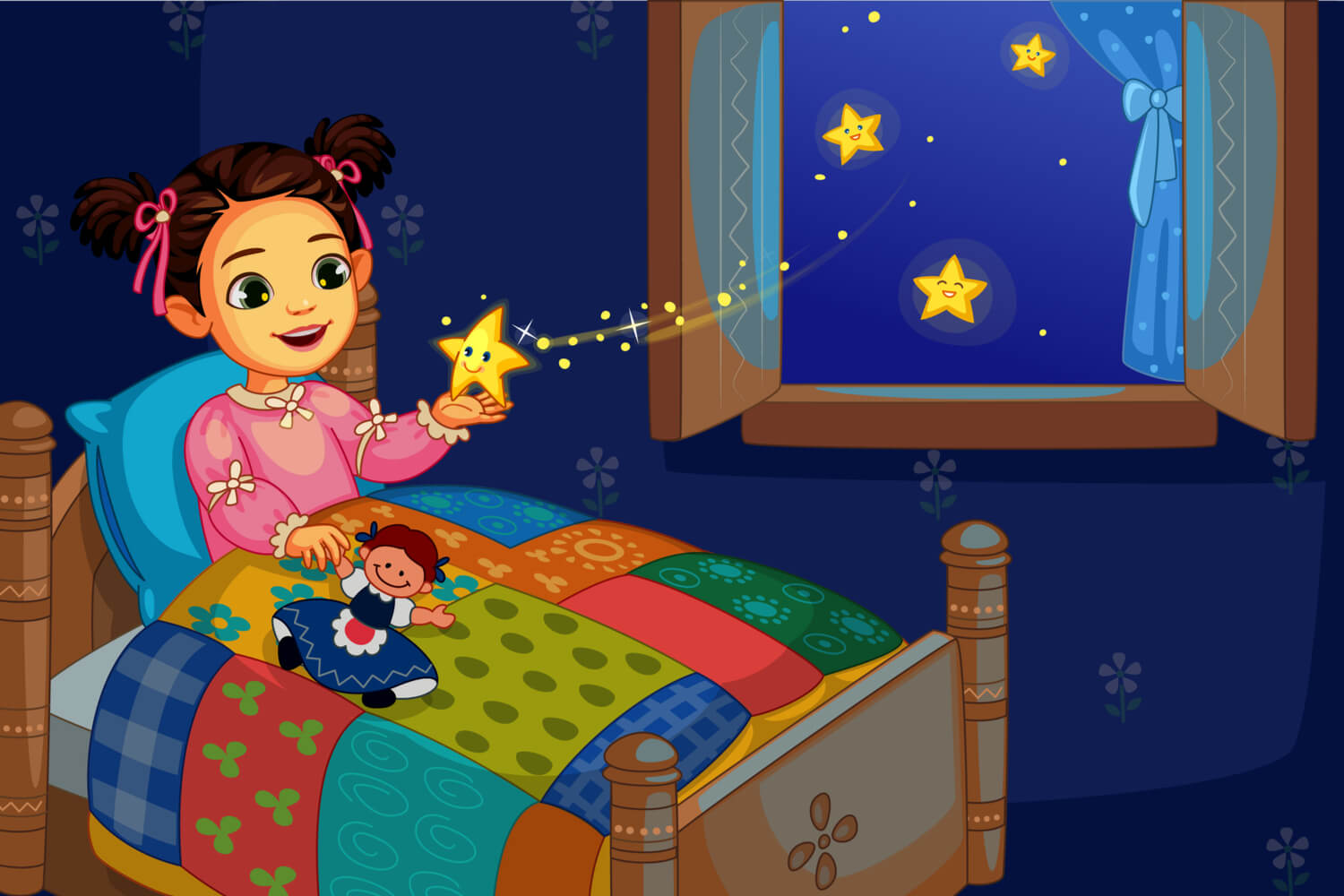 A soothing poem to be recited at night. Can double up as a bedtime lullaby when sung in its melodious tune. Almost everyone knows this tune and remembers it well into adulthood!
Lyrics
Twinkle, twinkle, little star,
How I wonder what you are.
Up above the world so high,
Like a diamond in the sky.
Twinkle, twinkle, little star,
How I wonder what you are!
2. Jack and Jill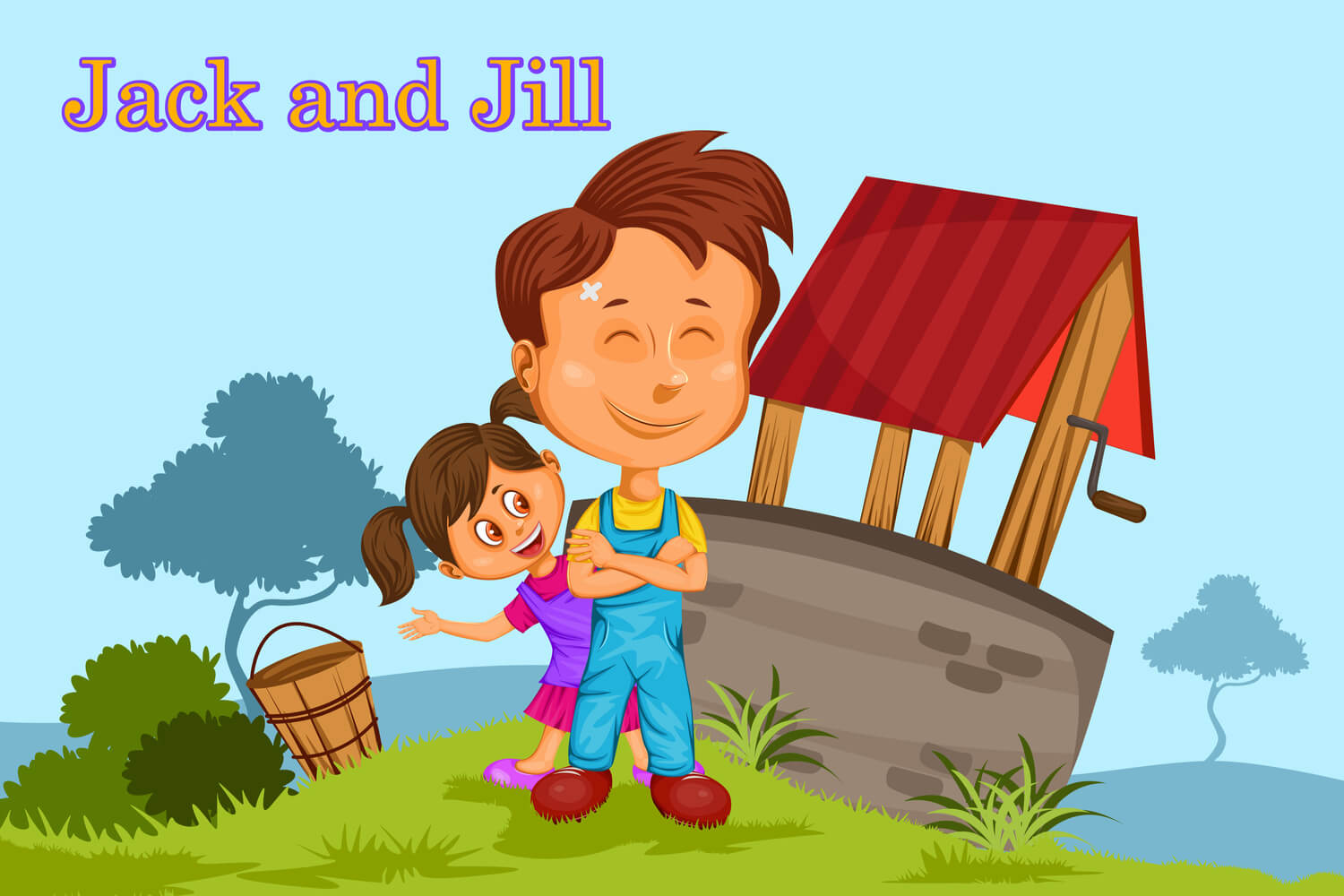 This short poem talks about how Jack falls down and Jill goes tumbling right after him. In today's motorized world where children see water gushing out of taps, the concept of having to climb a hill to carry back some water manually can be educative for kids.
Lyrics
Jack and Jill went up the hill
To fetch a pail of water
Jack fell down and broke his crown
And Jill came tumbling after
Up Jack got, and home did trot
As fast as he could caper
He went to bed to mend his head
With vinegar and brown paper
3. Mary Had a Little Lamb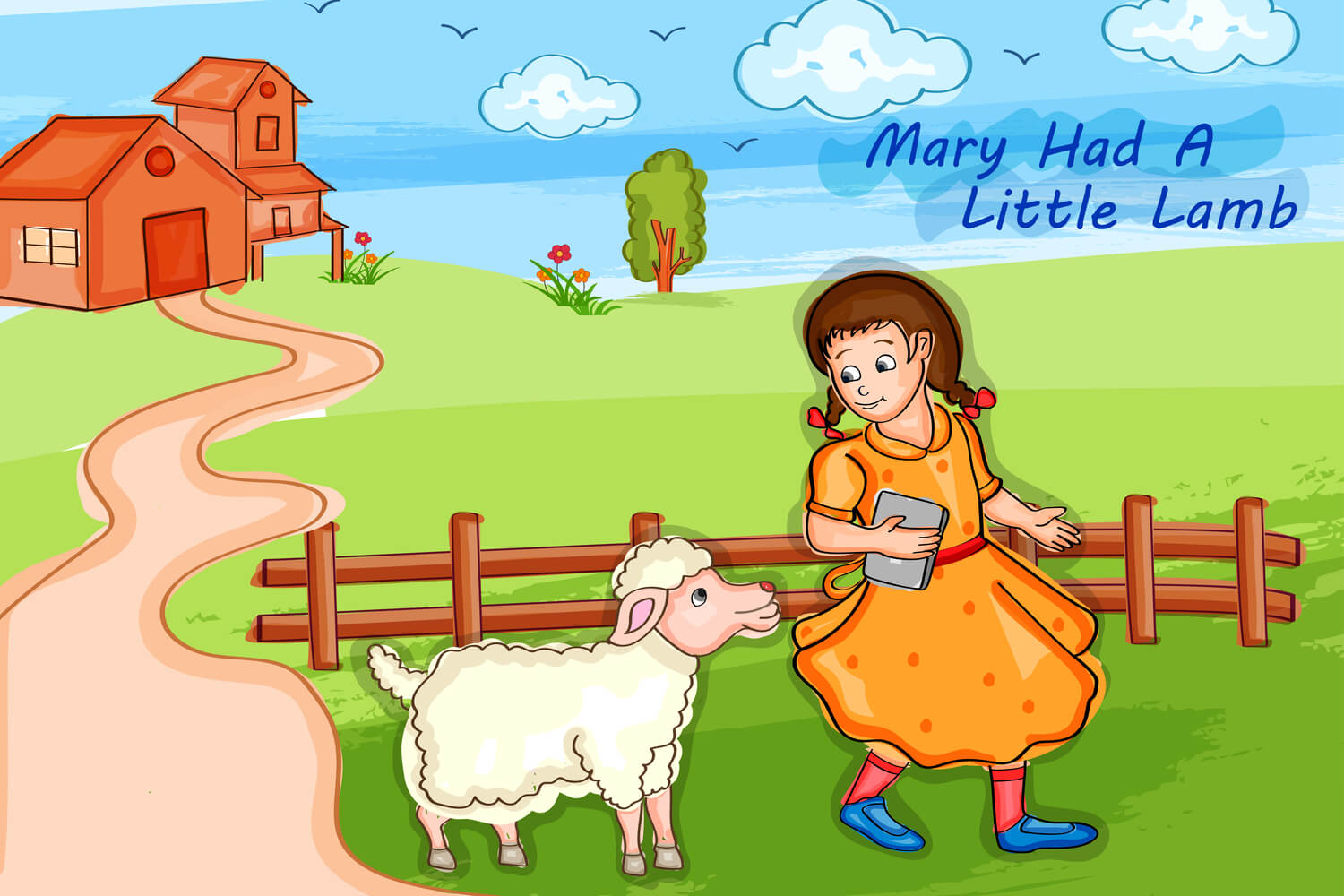 An entertaining poem about a girl and her pet lamb who follows her everywhere, it describes how pets behave – following their owners wherever they go, even to school! The stanzas are repetitive with very little changes, thus making it easy for children to remember and sing without missing details.
Lyrics
Mary had a little lamb,
Its fleece was white as snow,
And everywhere that Mary went
The lamb was sure to go;
He followed her to school one day—
That was against the rule,
It made the children laugh and play,
To see a lamb at school.
And so the Teacher turned him out,
But still he lingered near,
And waited patiently about,
Till Mary did appear ;
And then he ran to her, and laid
His head upon her arm,
As if he said—' I'm not afraid—
You'll keep me from all harm.'
'What makes the lamb love Mary so ?'
The eager children cry—
' O, Mary loves the lamb, you know,'
The Teacher did reply ;—
' And you each gentle animal
In confidence may bind,
And make them follow at your call,
If you are always kind.'
4. Wee Willie Winkie
A famous rhyme from Scotland that was paraphrased in English to reach more children. This is a good rhyme to sing to children who refuse to go to bed or fight sleep. The song goes on to describe different people in different stages of going to bed or refusal to sleep.
Lyrics
Wee Willie Winkie runs through the town,
Up stairs and down stairs in his night-gown,
Tapping at the window, crying at the lock,
Are the children in their bed, for it's past ten o'clock?
Hey, Willie Winkie, are you coming in?
The cat is singing purring sounds to the sleeping hen,
The dog's spread out on the floor, and doesn't give a cheep,
But here's a wakeful little boy who will not fall asleep!
Anything but sleep, you rogue! glowering like the moon,'
Rattling in an iron jug with an iron spoon,
Rumbling, tumbling round about, crowing like a cock,
Shrieking like I don't know what, waking sleeping folk.
Hey, Willie Winkie – the child's in a creel!
Wriggling from everyone's knee like an eel,
Tugging at the cat's ear, and confusing all her thrums
Hey, Willie Winkie – see, there he comes!"
Weary is the mother who has a dusty child,
A small short sturdy child, who can't run on his own,
Who always has a battle with sleep before he'll close an eye
But a kiss from his rosy lips gives strength anew to me.
5. Baa, Baa Black Sheep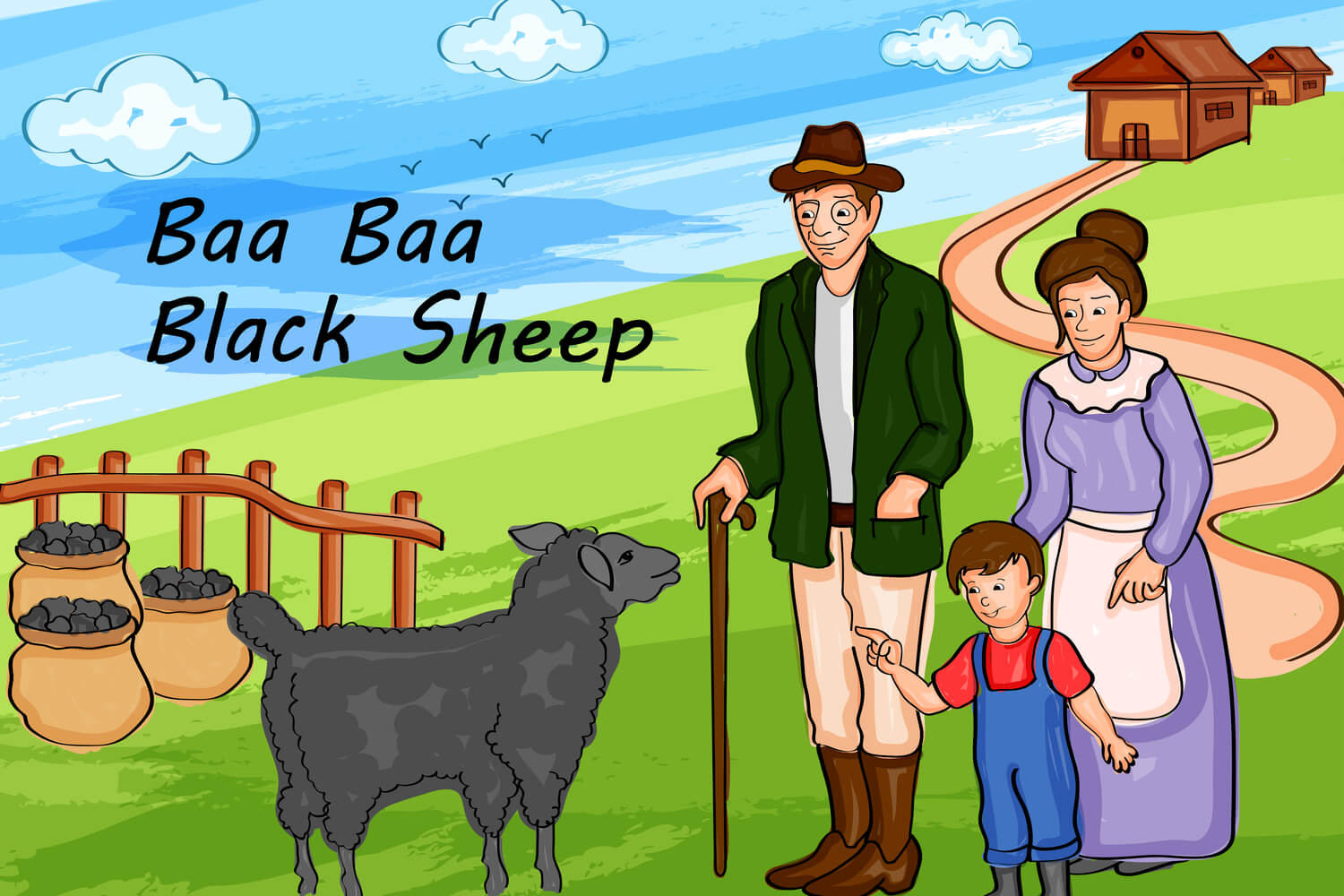 One of the most world-famous poems for generations. Small children can recite this when they learn about sheep. The author of this famous rhyme is none other than Rudyard Kipling – the author of children's favourite "Jungle Book".
Lyrics
Baa, baa, black sheep,
Have you any wool?
Yes sir, yes sir,
Three bags full;
One for the master,
And one for the dame,
And one for the little boy
Who lives down the lane.
6. A Mouse in Her Room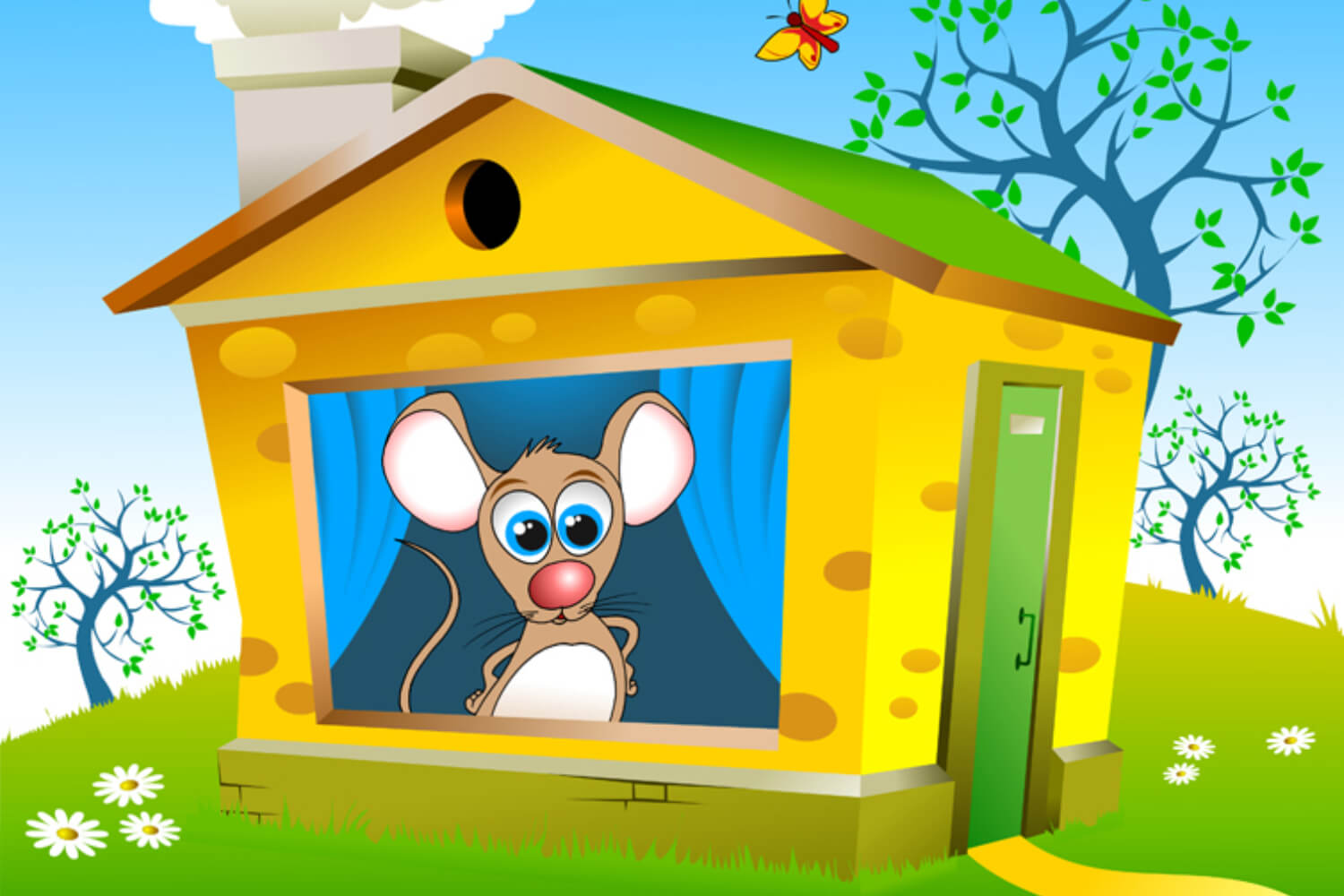 What will you do when a mouse enters your room? This little girl comes up with a smart idea and mews to scare the little rodent away!
Lyrics
A mouse in her room woke Miss Dowd.
She was frightened and screamed very loud.
Then a happy thought hit her-
To scare off the critter
She sat up in bed and meowed.
7. Two Little Dicky Birds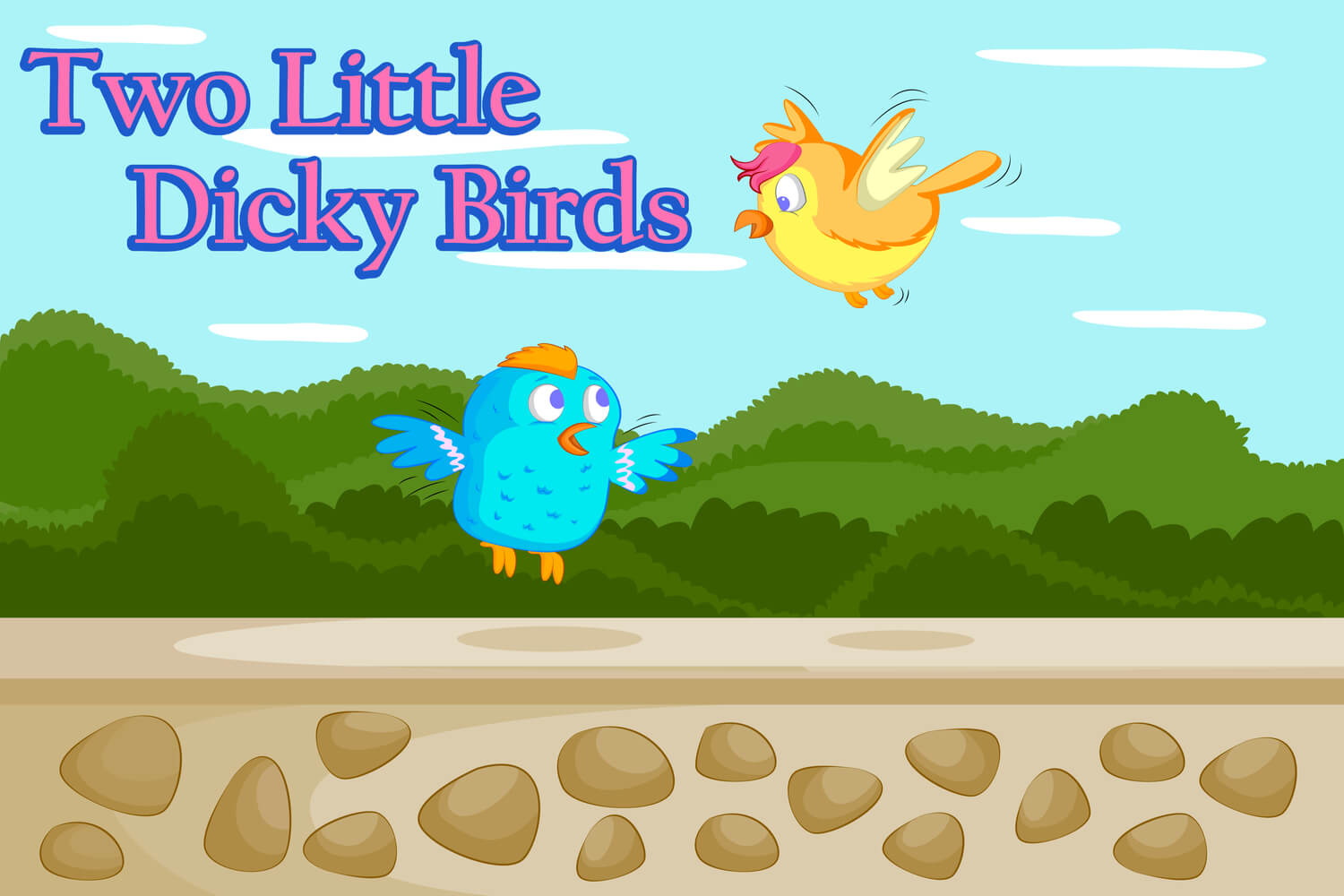 A cute little poem about two birds. Children are bound to see birds come and go, from their windows. This small and sweet poem can soon become one of their favorites to recite, every time they see two birds on a wall.
Lyrics
Look, what cute little dicky birds
Two little dicky birds sitting on a wall
One named Peter, one named Paul
Fly away, Peter, fly away, Paul
Come back, Peter, come back, Paul
Look, there goes Peter
Look, there goes Paul
Two little blackbirds sitting on a hill
One named Jack, and one named Jill
Fly away, Jack, fly away, Jill
Come back, Jack, come back, Jill
Look, there goes Jack
Look, there goes, Jill
Two little dicky birds sitting on a wall
One named Peter, one named Paul
Fly away, Peter, fly away, Paul
Come back, Peter, come back, Paul
Two little blackbirds sitting on a hill
One named Jack, and one named Jill
Fly away, Jack, fly away, Jill
Come back, Jack, come back, Jill
8. My Doggy Ate My Homework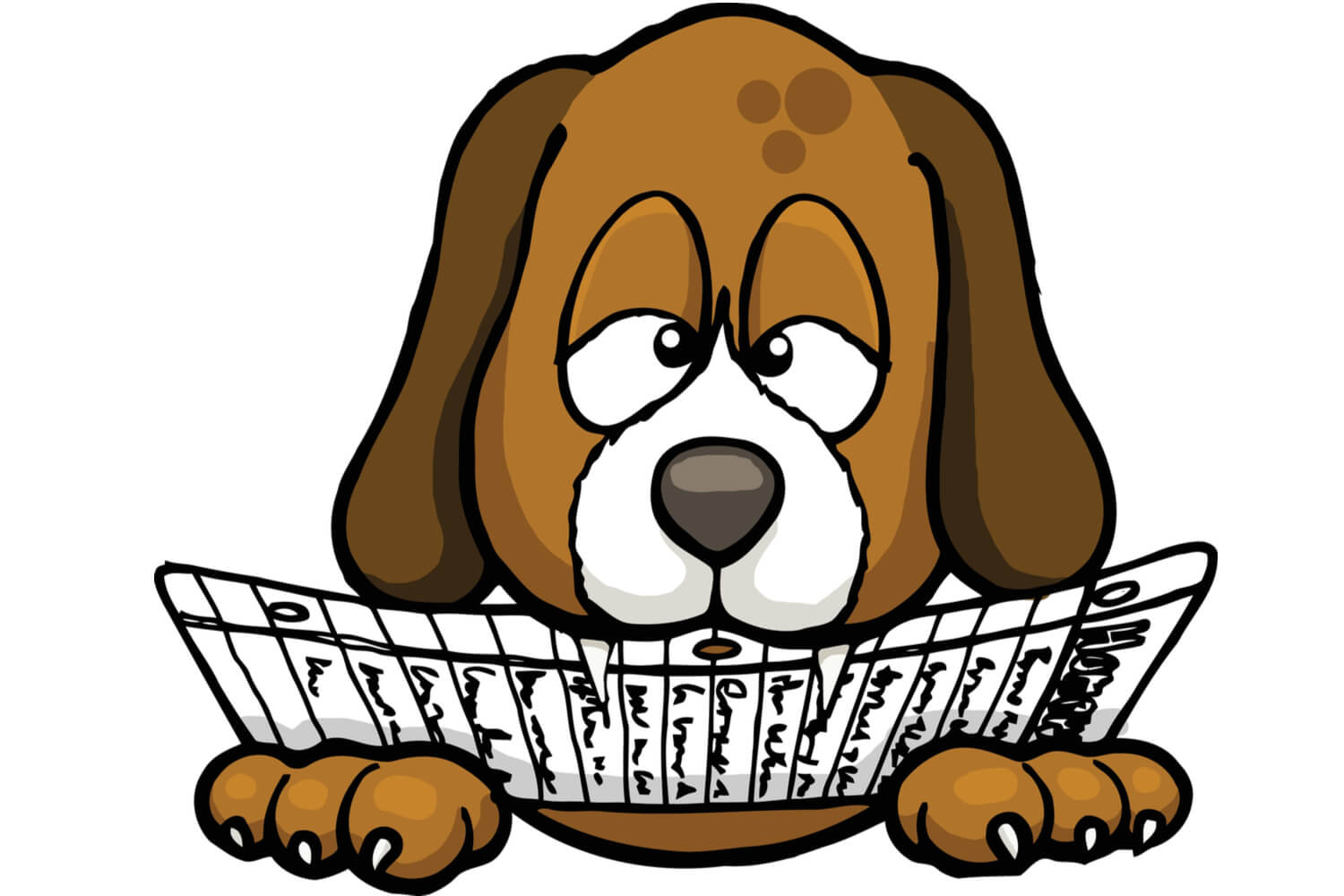 The most famous excuse to not submit homework – my dog ate it up. This small poem describes how a little boy tries to get away with not completing his homework. This poem is a classic example of how children improvise to get away from trouble. What started as just an excuse turns into a full explanation of how the dog cooks the notebook and eats it all up.
Lyrics
"My doggy ate my homework.
He chewed it up," I said.
But when I offered my excuse
My teacher shook her head.
I saw this wasn't going well.
I didn't want to fail.
Before she had a chance to talk,
I added to the tale:
"Before he ate, he took my work
And tossed it in a pot.
He simmered it with succotash
Till it was piping hot.
"He scrambled up my science notes
With eggs and bacon strips,
Along with sautéed spelling words
And baked potato chips.
"He then took my arithmetic
And had it gently fried.
He broiled both my book reports
With pickles on the side.
"He wore a doggy apron
As he cooked a notebook stew.
He barked when I objected.
There was nothing I could do."
"Did he wear a doggy chef hat?"
She asked me with a scowl.
"He did," I said. "And taking it
Would only make him growl."
My teacher frowned, but then I said
As quickly as I could,
"He covered it with ketchup,
And he said it tasted good."
"A talking dog who likes to cook?"
My teacher had a fit.
She sent me to the office,
And that is where I sit.
I guess I made a big mistake
In telling her all that.
'Cause I don't have a doggy.
It was eaten by my cat.
9. Monday's Child
Another popular nursery rhyme for children that tells a child's fortune, this is a fun way to teach your child the days of the week. With simple words that rhyme, children will find it easier to remember the days of the week in the right order.
Lyrics
Monday's child is fair of face,
Tuesday's child is full of grace.
Wednesday's child is full of woe,
Thursday's child has far to go.
Friday's child is loving and giving,
Saturday's child works hard for a living.
And the child born on the Sabbath day
Is bonny and blithe, good and gay.
These short English poems for kids to recite are crisp, simple and soothing to the ears. They use simple vocabulary young children use and hence it is easy for them to remember. Since they are about everyday things, children find it very entertaining and love them. They are bound to keep repeating it every time they encounter the situation described in those poems.
Read Also: Best Christmas Songs For Kids Lyrics