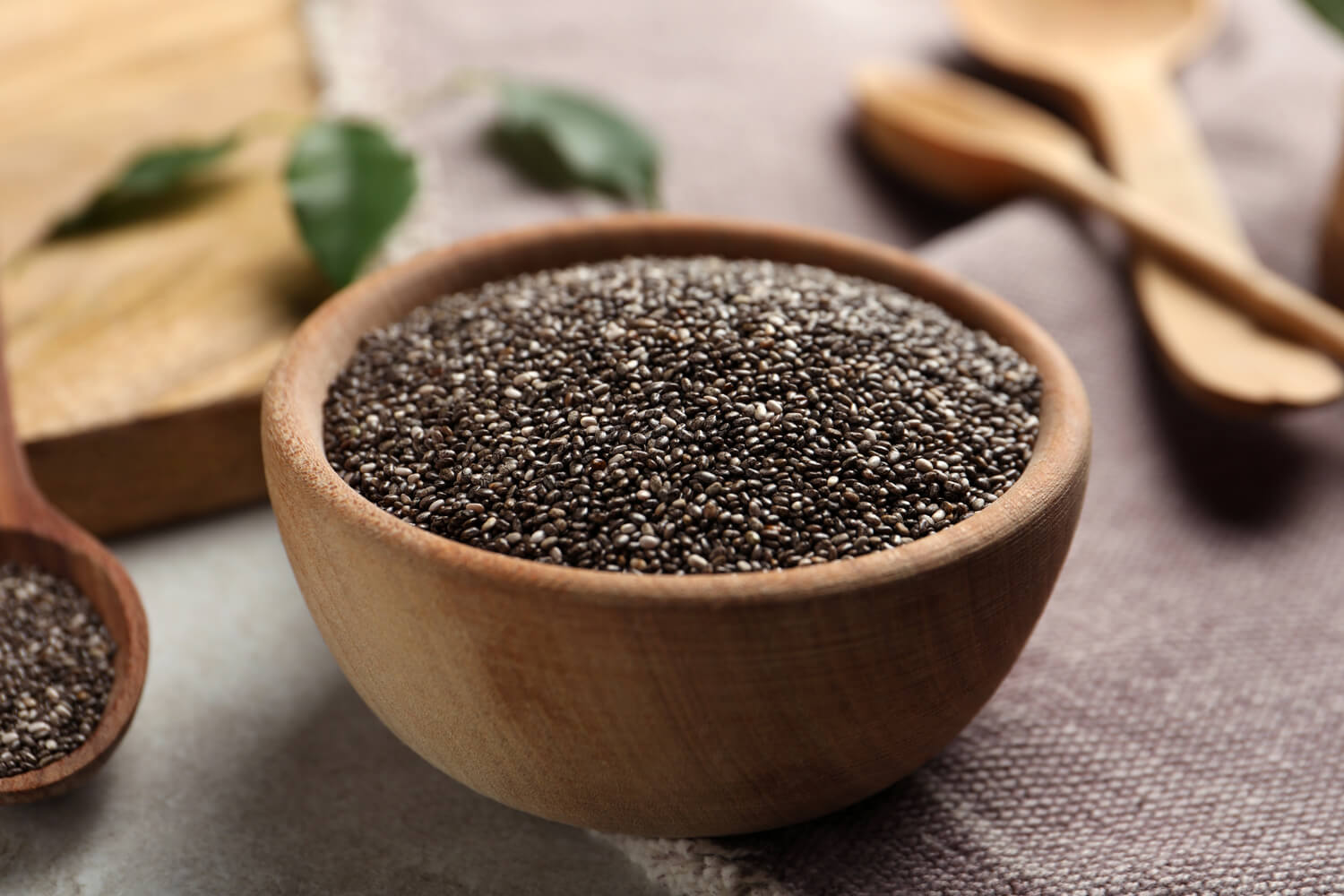 Pregnancy can be as complicated and confusing and exciting at the same. A pregnant woman is soaring over the moon one minute with all those beautiful thoughts and feelings. The next minute she is drowned in a sea of doubts. What was healthy all these days could be dangerous to the growing baby. A pregnant woman will have to be cautious about the foods that are safe during pregnancy. Chia seeds are high in nutrition, but can you consume chia seeds during pregnancy?
Chia seeds are tiny black seeds got from a plant known as salvia hispanica. These seeds formed an important component of the Aztec diet. An interesting fact about chia is that it belongs to the mint family. Recently the consumption of chia seeds has gained popularity because these seeds are power-packed with nutrition.
In This Article
Are Chia Seeds Safe to Eat During Pregnancy?
Yes, they are indeed very healthy for pregnant women. Chia seeds are highly nutritious and can be added to almost anything. These seeds make a good flavor addition to satiate all those cravings or food aversions. They are beneficial for the pregnant mother as well as the baby growing inside. The nutritional benefits of chia seeds are plenty and can be passed on to the baby. The consumption of chia seeds during pregnancy helps in development of retina & brain of foetus(Source).
However, pregnancy can be a tricky phase as your body goes through many changes. It is always safer to check with your doctor before consuming it regularly. If you plan on eating them every day, your doctor can help you with dosage recommendations.
Nutritional Facts of Chia Seeds
Chia seeds are packed with nutrients.
They are rich in fiber, which helps in the better digestion of foods.
The seeds are an excellent source of omega-3 fatty acids.
They contain high levels of protein, which aids in the baby's growth.
The seeds are rich in iron, an essential nutrient that helps in producing red blood cells in both mother and baby.
Chia seeds contain good fats which are healthy for your heart.
They contain phosphorous, which helps in the development of the baby's bones.
These seeds are an excellent source of vitamin A, C, and E.
Amazing Benefits of Eating Chia Seeds During Pregnancy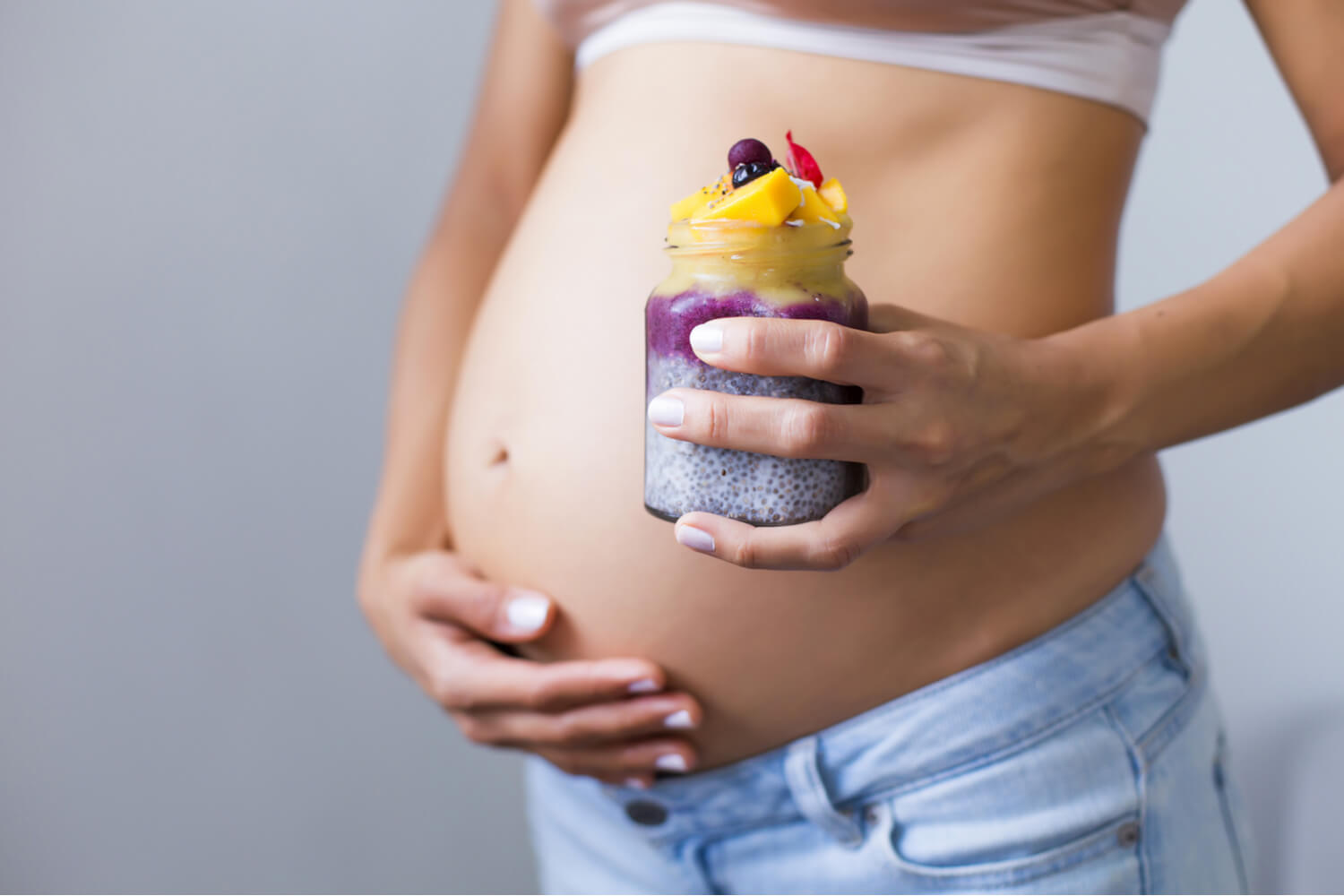 Chia seeds are packed with nutrients. They can help both the pregnant mother and the growing baby. Here are some of the advantages of consuming chia seeds while pregnant.
1. Baby's Organs
Chia seeds are an excellent source of protein. Protein is very important for organ growth – in both mother and baby. It helps the uterus grow to support the growing baby; and aids in the growth of the brain, tissues, and organs of the baby.
2. Baby's Bones
Potassium is extremely important for the development of strong bones in the baby, just like calcium. Chia seeds contain both these nutrients. A single tablespoon of chia seeds can help a pregnant woman get 11% of her daily requirement of potassium and 9% of her calcium requirement.
3. Versatile
Chia seeds are versatile and can be added to most foods. Add the seeds to your porridge, cereal or bread. You can even use them as a seasoning for certain dishes. This makes it very easy for a pregnant woman to consume the seeds.
4. Relieves Constipation
Pregnancy-related constipation is no secret. Adding chia seeds to your food every day can relieve constipation and aid in better digestion.
5. Combats Anemia
Chia seeds are rich in iron and help in alleviating anemia. Anemia can affect the blood supply to the baby.
6. Fetal Development
Omega-3 fatty acids are crucial for the fetus' brain development, and chia seeds are an excellent source of these nutrients.
[Read : How To Handle Sweet Food Cravings During Pregnancy?]
How to Consume Chia Seeds During Pregnancy?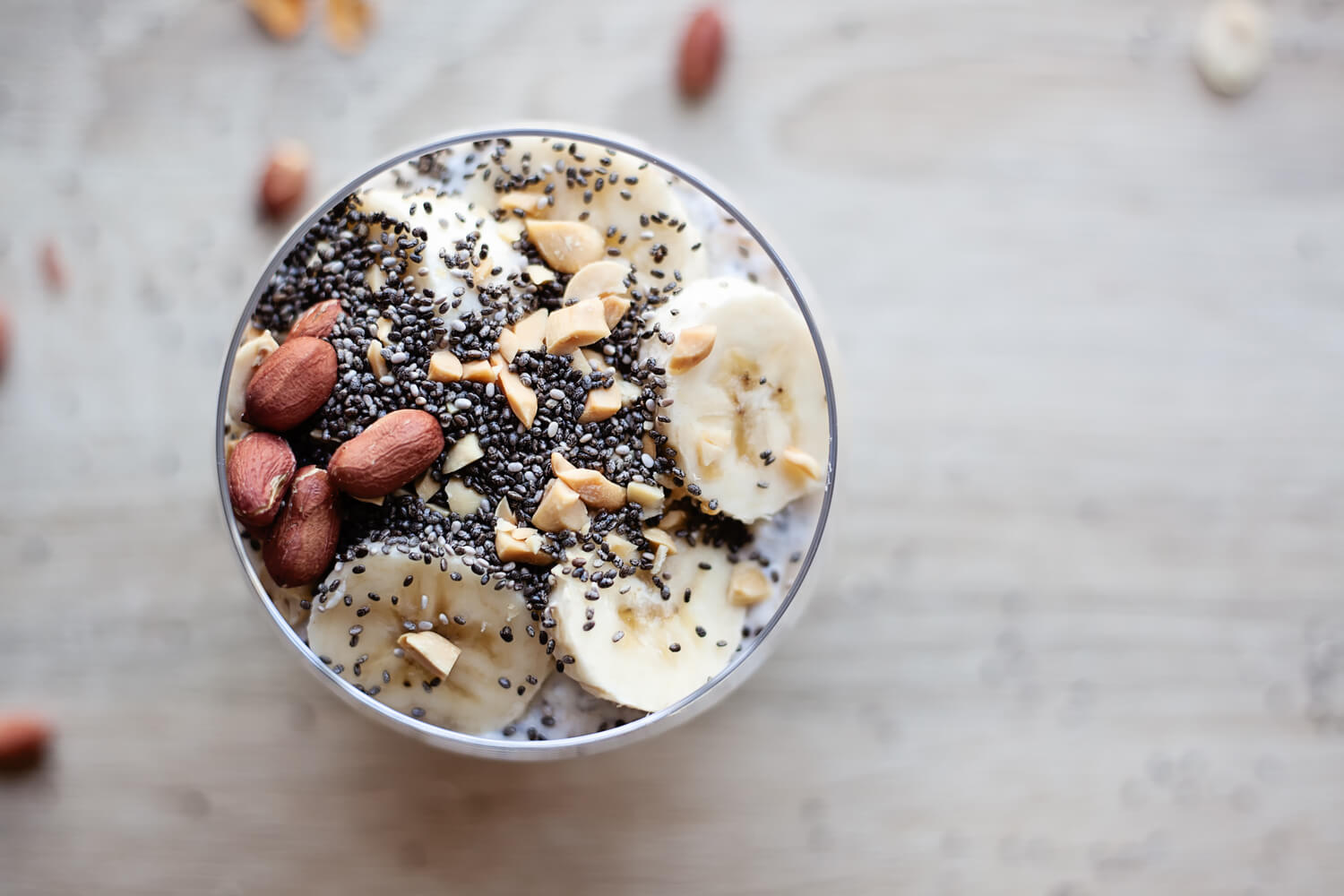 These seeds are and very versatile. You can add them to almost anything and enjoy a nice nutty flavor. Some ways you can consume chia seeds are
1. Cereal/ Porridge
You can roast the chia seeds and powder them. Store it in an airtight container and sprinkle them in your morning cereal or porridge. Keeping them ready can be very helpful, as all you will need to do is take a spoonful of this powder and mix it.
2. Pudding
If you are craving sweets during your pregnancy, add some chia seeds or chia seed powder to a pudding. It can enhance the flavor and is very easy to incorporate.
3. Smoothies
If you are fond of smoothies and liquids, add some chia seeds powder to your smoothie. You can blend chia seeds along with the other ingredients for the smoothie, or top your drink with the seeds.
4. Granola Bars
Make protein or granola bars with chia seeds for can be a perfect snack when those cravings hit.
5. Salads
More of a raw vegetable eater? Add these seeds to your salad dressing for a twist on the flavor.
[Read : Salads During Pregnancy]
Side Effects of Consuming Chia Seeds During Pregnancy
Despite all the benefits, the chia seeds can affect you negatively too. Some side effects you could experience are:
Since chia seeds are rich in fiber, too much of these seeds in a day or on a regular basis can cause digestive issues. It can lead to stomach pains, which can be scary during pregnancy.
Eating too many chia seeds can cause gas and bloating.
They can worsen an underlying bowel disease.
The seeds can react with your diabetic medications. Do check with your doctor before consumption, if you are on any medications.
These seeds can swell when exposed to moisture or water. Stuffing too many seeds into your mouth can result in choking if they swell well before you can swallow them.
Some pregnant women may be allergic to chia seeds.
Chia seeds have always been a rich source of various nutrients. Consuming these seeds has many health benefits. However, it is now that it has become famous. As people become increasingly conscious of what they put into their bodies, the health benefits of various food items are revealed. Chia seeds have now become a trend in the healthy food department.
You can add chia seeds to almost all types of foods. However, do not get carried away with eating too many of these seeds when pregnant. Too much of any food is not good for you or the baby.
Always eat in moderation and always get your doctor's approval before embarking on any healthy eating journey while pregnant.
[Read : FlaxSeed During Pregnancy Safe Or Not Safe?]
FAQ's
1. Can Chia Seeds Help With Constipation?
Yes, indeed they can. They are very rich in fiber. This can aid digestion, thus reducing constipation. However, overconsumption can lead to digestive issues as well as abdominal pain.
2. Will Chia Seeds Help in the Brain Development of the Fetus?
Yes, they can. Chia seeds are rich in potassium and phosphorous. They are an excellent source of omega-3 fatty acids as well. These nutrients are important for the baby's brain development.
3. Can Pregnant Women Eat Chia Seeds Everyday?
Yes, they can after consulting the doctor. Some women may be allergic to these seeds. Sometimes, overconsumption can cause digestive issues. So it is better to consume it in moderation.
4. Can Chia Seeds Cause Allergies in Pregnant Women?
Yes, they can. Pregnancy can make you allergic to numerous things. You may develop an allergy to items you are used to eating regularly, too. If you feel chia seeds are causing an allergy, do not consume them. Check with your doctor before continuing.
Read Also: Hemp Seeds During Pregnancy – Is it Safe?