Are you pregnant and looking forward to welcoming your baby? Are you busy doing some baby shopping before your little bundle of joy arrives? You don't have a clue and curious to know which diaper to pick for your baby? You have two options when it comes to diapering – buying disposable diapers or cloth diapers. There are pros and cons associated with both the diapers (read more about it here: Cloth or Disposable Diapers). However, once you decide on cloth diapers, there are a number of options available for you in the market today. Here is a cloth diaper buying guide to help you make an informed decision.
What Is A Cloth Diaper?
A cloth diaper is a reusable diaper made of fabric that you can wrap around your baby's bum. It can make staying in place by means of Velcro closure, snap button or hook and loop closure. When soiled, you can just wash the cloth diaper and dry it and reuse it, unlike the disposable diapers, which need to be thrown away so these cloth diapers more eco-friendly. Also, they are as easy to use as the disposable diapers.
The Benefits Of Cloth Diapers
There are many benefits to cloth diapers over disposable diapers as they are:
Effective and Comfortable
More Economical
Reusable
Healthier as they do not contain any chemical absorbent like in disposable diapers
What Are The Different Types Of Cloth Diapers?
The different types of cloth diapers available in the market are:
Flat cloth diapers: These are the standard cloth diapers we grew up wearing. They are necessary cloth pieces that can be folded and pinned in multiple ways
Prefolds: These are already folded and stitched, with multiple layers of clothing to increase the absorption
Diaper covers: They are plastic covers that you can fit over a cloth diaper with a Velcro fastening. This will ensure that the diaper will not leak. You do not need to change the diaper cover as often as the cloth diapers
Pocket diapers: They are a combination of prefolds and diaper covers rolled into one
Hybrids: They are similar to pocket diapers, but with the extra option to insert even disposable diaper pads in it, in addition to cloth diapers, essentially giving you the flexibility to use the best of both worlds in one diaper system
There are so many kinds! And this can be confusing. But here are the top cloth diaper brands available in the Indian market to help you choose.
8 Best Cloth Diapers For Babies Available In India
Here are 8 Best Cloth Diapers For Babies:
1. Superbottoms:

The first thing that catches your attention about Superbottoms is bright bold desi prints. But then, once you start using it , you are equally impressed with its functionality. The Superbottoms reusable cloth diaper is made of durable and highly absorbent organic cotton. It is super soft, waterproof, and comes with two inserts or cotton soakers. Their Dry Feel Pads are lined with Super Dry Feel(TM) technology to keep the baby dry and last up to the whole night for most babies. Their UNO comes in 2 sizes: the Newborn size fits for babies from 2.5kg to 7kg (up to 6 months) and the Free size fits for babies from 5kh to 17 kg (3months – 3 years). It is easy to use and effortless to wash by hand or in the machine. You can let your baby wear it all day or night without worrying about rashes or redness.
2. Bum Print Baby Cloth Diapers:
Bum Print Baby cloth diapers are perfect for parents who like all things natural for their baby. They are washable, reusable & durable so you don't need to dispose the diaper every time. You can keep resizing them to grow to fit your baby from birth to 3 years. The soft, breathable and ultra-absorbent inserts are made from bamboo-cotton that last all night (12+ hrs) and will always keep your baby's bottom dry and comfy. Bum Print Baby also has a uniquely shaped "Trunk" insert that provides extra coverage to ensure zero leaks!
3. Liltoes Cloth Diapers:
This unique, reusable cloth diaper is highly absorbent, washable, adjustable, and affordable. The diaper comes with two charcoal diaper inserts that can be used in two different ways to keep your baby comfortable. You can buy one or more from three styles, including red, animal print, and airplane print. Choose any, and it would fit perfectly on your baby's waist without hurting them. It is easy to use, saves money, and safe for your baby too.
4. Bembika Cloth Diapers
The absorbent cloth diapers set includes five soft and comfortable, reusable diapers for babies aged between zero and two years. They are easy to use and come with adjustable waist snaps to fit the baby perfectly. The baby cloth diapers are waterproof, washable, and made of breathable fabric that is gentle on your little one's delicate skin. You can give this combo pack as a useful gift to new parents or on special occasions, such as a baby shower.
5. Mylo Essentials Cloth Diapers:
One Size Fit- Mylo Essentials Cloth diapers can fit babies 3 months to 3 years. These cloth diapers are washable. You can wash the outer cover along with the inner soaker pad in a washing machine or hand wash them. Unlike disposable diapers, these diapers are extremely cute. You just cannot resist those cute baby prints. Pairing these with a tank top in summers will make your kiddie look adorable. Mylo Essentials Cloth Diapers are made with Oeko-Tex Certified breathable and skin-friendly material. It does not obstruct air from entering the skin and lets your baby's skin breathe freely.
6. Bumberry Cloth Diapers: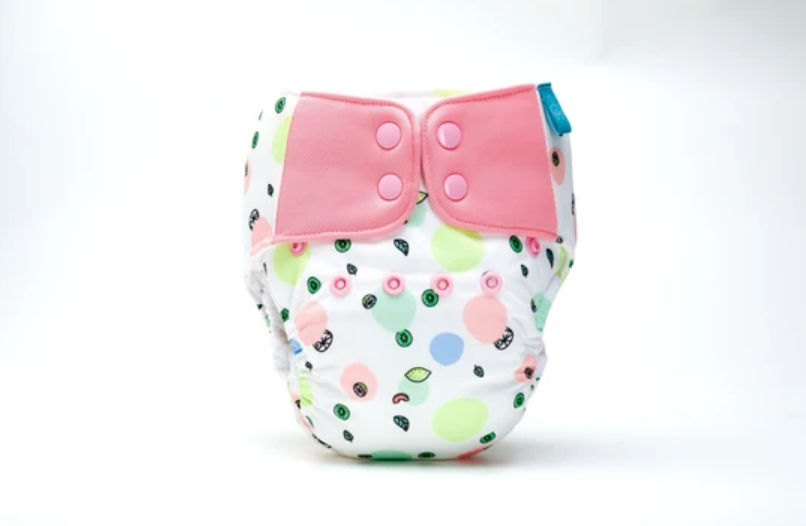 Your baby can stay comfortable for hours wearing this reusable cloth diaper made of microfleece fabric. It comes with one diaper insert and has a flap-over-snap closure for a secure fit around the baby's waist. The free size of the cloth diaper fits all baby waist sizes and makes it suitable for babies aged between three months and three years. You can clean and wash it conveniently and make your baby wear it all night as well. It is available in six colorful designs including a dinosaur, white flowers on pink, trees, and retro print.
7. Bdiapers:
Bdiapers is a hybrid cloth diaper that can hold a washable or disposable insert. These work in a 2-part system with a cloth shell and a waterproof pouch that holds the insert pads. The cloth shells come with matching T-shirts, Headbands and Bandana bibs to complete the look, and make for comfortable and stylish clothing for the baby.
8.  BumGenius: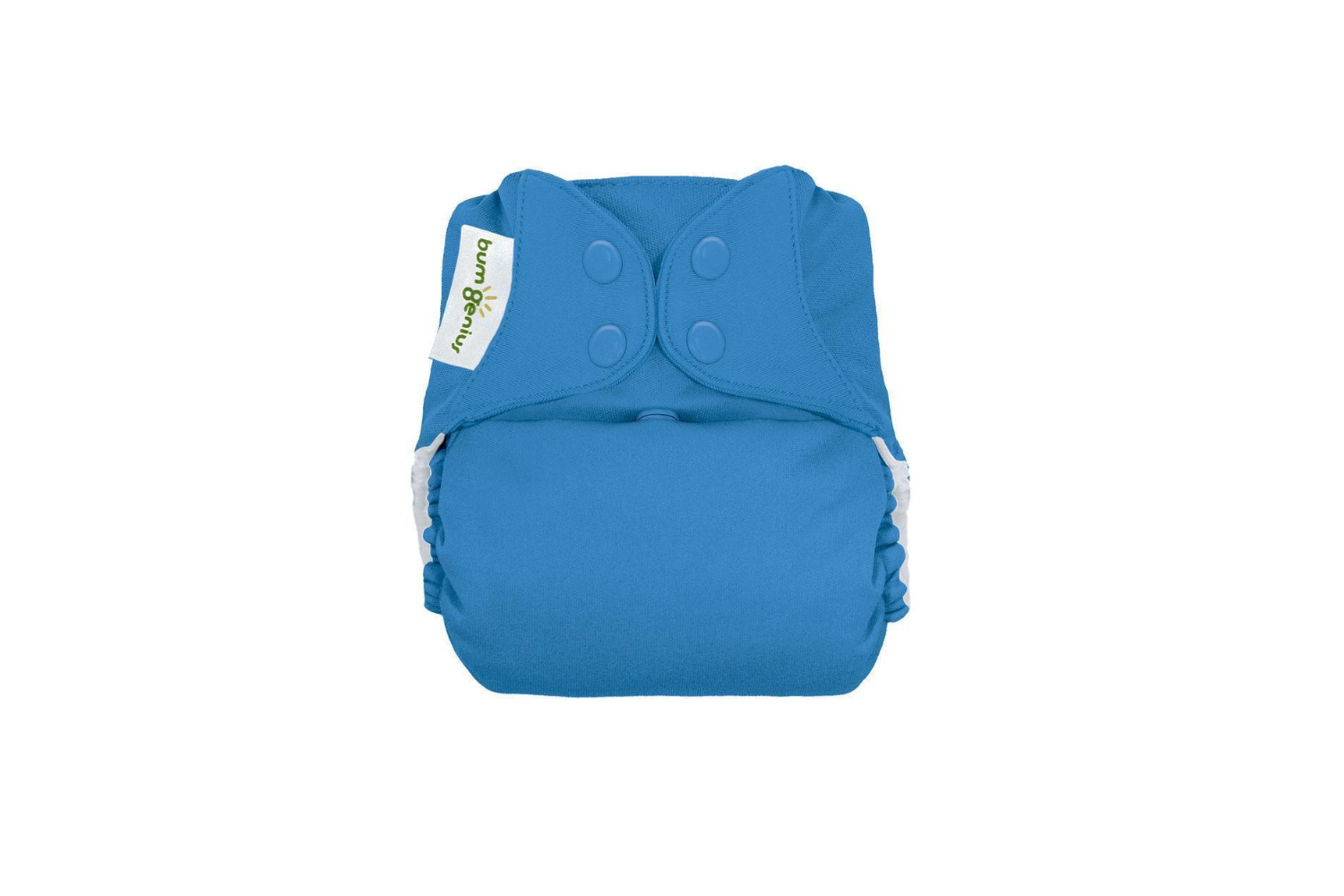 Bum Genius freetime all-in-one one-size cloth diaper – dazzle is quick to dry, absorbs wetness and is easy to care for. The purple coloured dazzle diaper's snap fastener helps to size the diaper as the baby grows. The 3 x 3 adjustable snap system of Bum Genius 4.0 can be reset for a larger setting as the baby grows to ensure a trim fit for newborns through toddlers.
How Many Cloth Diapers Do You Need?
It really depends on your washing schedule. Let us imagine you will have to change your baby's nappy 10 times, and imagine you are planning to wash every 2 days. Then you will need 20 diapers and about 4-5 more as backup. 25 cloth diapers it is! Watch out for your baby's poop schedule and take a call on the number of diapers you will need.
Cloth diapers have a number of advantages over disposable ones. Now that you know all about the best cloth diapers that are available in the market, you can go ahead and choose the one that best meets your requirement!
Hope this article on 8 Best Cloth Diapers For Babies is helpful. Here are a few more articles that might interest you:
FAQ's
1. Are Cloth Diapers Safe for the Baby's Skin?
Yes they are the safest. They do not use all those chemicals used in disposable diapers. Hence they keep the baby's skin safe and soft.
2. Are Cloth Diapers Leak Proof?
There are some models and brands that offer leak proof cloth diapers. Only a few can last as long as the disposable ones. Finding the right fit ids the key.
3. How Long Can I Reuse Cloth Diapers For?
Each brand has its own recommendation. Check the website for the "number of washes" mentioned. This indicates the life of the cloth diaper.
4. Aren't Cloth Diapers More Expensive Than Disposable Diapers? How are They Considered Economical?
When you compare the cost of one cloth diaper with one disposable diaper, it will definitely seem a lot. The number of times you can reuse one cloth diaper is equal to so many disposable ones. This will definitely turn out cheaper.