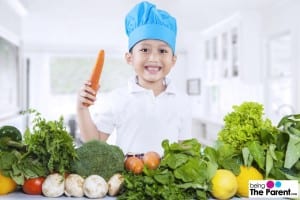 To raise a healthy eater, it is imperative to introduce your child to the fascinating world of cooking and the kitchen. A positive thing about cooking with your kids is to get them to try healthy foods which they might turn up their noses at. Not only does it give you quality time with your kids, but also makes them aware of basic cooking techniques and the next thing you know is your kid would want something to cook rather than survive on junkies! Cooking with kids, especially with younger children requires patience, time and a lot of cleaning-up but it's worth the effort.
Nowadays it has been very difficult for parents to take time out to teach basic techniques in cooking. In the good old days, grandparents, parents and kids cooked together in the kitchen, shares tricks and passed secret recipes from one generation to another. This seems to have lost these days.
Various aspects can be improved in kids and there is a lot to learn through cooking together.
If a child is hands-on with cooking from an early age, he will rather cook his own food than order junk for his coming life. Saves a lot on his health! Encourage them to try healthy food and follow a healthy and

nutritious diet

.
Toddlers can learn the early concept of basic maths and science, counting, sorting, dividing, addition and multiplications, follow directions, has an improved eye and hand coordination and weight measurement. Reading recipes together can improve a child's vocabulary and literacy skills.
Cooking together with school-going children can help build confidence and self esteem. When appreciated what they have cooked creates a sense of accomplishment and achievement. Praise them even though it might not be what's expected, it boosts their confidence.
They can learn about the origins of food and various cultures. India is a vast country with different cultures. It would be far more interesting to tell them what comes from where. Punjab being the state of foodies where parathas is the most common breakfast whereas, masala dosas and idlies being from the southern part of India. West Bengal is famous for their fish delicacies and dhoklas and khandvis from Gujarat. Not only India but other parts of the world can be put on the plate too!
Cooking with kids boosts their imagination and creativity. It could be cakes or cookies decoration or they could find it exciting to mix new things, create new recipes then taste.
It helps kids learn about time management. It's a challenging concept to learn about time.
It lowers the communication gap and you have enough time to talk to kids about school, homework and other activities. It enhances your child's communication skills and gives you quality time with each other helping you bond.
It builds good connections with kids. They tend to watch less of television or play video games.
As the kids grow up, their schedules will get busier with extra-curricular activities and increased home works and social obligations, however, the skills they learn to build in the kitchen will always be valuable to their well-being in the future.
Cooking together fosters interest in food and a cooking that lasts for a life time!