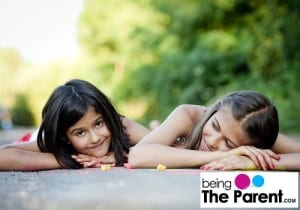 "Mine" is one of the first words that a child learns to speak. Parents need to accept and understand that children have difficulty in sharing, as the power of possession is a natural part of the child's ever-increasing awareness. From a mother to a doll and toys, children develop their fondness and attachment to things and people. Sharing is to agree to give one's belongings to others, but forcing your child to give his/her possession(s) is not real sharing! Teaching empathy is the first step towards making your child a generous human being. Remember children learn by examples and you are the best role model for them. If your child notices that you share with others, your child will pick up the same habits. Forcing kids to be generous could develop anger, pain and jealousy. Here are a few tips to teach the art of sharing to your children:-
Start off young: Until the age of five a child does not know the actual concept of sharing, therefore you need to start while he/she is a toddler. Some basic rules need to be introduced at a tender age, such as waiting for your turn like while playing so that she waits and vice versa. If you walk away, she has the right to play with it all by herself.

Set timers: Let your child know she will have the toy for next 5 minutes and after that her brother or cousin or friend will have for 5 minutes and so on. This is how she will learn to give and take and also know that giving her toy doesn't mean she won't get it back anymore.

Keep away special toys: If your child loves any particular book or toy, do not force to share it. To you it is just a toy, but for the child it is a valuable possession.

Setting examples: Children learn by seeing. Share your crisps, ice creams with your child, ask her if she wants a bite? Give any of your scarf to dress her doll and ask if you can try some of her stuff too. You and your partner should also set examples to show how to share with each other and with your friends and relatives.

Role Play: If your child keeps saying no to give any toy, plan a reversal. During playtime when she asks for something, say no at once and turn it away from her. When she gets angry or upset talk to her and remind her the moment .

Praise: We spend all the time teaching to share and behave, but tend to forget to appreciate when your child share with friends. Let her know how happy you are seeing she shared and was so nice to her sibling or friend who was happy too.

Being around: Being among kids of her age will teach her to interact and share. So make sure your child is around with kids of her age as soon as possible. This will help develop a sense of trust and your child will be more likely to share.

Charity: During vacations, talk to your child about other kids who are less fortunate to have toys as she has. Look out for such programs where you can donate old toys, books or clothes that are no longer in use. Or you can pick up a few new toys with your child which will be donated to a charity.
We cannot fix things for our child always, but we can teach how to get through it with hard work, persistence and patience.