If you ever asked your mother how she brought you up and how her experience was as a new mother, you are most likely to hear two common words: challenging & nappies. This is because as a new mother, her whole universe revolved around you as a baby and loads and loads of nappies that she would have to change regularly because you would soil them so often. That is exactly why the word challenging became synonymous with motherhood. But not anymore because later came the disposable diapers. Halleluiah! They have been the best thing to ever happen to mankind, or shall we say womankind? Yes, because they are disposable, safe, easy to use, and life savers for mothers. But with diapers comes a side effect that may not always occur, called a diaper rash. Well, first of all, it's not necessary that wearing a diaper would end up in diaper rash and secondly, it is not a big deal until left untreated. Let's see more on this.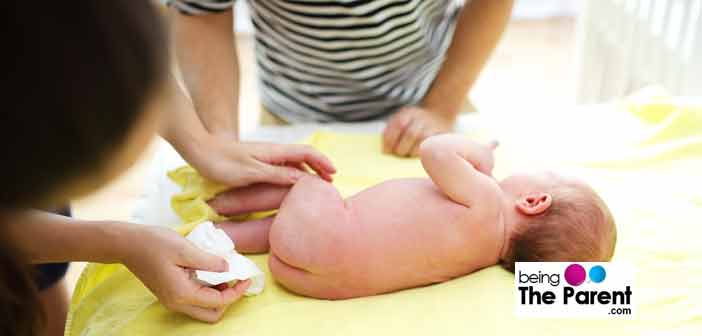 What Is A Diaper Rash?
So basically, a diaper rash is a rash or a skin irritation that occurs in the area where the diaper is placed, essentially your baby's private areas. In medical terms, one may call a diaper rash by the name "diaper dermatitis" which simply means skin inflammation. You may also hear names such as "nappy dermatitis" (irritation due to nappy) or even "ammonia dermatitis" (irritation and allergy due to ammonia in detergents).
What Causes A Diaper Rash?
Although a rash could develop on your little one's skin due to a number of reasons, the most common reason for a rash is contact irritation. This can be caused by continuous skin contact with diaper surface that ends up causing rashes on the baby's private regions. Another cause of diaper rash is urine or stool. At times, the wetness due to urination or passing stool by the baby can cause rashes to develop on its skin. If left dirty for long durations, bacterial growth can infect the region and cause severe reactions and problems that may hurt or cause pain and discomfort.
How Long Does A Rash Take To Go?
Usually, a diaper rash will go away in about two or three days with a normal home care of the baby. However, some rashes may take a little longer to go away depending on severity and cause of irritation. In case it's an allergy or bacterial infection, you would have to consult the doctor for proper treatment.
How To Prevent A Diaper Rash?
For something as common as a diaper rash, there are very simple steps and measures you can take to avoid it:
Always change your baby's diapers as soon as soiled. Keep a check when the diaper gets wet or dirty
You can also soak your little one's bottom in warm water to soothe the skin between diaper changes to give relief
Always allow the skin to completely get dry before putting on a new diaper. Any retained moisture can give rise to irritation
Try to pat dry the damp skin of baby's bottom instead of rubbing dry cloth or cotton to avoid irritation
Doctors advise parents to change diapers after every 2-3 hours. This keeps the skin dry and infection free due to bacterial build up over long hours
Do not put on the diaper too tightly. Allow some breathing space
Hand-made or cloth nappies should be washed using minimal detergents to avoid skin allergies that may lead to rashes
Applying anti-rash ointments approved by pediatrician can prove beneficial in case of redness or rashes
Top 10 Popular Diaper Rash Creams In India
We've made a list of the best 10 diaper rash creams that are available in the market. They are in no particular order. Please remember that we are not associated with any of the below brands.
Himalaya Diaper Rash Cream: This is a specially formulated herbal cream that treats any kind of rashes, irritation or inflammation caused due to rubbing of diapers on baby's soft skin. It contains natural zinc which is known to have antiseptic properties that protect baby's skin and keeps it dry. Another ingredient in the cream is almond oil which is very good for moisturisation and will prevent skin from darkening. Aloe Vera in the cream is again very effective in treating rashes, burns, wounds, and acts as a moisturizer. Another key ingredient in this cream is the five-leaved chaste tree which is known to be antifungal. All these effective list of herbal ingredients help in healing rashes, red spots or any irritation on baby's skin and also forms a protective layer on baby' skin
Price : Rs. 95 for 50 gms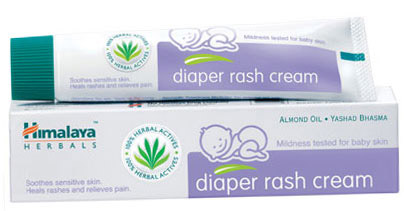 Source: https://in.pinterest.com/
Destin Rapid Relief Diaper Rash Cream: This diaper rash cream which is rich in zinc oxide helps to relieve diaper rash discomfort from the very first use. It helps to remove redness and irritation of your baby's sensitive skin. It also forms a protective barrier on the skin and provides moisturization to the skin
Price: Rs.811 for 113 gms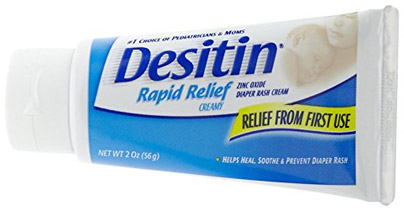 Source: https://in.pinterest.com/
Sebamed Diaper Rash Cream: Highly effective and soothing formula that provides rapid relief from diaper rash. It promotes the development of the skin's protective acid mantle. It contains titanium dioxide which protects the skin and panthenol stimulates the healing process
Price: Rs. 510 for 100 ml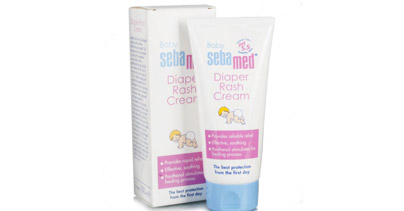 Source: https://in.pinterest.com/
Pigeon Baby Diaper Rash Cream: This cream is gentle on baby's skin as it contains natural plant extracts of chamomile, olive oil, and rosehip which moisturizes your baby's skin. The zinc oxide in it forms a long lasting and protective barrier on your baby's skin. It works fast and prevents diaper rash
Price: Rs.235 for 35 gms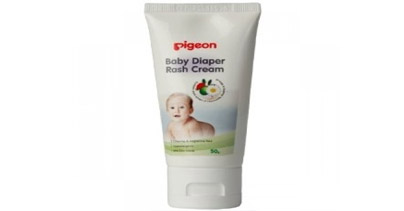 Source: https://in.pinterest.com/
Johnson's Baby Diaper Rash Cream: This mild and gentle cream enriched with soothing zinc oxide properties helps to soothe your baby's irritated skin. It acts on the first signs of redness. It forms a protective barrier on your baby skin
Price: Rs.75 for 20 gms


Source: https://in.pinterest.com/
Mee Mee Nappy Fresh Cream: This diaper rash cream helps to control and prevent diaper rash protects skin and helps seal out wetness. Specially made for your baby's skin, it is soothing and gives rapid relief from rashes
Price: Rs. 249 for 150 gms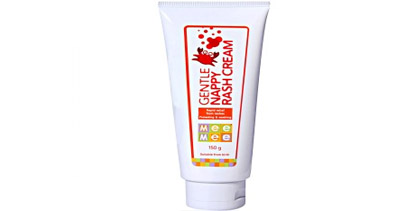 Source: https://in.pinterest.com/
Baby Magic Diaper Rich Ointment: This cream helps to heal diaper rashes and irritation. It contains zinc oxide for soothing rash discomfort and petroleum jelly that moisturizes your baby's skin. It's rich and thick formula forms a protective barrier on baby's skin
Price: Rs. 1002 for 85 gms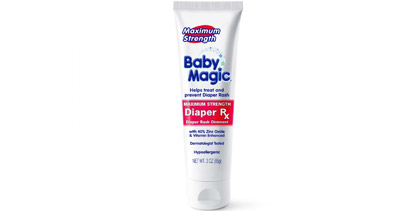 Source: https://in.pinterest.com/
Mothercare – All We Know Baby Nappy Cream: This cream contains natural extracts such as olive oil which is a natural moisturizer and soothing chamomile. It cools and soothes any rash discomfort
Price: Rs.329 for 150 ml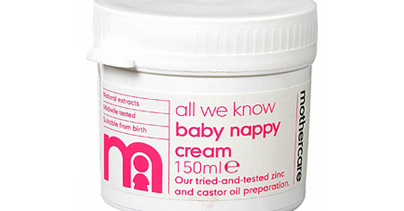 Source: https://in.pinterest.com/
Sudocrem Antiseptic Healing Cream: This Cream forms a protective barrier on your baby's skin with it's a water-repellent base. Also, the emollient effect of this cream can help to soothe irritated skin and leaves the skin soft and moisturized. Sudocrem antiseptic healing cream can also be used for other skin problems with its antibacterial and antifungal properties
Price: Rs.880 for 250 gms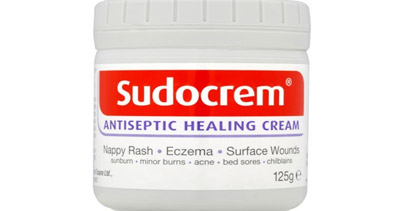 Source: https://in.pinterest.com/
Balmex Diaper Rash Cream: This cream provides extra protection against skin irritation and helps to stop the rash before it starts. In case of a rash, this cream quickly provides relief from any discomfort and helps to heal the rash. The main ingredients in this cream include zinc oxide, aloe vera and Vitamin E
Price: Rs.1193 for 113 gms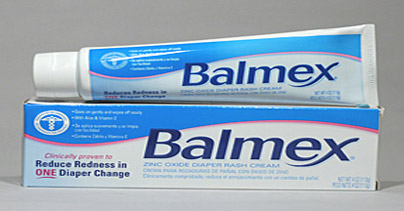 Source: https://in.pinterest.com/
There are a lot of products available for treatment of rashes. However, we recommend that you speak to a pediatrician to get a professional opinion to know what is best suited for your baby's delicate skin.
Even though diaper rashes are a common occurrence, they should never be confused with parental neglect. In no way does a diaper rash comprehend to negligence by parents. We know that parents always want the best for their kids and a rash is just one of the many small problems that your baby may face due to any of the above mentioned reasons. However, in case of symptoms like extreme redness of skin, fever and pus from rash area, contact your doctor immediately. Apart from that, you're good to go. All the best!