Are you expecting your little bundle of joy? You must have heard various advice about including certain things in your diet that can benefit you and your baby. Did anyone tell you about eating okra in your pregnancy? It is believed that okra can actually enhance your chances of having easy labour and delivery. Doesn't sound convincing? Read on and see some nutritional benefits of okra, especially during pregnancy.
Okra – A humble yet power-packed veggie
Okra is said to be packed with vitamins such as A, B (including B1, B2 and B6), vitamin C, zinc, minerals and even calcium. In addition, it is also full of fiber and folic acid, which is a boon for pregnancy. It even helps to prevent birth defects in the baby and is also a good cure for constipation. Okra is also good it you are diet and calorie-conscious. It has very few calories and is a high source of folate and riboflavin.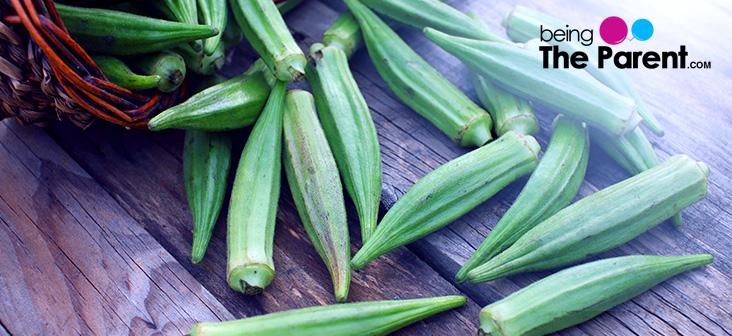 So now you know why you should drop all fatty and junk food and include more of this green vegetable – the okra. An interesting fact about this slender and tapered veggie is that it was discovered ages back, around 3,500 years ago in Ethiopia. Not only in India, okra is considered a magical vegetable in pregnancy in various parts of the world.
Other health benefits of okra
Okra also helps in keeping many infections and ailments at an arm's length. The vitamins loaded in okra help to prevent some birth defects in your baby and enhance healthy growth of your little one while inside the womb. You must ensure to include this veggie in your meals especially during the 4th and 12th week of your pregnancy because that is when the neural tube develops inside the fetus and the folic acid in okra assists in development of these tubes.
Let's talk about some other nutrients in okra that are very good for you during pregnancy.
Rich source of Vitamin C: Do you know why vitamin C is important in pregnancy? It helps in absorbing iron in your body, which is essential for the growth of your baby. Consuming about a bowl or cup of okra gives you 12-13 mg of vitamin C. Vitamin C is also an important antioxidant that helps to take care of hypertension and other cardiovascular issues. The vitamin C in Okra also improves the immunity of your baby and develops the capillaries, bones and skin.
Packed with Folate: About half a bowl of okra contains 35-37 mg of folate or folic acid. Folate enhances metabolism of carbohydrates, protein and fat. During pregnancy, you need to take in at least 400 mg of folic acid daily. Folic also helps in synthesizing RNA, DNA and RBC. A research of Maryland Medical Center proved that women with good levels of folic acid had lesser chances of giving birth to babies with birth defect.
High in antioxidants: Okra is also an excellent source of antioxidants. If you are low on antioxidants such as manganese, copper and zinc, it may restrict your baby's growth and lowers the baby's immune system. Hence, the baby has higher chances of illness and ailments and also type 2 diabetes or heart diseases.
Full of fibre: A small bowl of okra has about 2 gm of dietary fibre. It has both insoluble and soluble fibre. When you are expecting, you should consume at least 25 gm of fibre every day to avoid constipation. The soluble fibre also lowers blood cholesterol and helps to prevent diabetes, whereas the insoluble fibre helps in your digestive system.
Nutritional value of okra per 100 grams serving
Energy                           30 kcal in 150 kJ
Carbohydrates               7.6 grams
Dietary fiber                   3.2 grams
Fat                                  0.1grams
Protein                            2.0 grams
Folate                             (Vitamin B9) 87.8 grams
Vitamin C                        21 mg
Calcium                          75 mg
Magnesium                     57 mg
Vitamin A                        660 IU
How to include this wonder veggie
Make it interesting. Clean and coat the okra with flour or gram flour then fry it.
Another recipe: Beat the egg white and add some breadcrumbs to it. Add the cut okra in this mixture. Then fry the coated okra in oil.
Before making your dish, just make sure to properly wash the okra vegetable to avoid any infection.
Also, cooking okra on low heat will avoid losing some important nutrients.
So don't miss on this super vegetable if you are expecting and stay healthy and happy!