Once you are married and settled, it's time to start planning a baby. Some may want to wait longer, while others might want to take the plunge immediately. Whatever may be your plans, pause for a while to think if you are financially ready for it. Sounds absurd, right? Keep reading.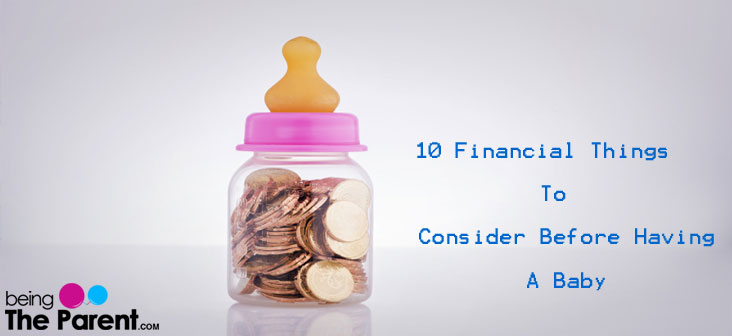 Need For Financial Planning Before Having A Baby
Many couples don't consider this side of the story when they think of ushering in a new member in the family. But it is very important that you must pay attention to finances to enjoy parenting. From costs like the prenatal care and birth, day care and hiring a nanny to life's little requirements, having a kid is expensive. This is not meant to scare or overwhelm, but just a word of caution so that when you are there, you can stay assured that financially you are secure.
10 Financial Things To Consider Before Having A Baby
Having a baby is a huge responsiblity both emotionally and financially. Let's take a look at the top 10 things you must plan ahead to make your journey through parenting smooth, at least financially.
Take stock of your financial inventory: Make a note of your net income, expenses, savings, loans—just about everything. You must understand where you stand and how having a baby is going to impact your finances. You must have a plan B laid out for emergencies
Decide if it is feasible to live on a single income: This may not always be the case, but could be part of plan B. If for some reason you are not able to get back to work (medical reasons that could call for temporary extension of maternity leave beyond the acceptable limit), you must be able to manage the household on a single income, that too with an additional member whose needs are many. It is a good idea to arrange for a reliable help or a family member to come in and help in case both of you have to get back to work. But that also means, excess expenditure
Include miscellaneous expenses: Having a baby means, expenses are unreliable. You must keep in mind that you might encounter emergency visits to the hospital, the baby may have some kind of allergy that might call for specialized items to be bought, vaccines, purchase of additional things to make the house child-proof and so on. You should factor in all those expenses before planning a baby
Shop for life insurance: When you are single or a new couple, life insurance is last on your financial priority list. But before you plan to have a baby, it is imperative that you buy a life insurance for the family. This is an important aspect of your financial planning because buying a life insurance policy will accumulate cash value over time. This can help you to build reserve funds for your child's future like his higher education or his marriage. So plan ahead
Try living on a budget for a month: This might sound silly, but believe me, it's practical. If you practice living on a budget even a month prior to the arrival of the baby, you will know exactly where you stand and where you need improvements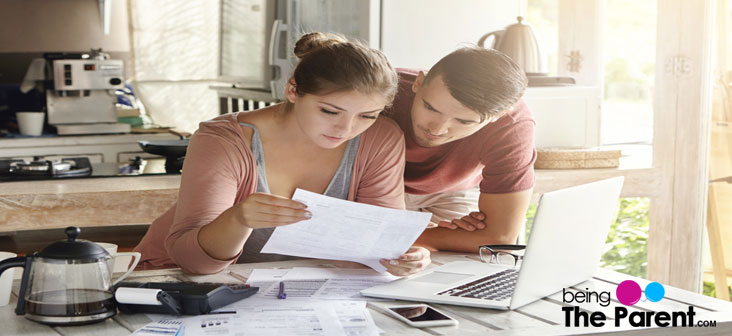 Start saving: The best thing to do when you have decided to have a baby is to start saving. Cut down on unnecessary expenses such as compulsive shopping, expensive vacations and other regular expenses which can be avoided. Start learning to save; it will be a great help when you actually have a baby. Also remember that cost of having a baby does not stop when they become toddlers or school goers. The cost simply multiplies from diapers, formulas to school fees, from soccer uniform to higher education. Think and make long term saving plans
Look around for daycare/nanny: It makes sense to do some research in this too. Daycares are mushrooming everywhere and have all kinds of facilities. Look around for ones that are close-by, hygienic and reliable and at the same time affordable. Alternately, you could think of hiring a nanny who is child-friendly and can help you post-delivery too. You could weigh the pros and cons and decide on the best option that suits your need and fits in your budget
Buy some baby essentials: This is also a good idea, but some cultures don't permit purchase of baby items before the baby is born. Many moms are superstitious about buying cribs and clothes before the birth of a baby. But for those, who don't mind, this could be an option too. Also before you indulge, remember that it can be very overwhelming to pick things for your baby with so many options available. But before you realize, your baby will outgrow those things. So refrain from picking all the "nice to have" things and just invest your money in the must haves
Get your house a makeover: Rather than waiting for the baby to actually arrive, you can plan and get your house a makeover to make it child friendly. Remove unnecessary furniture and glass top tables, shift switch boards to a higher level, fix the door knobs, fix a gate at the entrance, grill the balcony. These are just some ideas which you can start with to save expenses later. It is better to get your house ready before you take the plunge
Don't get overwhelmed by information on the internet: It is a good thing to surf the net for information, but make sure that you don't get too bogged down by the information there. Use the information wisely to make informed and careful decisions; don't panic unnecessarily. You could talk to friends and cousins who have just had a baby to understand how it is and the preparations that need to be done. Sometimes, others can give us tips that we might miss to consider
Having a baby involves planning at several levels. Among other things, it is also useful to keep yourself financially ready for this exciting phase. If you spend and save wisely, you can prevent a lot of stress later. This is just to make you aware that having a baby may sound easy, but involves streamlining, planning and prioritizing long before you hear the first heartbeat. Plan ahead and stay covered to enjoy this beautiful phase.